Introducing Value Over Replacement-Level Republican President (VORRP)
As we're now a full year into President Donald Trump's first term, pundits across the spectrum have been taking stock of his administration. Left-leaning analysts view the Trump administration as an historic disaster. Right-leaning analysts have offered more diversity of opinion, ranging from ringing endorsements to unmitigated condemnation.
One source of controversy comes over the discussion of baseline: on what standard should we grade Trump? Should we compare Trump to a normal Republican president? Or any president? The Weekly Standard, for its part, chose the "Republican" baseline. Pondering Trump's successes, they wrote,
… similar ends would have come from almost any Republican president given a Republican Congress. The fact that almost all of Trump's accomplishments could have been expected from a generic Republican should disappoint true-believing populists and belie Trump's boast, 'I alone can fix it.'
Columnist James Taranto of the Wall Street Journal has explicitly blasted this approach, calling it a "notably stupid argument." On the contrary, Taranto says, you must compare Trump against the hypothetical administration of his 2016 opponent, Hillary Clinton.
Below, I propose a different approach, informed by sabermetrics: grade presidents against a replacement level. To that end, The Weekly Standard is closer to the right answer than is Taranto.
Average is Over
Let's start with something more interesting than politics: baseball. Below is a graph of every "qualifying" major leaguer's weighted runs created plus (wRC+), a statistic that looks at a player's range of offensive contributions. The stat is scaled to 100 (100 = average), so we should expect to see a friendly bell curve when we break down into ranges of 10 points. (Statistics courtesy of Fangraphs.com.)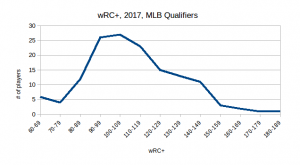 It's not quite a bell curve, but we see clustering right around the average. About 70 percent of qualifying players fell between 75 and 125. The extremes are less common. So it makes sense, in one way of thinking, to grade players against the average. Is the player above or below average? We want above average players.
This bell curve isn't really a good representation, though, of what the talent pool actually looks like in practice. 70 percent of eligible players are not going to give you a wRC+ between 75 and 125. The number of eligible players that could put up a 75 wRC+ in the majors is closer to 0.0000007 percent. Why? Because there are a lot of people who would play baseball professionally if given the opportunity. The full available pool of talent is not a full bell curve. It's really the end of a long, long tail of a curve.
Let's expand our chart and imagine the pool of people available who could do a bit worse: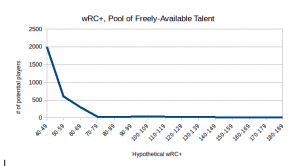 Note that if we extended this out to zero, we'd have literally millions of potential players, but the graph would be less instructive. The point is that professional athletes are not best viewed against an average, but against replacement-level, or the level of freely-available talent if you had to replace a given player. In this sense, average is quite good! There is genuine value in being an average professional baseball player; they're not that easy to find.
Sabermetrician Keith Woolner was a pioneer of the replacement-level concept, and it's fundamental for sports analysis. When people mention "Wins Above Replacement" (WAR) in sports, it's standing on those shoulders.
This "replacement-level" concept works in politics as well, but the implications are a little different.
Slots!
If the replacement level concept were merely "below average major leaguers," then this would be simple: compare Trump to a below-average Republican, and score accordingly. But it's not. The second part of the discussion is the number of available positions. The challenge is to draw the line on the tail of our bell curve that separates "major league caliber" and "not quite major league caliber." The answer is intuitive, when we think of it in the context of our long tail: if we have X number of positions to fill, then the replacement level would be, essentially, the level of the top ranked player after all of our positions are filled, or player X + 1.
In terms of roster construction, each team has 25 players, and there are 30 teams. That means that there are 750 slots, consistently available, in the major leagues. Theoretically, "replacement level" would be at the level of the 751st best baseball player. So, while the 100th best baseball player in the world is well above replacement level; the 752nd best major leaguer is hovering right at the line. The 7,500th best major leaguer isn't good enough for prime time, even though they're far towards the right end of the bell curve when compared to the eligible pool of major leaguers. Unfortunately, the math is unforgiving for the fringe ballplayer.
In this sense, average is not a relevant baseline on its own. The question is: in the absence of the person we are trying to evaluate, what would happen to their position? In baseball, it goes to the 751st best player. Thus the player's value over replacement level is the difference between their performance and the expected performance of the 751st best player.
So, what does this all have to do with politics? At any given time, there are probably no more than 4 or 5 people alive that will become a Republican president. It's not like playing pro baseball; it's a much more exclusive club. So we're not comparing Trump to the 751st best possible potential Republican president (say, a first-term state legislator in Montana or something). We're comparing against the hypothetical "freely-available" talent: Republican politicians like John Thune, Brian Sandoval, and Jodi Ernst.
So we should grade Trump on that scale: Trump's value over replacement-level Republican president is the difference between his performance and the expected performance of his replacement. Considering how few Republicans will be president, it is reasonable to have fairly high expectations of what one can do. On the other hand, we can't rank politicians quite like we do baseball players; the data just isn't there, and there's no AAA equivalent to the White House–the position is one-of-a-kind. Because of that, we need to be fairly broad in terms of imagining a replacement; we can't assume that Kris Bryant or Noah Syndergaard is freely-available. Generic is the watchword here. The general concept is the same in both baseball and politics: use the expected available alternative as the baseline.
The relevant question, then, is straightforward: what should we expect one of those freely-available Republicans to do, and what are we actually getting?
Report Card
With all this in mind, I would suggest that we can grade presidents on four domains: crisis management, policy achievements/appointments, electoral effects, and institutional development. But we should draw these against a baseline expectation of a generic co-partisan, not a member of the opposite party. (Also, for the purposes of grading a president, we shouldn't evaluate the policy preferences on the merits.)
Grading Trump on crisis management is straightforward. Trump has not yet faced a severe crisis as far as we know, so we should grade him at incomplete, versus a replacement-level Republican. Crisis management is crucial–and it's why John F. Kennedy is not an all-time terrible president–but we don't have the data yet.
Most of the positive grading on Trump has been in the policy achievement realm, and indeed, Trump has made substantial progress in terms of tangible policy gains. The tax bill was far more extensive than it could have been. He has appointed a veritable army of Federalist Society-type conservatives to the federal bench. He has focused intensely on deregulation, moreso than previous Republican presidents. These are all to his credit, if you're grading on outcomes.
On the other hand, the Republican failure to revamp the Affordable Care Act (ACA) is at least in part Trump's fault. Trump has never really known what he wanted on health care; he spoke favorably of single-payer during the 2016 campaign, and he described the developing Republican House health care bill as "mean." The bill failed as Republicans could not unify around a single solution. Surely, direction from the White House might have made a difference. Moreover, Republicans have a solid majority in the House, and a small majority in the Senate, but have not been able to do much besides the tax bill.
If we're being generous, we can mark Trump as slightly above replacement level on policy. Some might grade him differently on this and see him as extraordinarily successful, given the level of polarization in the country, and the fact that corralling 8 or 9 Democratic senators behind a Republican plan seems near impossible in the current environment. Others might say that he is below replacement level on policy for somehow overseeing a huge increase in the popularity of the ACA.
Either way, it is the other two areas where Trump comes in as well below replacement level, and a fair-minded assessment of his first year should not ignore those domains.
First, electoral effects. A replacement-level Republican president would suffer a moderate midterm setback, as is typical for a first-term president with the Congress on his/her side. But Trump is set for a deluge right now, with the wave of retirements the canary in the coalmine. On this metric, Trump is well below replacement level. Performance above replacement level would mean that the midterm was only a wash–or even a net positive–for the GOP.
This would be worth reevaluating if Republicans end up closing the gap in the midterm election. But surely one must dock Trump points for this for now. Considering the strength of the economy, there's no reason for Republicans to get crushed in 2018, and yet it looks almost inevitable. Many Trump supporters appear to treat the impending midterm doom as exogenous; it's just something that will happen, and it shouldn't be blamed on Trump. But voters are not happy with Trump. His approval ratings are abysmal. That falls on him, not the voters. If the electorate is not wise enough to see through Trump's foibles and recognize his brilliance and perspicacity, that means you need a different candidate, not a different electorate.
Why is this important? Part of the president's job is to sustain future policy development, and that requires bringing voters on board with their program. A successful president starts with a coalition, governs well, and brings new voters into that coalition. Trump has been an atrocious president on this score so far, even worse than Obama, who had similar issues of coalition-building. The result of this will be another couple of years of divided government (and potentially unified Democratic control of the government beginning in 2021). Trump will have three options in the meantime: the pen-and-phone, triangulation, or quietly doing nothing on domestic policy in the absence of a crisis.
The final category, a catch-all look at "institutional development," covers a bunch of different areas, but it mostly comes down to the dignity of the office and respect for the separation of powers. On this, Trump must surely be downgraded. This is where most of the light and heat is on the Trump presidency: his war with the intelligence community; his increasing desire to have the Department of Justice be his defenders rather than enforcers of the law; his flirtation with obstruction of justice; his demonization of a professional football player exercising his free speech rights; his unwillingness to condemn the white supremacist protesters in Charlottesville; his habit of retweeting sordid characters on Twitter and increasing their exposure; his diminishing the office by giving his opponents ridiculous nicknames; his rhetorical condemnation of the press in ways that make it easier for foreign authoritarians to do the same; his treating the office like a reality show host; and his general lack of interest in details. Are there tangible policy effects to this stuff? Not usually, and that's why Paul Ryan and Mitch McConnell get to claim that they don't follow what the president does on Twitter. And sometimes, the noise around these elements of his presidency often overshadow relevant stuff going on in the more conventional world, and it's easy to put these things aside and grade on policy alone. But they matter. The president's conduct sets standards and precedents for the future. As much as we may wish for the return of legislative supremacy, today, the president is the lodestone of the American system, and we follow his/her lead. Future presidents are watching, and they will adopt elements of Trumpism as part of their approach.
Policy achievements or not, Trump has damaged the office with his behavior, and he has put the Republican majority in enormous jeopardy for no real reason. A replacement-level Republican could have made similar policy gains without fostering the gargantuan backlash that is going to sweep Republicans out of office in 2018, and without debasing the office of the president. That's the standard on which to grade Trump. Policy alone isn't enough.
Image by cornstalker