Top 10 Films of 2017
Since the nominations for the 90th Academy Awards were just announced, I thought it would be a great time to share my top films of 2017. I've done my best to avoid spoilers, but if you haven't seen a film and you're eager to do so and steer clear of the details, go ahead and give that entry a skip. Needless to say, I heartily recommend all of these titles.
10.) Star Wars: The Last Jedi
If your issue with "The Force Awakens," a film I really liked, was that it hewed too closely to the original "Star Wars," you'll love "The Last Jedi." This latest entry has attracted a lot of rage from the online fan community for carving out its own path. It's thrillingly subversive but cosmetically so. There's still a fascist regime and a scrappy resistance. We've got our Dark Force user in the conflicted Kylo Ren (Adam Driver), and we've got our Light Force user in Rey (Daisy Ridley). There's a cantankerous mentor in Luke Skywalker (Mark Hamill). There's sacrifice, bouts of romance, and cornball humor. Sure, "The Last Jedi" doesn't all work. A detour involving Finn (John Boyega) and Rose (Megan Marie Tran) is thematically important, but the execution is sloppy. Still, writer and director Rian Johnson opens up possibilities for the series and points it in exciting new directions. I'm thinking about the final moments of the film in particular. A critical question followed by an answer – "We have everything we need." And then the validation of that response along with slight yet irrefutable evidence that anyone has the potential for greatness. I damn near swooned. In that respect, "The Last Jedi" returns to one of the touchstones of the original "Star Wars."
9.) Logan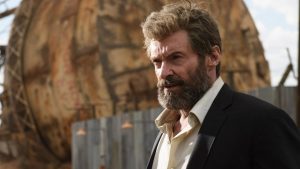 "Logan" is a blood-spattered western that just happens to have super heroes. It's 2029, and it's been decades since a mutant has given birth. Logan, or Wolverine (Hugh Jackman), is being slowly poisoned by the very abilities that grant him power. He's caring for a not-entirely-lucid Professor X (Patrick Stewart) in Mexico when he stumbles upon Laura (Dafne Keen), a child mutant who possesses gifts similar to his own. He reluctantly agrees to escort her to a refuge in North Dakota. Though most of the action sequences are thrilling and visceral, this film is at its best when it downplays the comic book elements. Indeed, as the movie enters its second half, some of the developments seem like they were added at the behest of the studio and not for some grand artistic vision. The most striking thing about Logan is his vulnerability. His illness, his fatigue, his propensity to drink. The casting of Jackman has always been a real coup. And here, he's not just giving franchise best work – this is a career best performance. "Logan" is reportedly the final Wolverine film, and I can't imagine a better send-off.
8.) The Big Sick
There's a great scene in "The Big Sick" where Kumail (Kumail Nanjiani) is so eager to show his girlfriend, Emily (Zoe Kazan), one of his favorite films that he watches her watch it. Too real. This film, directed by Michael Showalter, strikes that wonderful balance of being both personal and universal. An autobiographical romantic comedy written by Nanjiani and Emily V. Gordon, it's about the inception of the couple's relationship. While dating Emily, Kumail has concerns about what his traditional Muslim family will think of him dating a white woman. When she falls ill and is put into a coma, Kumail meets her parents (Holly Hunter and Ray Romano) who are themselves suspicious of him. The film is a Judd Apatow production through and through. Yes, it's a little shaggy and would that these comedies came across as more than, as Tony Zhou calls it, "lightly edited improv." But it's sweet and hilarious. See the moment where Ray Romano's Terry wants to have a conversation about 9/11. "It was a tragedy. I mean we lost 19 of our best guys," Kumail quips. Here, we're given a perspective that we don't often see in American cinema. And isn't that one of the reasons we go to the movies?
7.) It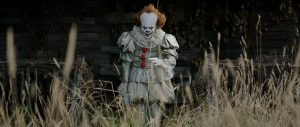 This expertly crafted adaptation of Stephen King's seminal novel is short on scares that scar but long on endearing characters and coming-of-age drama. "It," directed by Andy Muschietti, begins as you'd want any horror film to, with a real statement of intent. After young Georgie (Jackson Robert Scott) is brutally murdered by a sewer-dwelling clown, his brother Bill (Jaeden Lieberher) and the Losers' Club band together to try and thwart the evil entity that haunts their small Maine town. Losers' Club standouts include Finn Wolfhard as the trash-talking Richie and Sophia Lillis as Beverly, a young woman who's been battling her own monsters at home. In my full September 2017 review, I said this: "So would 'It' be a stronger film if it hit our fear center with more force? Sure! But that's not to detract from all the things it gets right. Great atmosphere, characters you can get behind, and uniformly strong performances. It's been a while since we had a horror movie or thriller that played like a big summer blockbuster. No wonder it's devouring the box office. It's part of what makes the communal theater experience so vital…There are lots of laughs, lots of cheers, some screams, and even a few tears."
6.) Dunkirk
Even the best of Christopher Nolan's big budget extravaganzas are marked by overly expository dialogue and bloated plotting that doesn't always pay off in satisfying ways. His latest, "Dunkirk," comes in at a relatively lean hour and 46 minutes and contains long stretches with nary a word spoken. The film is set during World War II and follows three plot lines: the Allied forces waiting for rescue on the beaches of Dunkirk, civilian vessels speeding toward the coast to evacuate them, and Spitfire pilots providing air cover. All the while, the Nazis close in. The three threads are interconnected, and each takes place over a different period of time. The vessels have been in transit for a day. The boys on the beach have been there for a week. And the men in the air only have an hour. Not since "Memento" has Nolan's penchant for manipulating time been more bracing. From Han Zimmer's thrumming score to Cinematographer Hoyte van Hoytema's encroaching camera, this is a film of dread. One of the most terrifying sounds of the year was the theater-rattling roar of the Nazi planes getting ready for a bombing run. And one of the year's most striking images: a young soldier named Tommy (Fionn Whitehead) cowering on the beach in the foreground while, in the background, a series of explosions approaches.
5.) The Florida Project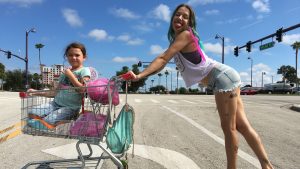 Moonee (Brooklynn Prince) is a young girl who lives with her negligent mother (Bria Vinaite) in a motel outside Disney World. She spends most of her time getting into trouble, much to the chagrin of the motel manager, Bobby Hicks (Willem Dafoe). Director and co-screenwriter Sean Baker has shown an affinity for characters on the fringe. In "The Florida Project," he trades in the energetic handheld approach of his previous film, "Tangerine," for more composed shots. The images are no less vital and alive. Cinematographer Alexis Zabe and Production Designer Stephonik Youth adopt a pastel-like color palette as Moonee and her friends wander around knock-off tourist shops and scrape together enough change to buy ice cream. The settings are at once fanciful, certainly from a child's perspective, yet tacky and rundown. This film isn't going to be for everyone. It begins with Moonee and her friends cackling as they spit on a neighbor's car. I'll admit to muttering "Oh boy" to myself. But Baker is a big-hearted filmmaker, casting no judgments on his characters as we just observe their behavior. Meanwhile there's a lingering tension as you consider the real-world implications of these children's actions – whether it involves them goofing around in an abandoned building or drawing the creepy attention of an older man. As reality tightens its grip, Moonee's bravado falls away and you're reminded that she is indeed just a kid.
4.) War for the Planet of the Apes
Matt Reeves's "War for the Planet of the Apes" is one of the most well-crafted and moving blockbusters in years. It follows genetically-enhanced ape Caesar (Andy Serkis in one of his best motion-capture performances) as he attempts to extract vengeance on a Colonel (Woody Harrelson) who attacked his ape colony. There are great world-building touches. Apes that turn traitor and work with the humans are called "Donkey" by their cohorts, a name that's analogous to a racial epithet. Though the film is thrilling, it's also unafraid to take its time. Bad Ape (Steve Zahn) has a quiet exchange with Caesar about children. It's a poignant moment for a character largely relegated to comic relief. I had this to say in my review from July 2017: "It's easy to be cynical about Hollywood. Mid-level productions squeezed by a parade of reboots, sequels, and prequels, most of which have the stink of being passionless cash grabs. And frankly, I was skeptical when 20th Century Fox announced their re-imagining of 'Planet of the Apes.' But this is a franchise that extinguishes any misgivings about the current movie marketplace. These are thoughtful and entertaining films endowed with artistry and humanity. And 'War for the Planet of the Apes' is that rare third entry that actually tops its predecessors."
3.) Get Out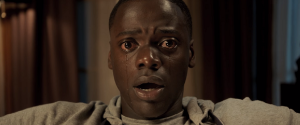 One of the things I appreciate most about great films is their ability to hook us in the opening moments and give us a sense of what we can expect. That kind of economic story telling is rare. Screenwriter and director Jordan Peele does just that in "Get Out." First, some groundwork. Chris is African American, and he's nervous about meeting his white girlfriend's parents. Not to worry! They're accepting, and her father would even vote for Obama a third time. What's the worst that could happen? I won't divulge the film's secrets, but suffice it to say that Peele has cited "Rosemary's Baby" and "The Stepford Wives" as inspirations. "Get Out" opens with Andrew (Lakeith Stanfield), another young black man, walking through a quiet neighborhood. He's not sure where he's going, and he's uneasy. A car drives by slowly. Right away, Peele is subverting expectations. Horror films usually open in a similar fashion but with a woman – typically white – being stalked by a psycho wielding a butcher knife/machete/chainsaw/Lemarchand's box. The camera is positioned behind Andrew, but as the vehicle passes, it tracks around to the actor's front so it can keep the car in frame. That the automobile motivates the movement lets us know it's important. The car makes a U-turn, pulls up next to Andrew, stops, and then drives off screen. On first viewing, I wanted to lean forward in my seat, as though I might be able to see beyond the frame. With a hell of a premise, "Get Out" balances horror with humor and an incisive social commentary.
2.) The Shape of Water
I saw "Pan's Labyrinth" in college with my then girlfriend/now wife, and since then, Guillermo del Toro has been one of our favorite filmmakers. I wasn't a big fan of his last film, "Crimson Peak," and though "Pacific Rim" was fun, I didn't enjoy it as much as I thought I would. (I'm an easy lay for giant monsters and giant robots beating the hell out of each other.) But "The Shape of Water" is a full-bodied triumph – part monster movie, part romance, a slice of musical, and an examination of our present by viewing our past. The year is 1962. Elisa (Sally Hawkins) is a mute janitor working at a government facility with Zelda (Octavia Spencer). They discover that the building houses a gillman (think: "Creature from the Black Lagoon"). The humanoid is monitored by Colonel Richard Strickland (Michael Shannon) and the kind-hearted Dr. Robert Hoffstetler (Michael Stuhlbarg). With the help of Zelda and her neighbor Giles (Richard Jenkins), Eliza works to free the creature. I love the romance of del Toro's sweeping and gliding camera. Though this is a genuine love story between two outsiders, it's a film that also makes time for all of its characters, major and minor. Giles has his own story, a gay man in an era that's not open to the kind of connection he seeks. Even Colonel Strickland, a monstrous and appalling human being as only del Toro can write, is himself a gear in a quickly antiquated and oxidizing machine that dictates what a man should be.
1.) Lady Bird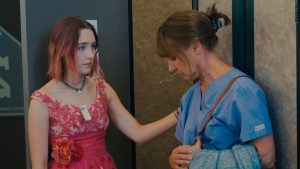 Christine (Saoirse Ronan) doesn't like her given name. She'd prefer you call her Lady Bird. She wants to attend college on the East Coast, "where culture is" and far from her hometown of Sacramento. She and her mother, Marion (Laurie Metcalf), are constantly bickering. Marion doesn't think her daughter is living up to her potential, and Lady Bird insists her mother's too controlling. She falls for a boy named Danny (Lucas Hedges), but their relationship isn't what she expects. She's got a friend, Julie (Beanie Feldstein), who she abandons for the wrong crowd.
Broad strokes, we've seen this a hundred times before. What distinguishes Greta Gerwig's "Lady Bird" from other coming-of-age dramas are the extraordinary performances, her ear for teenage drama, and the filmmaker's mastery of tone. The entire cast is aces, including Tracy Letts as Lady Bird's father, but the pairing of Ronan and Metcalf is nitro on screen. Their constant sniping is the bruised heart of this film.
I especially liked the way Gerwig would deflate teenage euphoria. I'm thinking about the scene where Lady Bird returns home, screaming with joy, after a kiss only to have her mother chew her out for not folding her school uniform. The film's soundtrack follows a similar strategy. Often times a song will increase in volume until…a hard cut to silence.
Though the movie can be hilarious – take for example Lady Bird's abrupt exit from an automobile during the opening scene – it's also deeply moving. A meeting behind a coffee shop after a breakup that doesn't go as you'd expect. A trip to the airport. A memory about driving through Sacramento for the first time. I don't think I've ever seen a film that was this funny that also laid me the hell out.
And finally, some honorable mentions: "Call Me By Your Name," "Coco," "I, Tonya," "Kong: Skull Island," and "Wonder Woman."
What films stood out to you in 2017? Comment below!