Political Discrimination Might Actually Be A Thing
I: The Theoretical Basis of Antidiscrimination Law
Antidiscrimination law, whether at the state or Federal level, rests upon two conceptual pedestals.
The first big concept is that certain activities (housing, public business accommodations, and employment) have particularly important effects on the ability of all people to fully participate in the commercial environment upon which all persons in the country rely for vital services. This therefore implicates the ability of people to be truly equal to one another in a nation that purports to hold individual equality as one of its high ideals; it also implicates the ability of people to survive in a largely capitalist economy.
The second is that it is the role of the applicable legislature to identify subject matter areas in which discrimination has occurred historically, and to then intervene and place antidiscrimination protections to prevent such discrimination from occurring in the future. Different legislatures identify different reasons that have been historically common enough to require legal intervention, though at minimum every jurisdiction in the United States recognizes the Federally-recognized categories of race, national origin, skin color, sex, religion, and age over 40. All states and the Federal government also recognize disability discrimination, which has a much more elaborate rubric to determine when discrimination occurs, beyond the scope of this essay.
Discrimination, in turn, is identified in a two-prong test. It consists of an adverse action within the commercially sensitive activity motivated by the victim's membership in a protected class. In housing cases, the adverse action is most often a refusal to let (that is, rent) residential premises. In accommodation cases, it's most often a refusal to sell or serve. And in employment cases, it can be any sort of adverse employment action, though termination of employment is both the most severe and most common of these. After the adverse action has been identified, it is for the plaintiff to prove that the defendant was substantially (though not wholly) motivated by the adversely-affected person's membership within a protected class.
When a provider of a regulated activity (housing, employment, public accommodation) engages in discrimination against an individual based on that individual's membership in a protected class, lawyers use the shorthand of "invidious" to describe this discrimination. For purposes of this essay, "invidious" discrimination is intended to be co-extensive with "actionable" discrimination, meaning the sort of activity which a court is legislatively authorized to remedy. 1
I suppose there's an interesting theoretical argument from a libertarian perspective about whether these concepts are consistent with the notion of a limited government that respects private property and contractual rights. But the fact of the matter is, nearly everyone implicitly goes along with this. And whether you like it or not, it is the law.
II: California's Anti-Discrimination Law, Including Political Protections
California, famously, has among the largest categories of protected classes in the area of employment law. Specifically, California Government Code § 12940(a), part of the Fair Employment and Housing Act (FEHA), calls out the categories of "race, religious creed, color, national origin, ancestry, physical disability, mental disability, medical condition, genetic information, marital status, sex, gender, gender identity, gender expression, age, sexual orientation, or military and veteran status" as bases upon which invidious discrimination might occur. Certain of these (e.g., "genetic information") are not historically prevalent, at least under that label, but the California Legislature in its wisdom has determined that some combination of discrimination on that basis under other guises has occurred and that future discrimination on that basis under whatever label is likely to occur in the future absent legal intervention.
Also unusually among the several states, California protects certain political activities of employees. California Labor Code § 1101 provides, in full:
No employer shall make, adopt, or enforce any rule, regulation, or policy:
(a) Forbidding or preventing employees from engaging or participating in politics or from becoming candidates for public office.
(b) Controlling or directing, or tending to control or direct the political activities or affiliations of employees.
Further, Labor Code § 1102 provides:
No employer shall coerce or influence or attempt to coerce or influence his employees through or by means of threat of discharge or loss of employment to adopt or follow or refrain from adopting or following any particular course or line of political action or political activity.
Keep this in mind, because it's going to be the crux upon which much of the rest of this essay turns. For now, notice that political activity and political affiliation is not listed as a protected class in Government Code section 12940. Political activity is protected from adverse employment action in California strictly by these two sections of the Labor Code, not the flagship anti-discrimination law of FEHA.
Among the most active areas of Legislative amendment of existing statutes is the anti-retaliation statute immediately following this, Labor Code § 1102.5. Employment lawyers in California have been quick to realize the breadth and power of this law, and the Legislature appears to revisit this law every other year or so, always expanding the scope of its protections. Since January 1, 2016, the law provides, in part:
(a) An employer, or any person acting on behalf of the employer, shall not make, adopt, or enforce any rule, regulation, or policy preventing an employee from disclosing information to a government or law enforcement agency, to a person with authority over the employee, or to another employee who has authority to investigate, discover, or correct the violation or noncompliance, or from providing information to, or testifying before, any public body conducting an investigation, hearing, or inquiry, if the employee has reasonable cause to believe that the information discloses a violation of state or federal statute, or a violation of or noncompliance with a local, state, or federal rule or regulation, regardless of whether disclosing the information is part of the employee's job duties.

(b) An employer, or any person acting on behalf of the employer, shall not retaliate against an employee for disclosing information, or because the employer believes that the employee disclosed or may disclose information, to a government or law enforcement agency, to a person with authority over the employee or another employee who has the authority to investigate, discover, or correct the violation or noncompliance, or for providing information to, or testifying before, any public body conducting an investigation, hearing, or inquiry, if the employee has reasonable cause to believe that the information discloses a violation of state or federal statute, or a violation of or noncompliance with a local, state, or federal rule or regulation, regardless of whether disclosing the information is part of the employee's job duties.

(c) An employer, or any person acting on behalf of the employer, shall not retaliate against an employee for refusing to participate in an activity that would result in a violation of state or federal statute, or a violation of or noncompliance with a local, state, or federal rule or regulation.
I know these are confusingly-written, but trust me, this is not word salad. It is remarkably inartful drafting, 2 but substantial dissection and diagramming of these three sentences (there are more provisions than these, but they're the ones we'll be most concerned with here) does call out that, as applicable here, an employer may not impose an adverse employment action on its employee who refuses to go along with a violation of law. The precise wording of constitutes a "refusal to go along with" and "violation of law" in the statue may well be important to the way you consider the law.
Finally, be aware that in California there is a common-law cause of action for wrongful termination in violation of public policy. This is sometimes called the Tameny tort after the case of Tameny v. Atlantic Richfield Co. (1980) 27 Cal.3d 167, 172. The concept of Tameny is that if the plaintiff can show an adverse employment action (like termination) was contrary to an important, already-articulated policy of the state of California, that is actionable. The articulation of the policy is typically found in a statute or a regulation.
III: The Saga of James Damore
James Damore, a younger 3 white male who identifies as politically conservative, was employed as a software engineer by Google. It appears to be the case that Google fosters an online discussion community within its employment ranks, and that it has an internal culture of tolerating lengthy and freewheeling discussions on a large variety of subjects and points of view that appear to have very little to do with the work that Google does.
Apparently, the culture was such that participants in these forae were considered "rankless" and open criticism of actions or policies of managers, executives, and the company as a whole was at least tolerated. The thought, I suspect, was that this would provide an insight into how the people doing the hands-on work of the company were thinking, boost morale, and serve as an outlet from which improvement might be crafted. In one of these forums, Damore purported to address issues of gender imbalance in Google's hiring practices and its internal culture. He posted a rather long essay.
Therein, Damore recited and analyzed data suggesting that there were subtle biological differences between male and female physiology resulting in small variations between the sexes for propensities and preferences to different kinds of intellectual subject matter, that might partially account for this. Damore emphasized several times in his essay that the differences were slight and the physiology of women left ample opportunity for aptitude and excellence. He also purported at all times to be approaching the subject in a constructive fashion and with an eye towards increasing gender balance. 4 There was also overt criticism of Google's diversity and anti-discrimination training efforts, and accusations that the prevailing culture was hostile to people of politically conservative ideology, with Damore going so far as to call the prevailing political atmosphere at Google an "echo chamber" of liberal ideas.
In any event, the essay was not perceived as constructive criticism of Google's culture and diversity training efforts. Large numbers of Google employees understood it to boil down to "men are better at math and coding than women," and they grew outraged at Damore for circulating it. In the manner of these things, that caused Damore to respond defensively and to double down, which in turn caused his internal critics to double down in response. Somehow, some of this internal argumentation got leaked out to a hungry Silicon Valley press, turning the item into industry-wide gossip and from there, into international news. After the matter had "gone viral" in the general public forum, Google fired Damore.
And that's how Damore came to the next phase of his career, as a right-wing free speech martyr.
IV: Damore Files Suit
On January 8, 2018, Damore, represented by Harmeet K. Dhillon, Esq. of San Francisco, filed suit for a violation of what are actually a fairly standard set of causes of action. I have filed suit on behalf of my own clients on every cause of action articulated in Ms. Dhillon's complaint, though not based on facts quite like Damore's, and I have defended at least a majority of such claims filed against others of my clients as well. If Damore had been my client, this is pretty much the complaint I would have written. 5
With the exception of an overly long introductory narrative. That's not really my style; I don't write a lawsuit to tell a story in the pleadings if I can avoid it, because the pleadings are used back against the case regardless of whether the contents of the pleadings are "operative" or not.
And with the exception of phrases like "Gender Class Period" and "Race Class Period." I think that's confusing, because a "period" in the context alleged here refers to a period of time, but Damore's counsel appears to refer to the "Race Class" and the "Race Class Period" as the same thing.
And with the exception that I am not really sure that there is going to be a good class action suit here, knowing as I do that the majority of workers at Google are white males, and knowing as I do that claiming that you're at some sort of a disadvantage anywhere and in any context because you're a white male is a really hard sell. And knowing that a lot of the language in the exhibits that sounds a little bit inflammatory if you're a white dude with a reverse-discrimination chip on your shoulder is pretty easily explained away as ordinary sorts of outreach and diversity efforts, perhaps inartfully-worded by people who aren't HR professionals or employment counsel. It is possible to reverse discriminate. McDonald v. Santa Fe Trail Transportation Co. (1976) 427 U.S. 273. It's just going to be a tough thing to prove most of the time, tougher even than the already-tough case of discrimination. Especially in a jurisdiction like Santa Clara County. 6
Let's drill down into the (in my opinion, too-specific) allegations for a moment here. Beginning with a meeting led by an executive and an H.R. officer, both of whom are women:

Moving on, we see this is another grievance aired by Damore:

And then after a lengthy rephrasing of Damore's famous memo 7 we get:
There's a lot more stories like this in this general vein. While Damore is intelligent, no doubt took contemporaneous or near-contemporaneous notes, and obviously concerned about these issues, I have to wonder just how literally we should take these characterizations of what was said in the meetings or whether what was actually said referred to "goals" or "outreach efforts." The complaint also alleges that there are "illegal quota schemes" for hiring, promotion, and staffing management positions. I'm not entirely sure that a quota scheme per se is really what was going on, again if there are "goals" rather than requirements.
Because, you see, those sorts of things are entirely permissible. Private companies may engage in voluntary affirmative action programs. United Steelworkers of America v. Weber (1979) 443 U.S. 193. Nor, under California law, is an employer required to be blind to or ignore the demographics of its workforce and may permissibly take action to ensure balance and diversity within that workforce. Bolin v. San Bernardino City Unified School District (1984) 155 Cal.App.3d 759. While according to Damore this was phrased strongly and with generous use of popular buzzwords, what's substantively described seems to me to at least plausibly fit within the guidelines permitted by Bolin's interpretation of California anti-discrimination law.
More simply put, reaching out to women and minority groups is not invidious discrimination. Affirmative action is not invidious discrimination. Damore appears to be laying the groundwork to argue that these cases be overturned.
The one place I have some sympathy for Damore is when he received this e-mail from another employee, not someone who outranked him or had any sort of authority over him as far as I can tell, but I do have to conclude that this employee was out of line in expressing his disapproval of Damore's memo: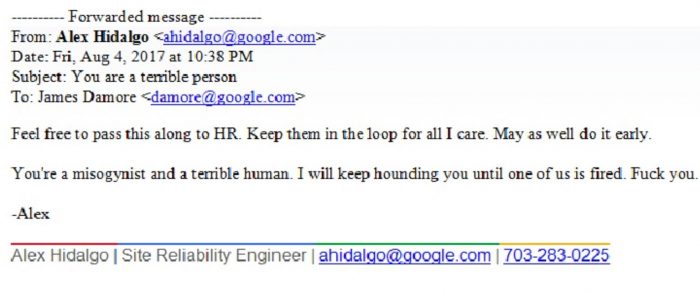 According to the complaint, Damore did complain about this to HR, and HR did nothing. I don't know anyone in Google HR or counsel for Google, but I'm reasonably certain that this did not result in a non-response from any sane HR department. That same HR department, though, would not be telling another employee, including the complainant, what it did. It would say "We've received your complaint and are taking appropriate action" or words to that effect. The out-of-line author of this e-mail also has privacy rights.
But frankly, I don't believe for a second that HR got something like this and didn't tell Mr. Hidalgo to knock it off.  I would have, no matter how obnoxious I found Damore personally. And I wouldn't have filed a complaint on just that anyway.
So, no, this is pretty much not the complaint I'd have written. Then again, I'd not have written a complaint on behalf of Damore at all.
V: Political Discrimination
Here's the most interesting part. Damore became persona non grata at his own workplace before he was fired. He expressed a point of view that was very unpopular with his co-workers, and accordingly became unpopular with them. That's not something I think is legally actionable. Google has no duty to tell its employees to be tolerant of unpopular political opinions, especially when they do implicate pro-diversity recruitment and promotion policies of the company.
The question is whether Google can punish Damore (and his named and unnamed colleagues) for what he says is expressing his political opinion and what Google says is creating a hostile workplace environment and thus discriminating against other employees. Damore wrote his memo under the cloak of discussing a scientific, social, and political issue.
In other sections, a different named employee and still other unnamed employees are described as having expressed right-of-center political opinions in various ways at Google and then punished for them. Some of these, taken at face value, look like they might be company-imposed discipline after learning of an employee's political ideas: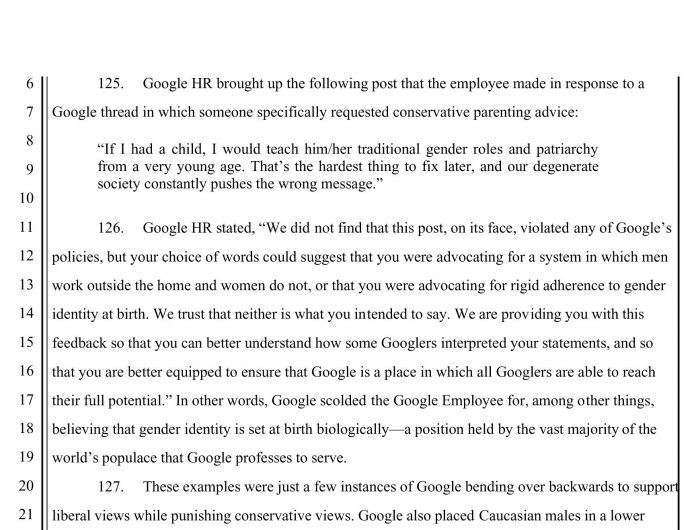 This is not discipline, and therefore not actionable. It is disapproval of the statement, though perhaps not as severe as the final paragraph suggests.
I'd not have alleged that the breadth of political protection that Labor Code  §§ 1101-1102 provides encompasses things like this. Now, for the record, I happen to think that Labor Code  §§ 1101-1102 are not particularly good ideas in today's political and commercial environment. I would prefer the Legislature repeal them. But they are the law.
As I read them, these statutes clearly protect off-duty, off-site political activity. They protect running for political office. They protect registration with a particular partisan preference. But I don't think they necessarily protect an on-duty or otherwise work-associated expression of a political opinion. Very debatably, Google's fostering of a workplace culture where there is an unmoderated forum for talking about whatever you want, including politics, creates a contractual expectation of this as a benefit of employment. But the plaintiffs didn't sue for breach of that contract. That's my read of 1102 protecting "political action or political activity," and 1101 protecting "political activities or affiliations."
There is precious little case law interpreting these statutes, though, and mining the grand total of nine (9) reported appellate cases in which purported violation of these rights was addressed in any meaningful way yields nothing particularly illuminating. So we're back to interpreting the raw text of the statute. Conservative originalists will find themselves unhappy here. 1101-1102 were passed in 1937, and have remained on the books, unamended, ever since. It's pretty likely that the "political activity" that the population in general, and their framers specifically, were thinking about was union organization and not much else. It's we more flexible contemporary textualists who have to confront the fact that the plaintiff does have room to maneuver: is an attempt at persuading someone to look at an issue the way you do a form of "political activity"?
VI: Why I Wouldn't Have Taken James Damore's Case
I wouldn't have taken on Damore as a client in the first place. An employee at Google would have been within the reasonable range of interpretation to look past all the weasel words in his screed and seen it for what it really was: an argument that men tend to be better at coding than women and Google ought to just admit that instead of making poor conservative James Damore sit through boring diversity training. He has Manly Coding to do! Maybe that really, legitimately, wasn't Damore's intent. But it would be a reasonable for a female coder at Google to react to it that way, and very evidently a lot of Google employees did react to it that way. Mutatis mutandis for the co-plaintiff.
Had Damore come into my office with that story to sell to a jury, I'd have been, "Yeah, no. Hard pass." Indeed, there's a pretty good argument that Google had to fire him if he was creating such an internal uproar. And that's before this all became public and tarnished the reputation of the company. I think "casting the company into disrepute with our customers" is also a pretty good reason to terminate someone. I say this was a righteous termination, not a wrongful one.
But, Damore found a lawyer. And he and his lawyer been making the rounds of conservative media; I noticed them on the Tucker Carlson show Tuesday night. So they're going for it. And I admire her willingness to go into uncharted waters interpreting 1101 and 1102 even as I'm hoping she winds up losing because she's going to make dispensing any sort of advice to an employer in California extraordinarily difficult if she prevails.
It's pretty rare when I say that I hope the law interprets a legal protection given to an employee narrowly. But that's what has to happen here. If Damore's memo and the other stuff all really is protected conduct, and other Google employees were complaining that doing that stuff created a hostile workplace environment, Google was damned no matter what it did. The cleanest legal solution is to say that expression of a political opinion is not "political activity" as contemplated by these statutes and the creation of a hostile workplace environment is not legally protected by anything.
Image by feliperivera