How to learn Mandarin Chinese characters
There are many articles on this topic. I've read almost all of them. Nevertheless, I think I have something to contribute because by and large their advice didn't work for me.
Let's get a sense of your task here. If you want to actually learn Chinese as well as an educated Chinese person, you are looking at learning something like 4000 or more Chinese characters. That's a lot. Characters look something like this BBC headline:

which Google Translate helpfully tells me means
Waterdrop live: monitoring video we see "being live" Why
Mind you, that mess of scribbles above is "simplified" Chinese, which has fewer strokes in each character and was designed to help spread literacy by making Chinese easier to decipher. If you are learning Chinese, you have your work cut out for you.
Nevertheless, it's as straightforward to learn 4000 characters as it is to learn four. You start with the first and keep going until you get to wherever you are going.
Here, I'll even give you a head start. Here's six characters from the book I end up recommending in this post.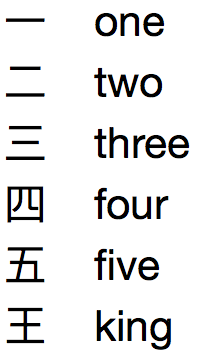 Easy? You're already 0.15% of your way there!
And this is typically how most people's advice goes. You start with simple, common characters and just keep going until one day you know how to read "While Jake has a pleasant disposition, his friends know him to be an introvert" but you're reading it in Chinese.
The most popular texts are structured on this idea. Here are three focused on keeping you focused on accumulating characters with the aid of mnemonics.
[amazon template=thumbnail&asin=B00SQBFE56]
[amazon template=thumbnail&asin=080484299X]
[amazon template=thumbnail&asin=0824833236]
I own each of these three books above. I have started plowing through each of them multiple times. Never have I made it halfway through any of them. I lost steam.
Ultimately, it's really hard to just keep accumulating characters day after day without ever doing anything with them. Even the shortest of these books has 800 characters in it. The conceit of the method is that you learn all the characters in the book and then (and only then) set out and find some reading material. The problem with this approach is that learning a character without any contextual hooks or sentences to practice them in is unrewarding. The reward lies too far away.
And that takes us to my recommendation:
[amazon template=image&asin=0804847266]
What Cornelius Kubler of Williams College did is write a nice thick book that nevertheless covers only 288 characters. The characters are presented only six at a time. Then—and this is the crucial part—he spends a couple pages playing with those six characters.
It takes a while to get going. The first 12 characters are mostly numbers. Nevertheless, you get to practice reading numbers. After 24 characters, you are reading the names of provinces and street names and cities. Only a bit further and you get real sentences and conversations you can follow. They aren't entertaining, but I am for the first time reading stilted conversations in Chinese, and that's awesome. I can now read for example
I live near the airport. Therefore, it doesn't take that long to get to the airport.
Perhaps that doesn't seem like much to you, but if you plan on successfully dedicating yourself to learning a language, you must learn to delight in wins like that. Fluent conversations are built on top of stilted conversations. All I have to do is keep going, and I will because I found a method that feels rewarding.
Reading Kubler, I realize what was wrong with those other methods. Reading sentences containing characters is where the actual learning happens. The presentation of the characters is the bare minimum, and those other books don't bother to do more than that. Knowing how to read isn't just about knowing what isolated words mean and then hoping they combine into something understandable in the end. You need sentences from the start. Children don't just learn the word m-o-n-k-e-y. They learn to talk about monkeys eating bananas and climbing trees and making monkey sounds. Without that, they'd just be narwhals.
Kubler leaves you with a sense of ownership of the characters that other methods haven't been able to deliver to me. If you're just starting to learn Chinese characters, this is the way to go.