Weekend!
As you know, Bob — wait, no, that's not it.
As some of you may recall, Jaybird is in Michigan visiting relatives, mostly the very elderly type.  He took about 12 pictures like the one below the other day and asked me to share this one with you all: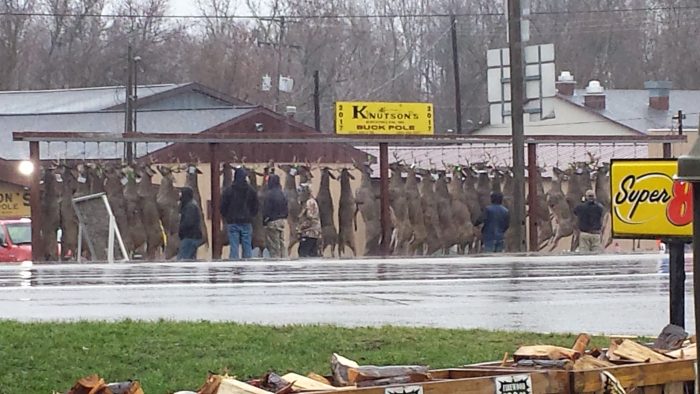 Y'all may be appalled, impressed, reminiscent, or whatever comes to mind…. as for me, I've been craving venison ever since.  (For the uninitiated, all those dead deer are getting weighed.)
Aside from the game cravings, I haven't been very hungry lately; I've got one of those really stupid upper respiratory things that don't keep you from accomplishing anything but do keep you from wanting to.  Luckily the non-emergency, important, don't really want to discuss it, medical stuff I've just gone on leave for until the Monday after Thanksgiving is being treated outpatient, and doesn't require me to be germ-free to work.  So I'll just take the germs as a sign that sleeping in is also an important part of getting better, and run with that.
Other than Jay's trip and my medical thing, the weekend will be spent doing the usual chores and laundry.  In our fuzzy pajamas.  Possibly with some quality hanging out together by sitting in adjacent rooms and occasionally saying something to the other person.  And I've got a stack of books to wallow in that would probably do for 3 or 4 medical leaves, a ton of podcasts to listen to, and some promising TV to watch.  Also lots of tea, and purring cats.
Definitely shaping up to be one of those "things could be a lot worse" kind of weekends.  ('Scuse me while I go find some wood to knock on.)
So………. what's on your docket?