Why the Republican Party Wants to End the Adoption Tax Credit and Tax Graduate Tuition Waivers
Some people are asking what Republicans are thinking in their latest tax proposal. I submit that they know exactly what they are doing and why.
I. The Adoption Tax Credit
Adoption statistics are hard to find, but here are some of relevance:
In 2008, 135,813 children were adopted in the US in all types of adoption…
Adoption from foster care accounted for 41% (55,303) of all adoptions in 2008. In 2000, they made up 40 percent of all adoptions.
International adoptions accounted for 13% (17,416) of all adoptions in 2008. In 2000, 14 percent of all adoptions were of children from foreign countries.
Other adoptions (private adoption from adoption agencies or adoption attorneys, tribal, step parent) accounted for the rest—about 46% (63,094) in 2008.  In 2000, they accounted for approximately 47 percent of all adoptions. [Vik: bullet points removed]
To repeat, 14% of adoptions are of foreign children. None of these children have done anything to earn their citizenship, yet they will all be granted it. Further, many of them have health or behavioral issues that impose demands on the US health and education systems. These are costs not borne entirely by their parents but instead by the public as a whole.
40% of adoptions are transracial. This is a shocking statistic considering people still greatly prefer to marry within their own races:
This is borne out in my personal experience. I've noticed in the schools that my daughter attends that whatever racial diversity is present there tends to be there as a result of adoption. 75% of US-adopted non-white children join families with white parents.
In general, we adoptive parents have means. We're professionals who have the means and social capital to come up with perhaps $50,000 per kid just to get through the adoption process. After that, we invest heavily into our children's educations and development like the relatively well-off people we are. These investments by predominantly white families are sent primarily to benefit foreign children and children of color whose parents haven't made those same investments.
II. Taxing Graduate Tuition Waivers
If you pay tuition as a PhD student, you are getting screwed. I know an embarrassing number of PhDs, and none that I can think of have ever paid any tuition. That there is even a nominal tuition charge listed on school websites but never billed or collected is probably for accounting reasons.
Who benefits from such waivers? Generally, not masters and professional degree students, who don't receive them. Doctoral students are the ones getting waivers. Who gets doctoral degrees? Well,
In 2014, close to one-third (29 percent) of doctorate recipients were temporary visa holders (mostly on F-1 visas), according to the National Science Foundation's Survey of Doctorate Recipients. While the share of temporary visa holders among doctorate recipients in education and humanities programs was relatively small (10 percent and 13 percent, respectively), they represented roughly half of doctorate recipients in engineering (52 percent) and physical sciences (42 percent). China (including Hong Kong), India, South Korea, Taiwan, and Canada were the top five origin countries of temporary visa holders earning doctorates at U.S. colleges and universities, accounting for 62 percent of foreign PhD students.
III. Connecting the already-adjacent dots
The adoption tax credit and graduate tuition waivers are hallmarks of multicultural policy. They are engines of globalism at work in the United States right now. They bring people who would not otherwise have become Americans and deeply embed them into American society, changing it irrevocably. And that's before those immigrants have kids of their own. The process is difficult enough to reverse that even the president is having trouble imposing a travel ban to partially curtail it.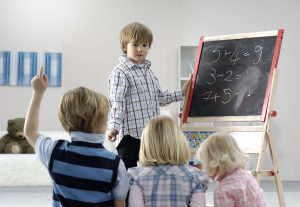 The modifications put forth by the Republican tax proposal accurately represent what they desire. The party is currently a nationalist party standing against globalists. While they might not be able to stop undesirable adoptions or ban foreign graduate students in a tax bill, they can make the things they find distasteful and destructive to their idea of the core American identity a bit more expensive than they would otherwise be.
Image by www.audio-luci-store.it