The End of Gentrification as we Know It
 [Note: About a year ago, I wrote about the transformation of my city here. This post is a quasi-sequel to that one.]
A Case of Vandalism
The anarchists have vandalized the motorcycle café.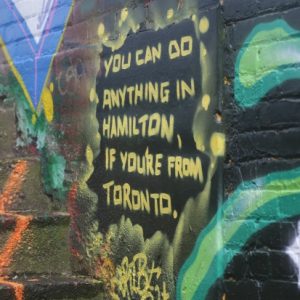 Located at the corner of two "up and coming" streets in Hamilton, Ontario, where I live, the recently-opened motorcycle café has been celebrated in the local media as another harbinger of the "revitalization" of our city. Where once there were dive bars and boarded up storefronts and an ever-present but ill-defined atmosphere of "danger," or so the story goes, now there are young people from the wealthier city of Toronto coming to launch boutique stores and selling expensive handmade limited-run editions of things like coffee, cupcakes, motorcycle jackets, tee-shirts, and bandanas. These young migrants are feted by the press as a sort of avant garde transforming ours and many other cities across North America with entrepreneurial projects that are quasi-miraculous and quasi-colonialist. It all recalls the French revolutionary's comment about the English: this is apparently a generation of shopkeepers. Albeit one with a countercultural backlash.
I'm not sure that I have a strong opinion about shops offering $5 donuts or $40 socks or $300 shoes, beyond thinking that I can't afford them. I have been basically working class my entire life and, almost by definition, these luxury boutiques aren't meant for working class people. I retain the sensibilities of my upbringing and it still feels like a wasteful extravagance to eat out at a restaurant, much less one offering $70 steaks or $20 "champagne pancakes". The notion of a high-end "vintage motorcycle lifestyle" store and espresso bar is all too bewildering to be offended. There have long been people with a great deal of expendable cash and a desire to construct their identity via conspicuous consumption. We used to call them "yuppies" but "hipsters" seem to be basically the same thing – like yuppies who found a time machine back to the late nineteenth century. Certainly plenty of other groups have been terminally ridiculous. It hardly seems worthy of vandalism, which is just as bewildering a response.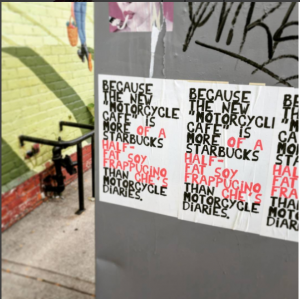 The defacement, which consists of posters wheat-pasted to the storefront and all lampposts in the vicinity, doesn't really clarify much. The posters read "Because the new 'motorcycle café' is more of a Starbucks half-fat soy Frappucino than Che's Motorcycle Diaries." Because what? This reads more like an aesthetic complaint than a political one, aside from the trite reference to Che Guevara, that "Rudolph Valentino of Red Fascism" (in Hakim Bey's memorable phrase). If the style of the store is simply not to one's liking, why vandalize it? But, as is so often the case, there are larger wars being waged here. The poster came out of a local anarchist collective's series of artworks attacking development and gentrification in the city. Not everyone feels welcome in the "new Hamilton".
The cafe responded with their own cheeky sign reading "You're going to hate this new store".
Define Gentrification…
Gentrification is a frustrating topic to discuss. As a friend pointed out recently, we went very quickly in Hamilton from local development boosters claiming "it's absurd to think that Hamilton is gentrifying" to them claiming "Hamilton is gentrifying and there's nothing you can do about it." Nevertheless, when they say that gentrification is inevitable, it's useful to ask them how they define "gentrification". Typically, they mean something like decaying buildings being replaced with cupcake boutiques and will then ask "what do you have against cupcakes?" And the standard definition holds that gentrification means remaking an urban area in line with bourgeois tastes by bringing in wealthier residents and pricing out the less affluent – what used to be called "urban renewal".
However, I have suggested a simpler definition of gentrification as the process of producing wealth by displacing the poor in a particular area. This puts it in line with a more general trend over the last few decades of redistributing wealth and resources upwards in the post-industrialized world via political policies – what has been called "neoliberalism". We can interpret this however we want, but it seems to be an unmistakable historical trend that wealth has been increasingly concentrated among a smaller subset of the world population over the last three or four decades and that governmental policy has encouraged, rather than slowed, this concentration. Perhaps it's best to think of "neoliberalism" as the ideological justification of that redistribution of wealth and resources.  But let's back up a bit…
A Brief History of Hamilton
First, you need to understand a bit more about the history of Hamilton, Ontario. Located roughly 70 kilometers from Toronto (a one-hour drive, more or less), the city has long been defined by its blue-collar industries. While it's most often called "Steeltown" and once produced the majority of the steel in Canada, everything from bricks to mustard has been produced in this city, which is one of the most industrious in the country. Our local myths are very much tied to visions of raw materials being shaped into goods, a city "wrought from the wilderness", by men wrought themselves from something like steel.
Here's a great short film from the 40s, during Hamilton's heyday:
By the 70s, Hamilton also had a fairly lousy reputation across the country as a "lunch-bucket town" and "the armpit of Ontario" due to high levels of industrial pollution and a belief that the city was a cultural wasteland. As an American, none of this meant very much to me when I moved here at age 30; I found it more significant that some of the greatest bands Canada ever produced came from this place. When Toronto friends made fun of Hamilton, I asked how bands as great as Teenage Head or Simply Saucer came from a "cultural wasteland". But the reputation persists, possibly because much of the country's media is produced in Toronto. To explain this to my American friends, you probably have a mental image of New Jersey, even if you've never been there, and not necessarily a good one. It's a bit like that. As a columnist for the Ottawa Citizen wrote in 1971: "Poor, poor Hamilton… It must be galling to be ugly and to feel duty-bound to pretend that you're beautiful." Ugh.
As you might have surmised, a great deal of Hamilton's bad reputation reflects more on the unconscious classism of Canadians than anything else. The city has its share of crime and the social pathologies of working poverty, but nothing remotely like what I saw in Baltimore, DC, New Orleans, or any of the large cities in the US. Mostly, Hamilton's bad reputation is a weird cultural quirk of very status-obsessed people in Southern Ontario. To me, as an outsider moving here, the Toronto/Hamilton resentments felt as meaningful as Springfield versus Shelbyville. Mostly, I found the city to be welcoming and unpretentious. If outsiders avoided Hamilton, I was alright with that.
"The Brooklyn of Canada"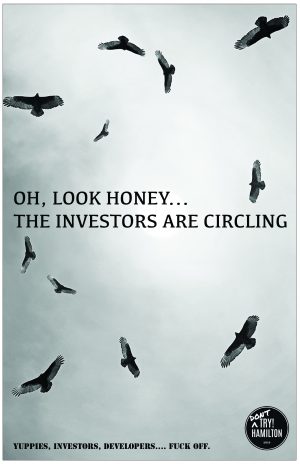 What changed everything was a hyper-inflated housing bubble in Toronto, which suddenly made life in the armpit seem more appealing. Torontonians started moving here in greater numbers, the media took another look at the city, and, most importantly, local politicians, landlords, and developers got sky high hopes for en masse migration. Once that happened, gentrification went from being a myth to an inevitability. And Toronto migrants were suddenly fans of the "grit" and "authenticity" of Hamilton. In fact, the motorcycle café sells slightly overpriced Steeltown tee-shirts to show their love. Other popular clothing items include the "True Hamiltonian" line and the "Hamilton is Home" shirt. The city, meanwhile, has pumped millions of dollars into "attracting" outsiders to move here through commercials, music festivals, real estate tours, and the like. The emphasis, it must be noted, is not on empowering the people that already lived here with the tools to better their community. Small business loans remain very hard to get for "true" Hamiltonians.
On a more concrete level, what this renaissance has meant for me and my friends is increasing difficulty finding and keeping affordable living spaces. The higher-paying jobs remain in Toronto and are still held by the migrants who live here and commute there. But local landlords have caught the scent of money in the water and come up with increasingly aggressive, borderline illegal ways of evicting longtime tenants in order to push up rents. (By an Ontario law, rent increases were capped at 1.8% per year, unless tenants can be removed and "renovations" done.) Perhaps one-half of my friends are currently caught in disputes with their landlords and, were they not self-educated about their rights, would have been evicted already. Looking for an affordable room this summer was something of an ordeal, and has required more patience with my new landlord than I might like. He too has high hopes of moving "some nice couple from Toronto" into the property next to ours. Like many other recent speculation-driven booms, however, the local housing bubble seems to be a disaster in progress.
So, beneath the surface, there are simmering resentments in "the ambitious city" and, to be fair, they go both ways. Plenty of newcomers still think of long-time residents as a benighted lower-class culture and are comfortable being insufferable snobs in public places. By the same token, anger towards motorcycle cafés and gourmet restaurants seems very misplaced. These places are the beneficiaries of decisions made at the political level and will, most likely, close after they cease to be useful, or the bubble bursts, whichever comes first. We need to distinguish between our minor pet peeves towards the hipsters who move in and give working poor residents the stink eye, versus our legitimate anger towards the moneyed interests that are looking to capitalize off the economic desperation of this place – and desperation is becoming our major industry after the decline of the steel industry. The two groups are intertwined, but not identical. They can be wrenched apart.
A few observations in lieu of conclusions
Allow me to make some general observations about gentrification. I spent the first few months of 2016 driving around the eastern United States, spending time in cities like Memphis, Charleston, Baltimore, New York, New Orleans, and Washington, DC. What I found most striking was that, in spite of the very different historical characteristics of these cities, gentrification always looked about the same. There must be a textbook on how to gentrify: establish an "arts district", label your city a "music destination", invite developers for walking tours, offer matching funds for selected small businesses, put in bike lanes, et cetera. There are certainly good things here, but the end goal always seems to be to get rid of the working poor and get their real estate. However, the uniformity of gentrification is more a sign of lack of imagination on the part of city governments than any sort of inevitability.
In other words, gentrification is, like so many other "inevitable" trends, the result of specific policy decisions. The "decaying" strip of Hamilton that is now being "revitalized" was, in fact, left to rot for years by absentee landlords holding out for inflated rents by sitting on properties and this, in turn, was made possible due to local laws. The entrepreneurs who have since moved in were favored by policies such as matching funds, which are still unavailable to many small business owners. So, yes, a reservation-only restaurant offering $70 steaks in an impoverished part of the city is gross, but it's only there because it serves the political interest in bringing in a higher tax bracket of residents.
Similarly, the problems of poverty can be exacerbated or addressed in very different ways depending on policy. While Hamilton has implemented a cruel and futile program in which the police ticket and fine panhandlers, the city has also taken steps towards a "housing first" strategy that is innovative in the nation. This should be celebrated. Toronto has recently implemented a tax on foreign speculators who invest in real estate properties that they don't inhabit, which will make a difference. Requiring developers to build one affordable housing unit for every four luxury condos would make a huge difference. Educating renters about their rights would make a critical difference. Simply addressing the problems caused by gentrification in a serious way would demonstrate political leadership, which is often sadly lacking.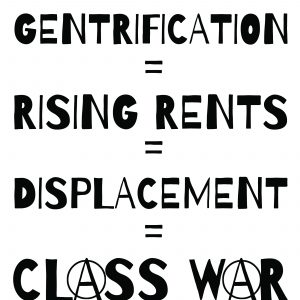 It would be an exaggeration to call gentrification, as it has generally been implemented, "class war", but perhaps not by much. When advocates of "revitalization" talk about "cleaning up" urban areas by driving out the "criminal element", as they invariably do, what they really mean is displacing a population in order to get their real estate. And not necessarily displacing them to anywhere better – when rents increase, homelessness also increases. When homelessness increases, cities all-too-often bus their populations elsewhere. In fact, many of Hamilton's ever-present homeless first arrived when Toronto bused them here. In an interesting turn of events, a friend recently screen-printed a parody of the "Hamilton is Home" tee-shirts reading "Hamilton is Homeless" and sold them out immediately. Within days, homeless people were coming into our basement art and music space to request their own shirt.
---
So, I think that far too often gentrification is talked about as something to be "for" or "against". But the fact that it is so often engineered via specific policies and laws means that it can be made to take very different shapes depending on what a community demands from their political and business leaders, even including those little motorcycle cafes. Instead of talking about how to fight gentrification, we might start asking "what sort of gentrification do you want?"