Peak NFL? Revisited
I asked last February if we have passed peak NFL, based on the TV ratings decline of the 2016 season. I figured I would probably revisit the question next winter, once this season's numbers are in, but this very interesting piece by Rodger Sherman at The Ringer prompted me to return to the topic now.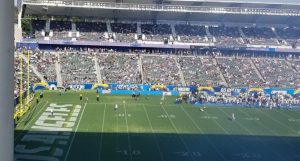 Sherman examines the Chargers, until recently of San Diego and now, not entirely happily, removed to Los Angeles. They are temporarily playing in a soccer stadium with a mere 27,000 seats: far smaller than any other NFL venue. An internet cottage industry has arisen of showing the sparse crowds, despite the tiny capacity,  or how most of the fans came into town to root for the other team.  Sherman asks, "What if it works? What if the Chargers never develop an enduring fan base, but still prove profitable?"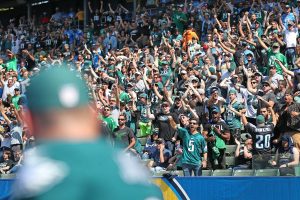 Does a team actually need fans in the stands to bring in revenue? Absolutely not. The NFL operates on the billionaire socialism plan. Much of its revenue is shared collectively. This includes, inter alia, all its television revenue and 40% of gate receipts. The Green Bay Packers are the only team whose financials are made public, due to its peculiar ownership arrangement (a mistake the NFL will never allow again). We ought not take these numbers as being typical, but they are nonetheless real numbers. For 2014 the Packers brought in a bit under $150 million in local revenue, and a bit over $226 million as their share of the NFL collective trough. It is certainly possible in principle for a team to cut its expenses to the bone, and presumably its local revenue as well, while living off of its share of NFL revenue. The NFL has a minimum team salary cap expressly to block this strategy, but with the minimum at $167 million for 2017 there is still considerable wiggle room.
In practice I strongly suspect that the NFL's governing documents allow for a forced sale, should some clever owner try fielding a Pee Wee football team and pocketing his league share. But it remains true nonetheless that a team has substantial guaranteed income with no direct connection to anyone watching its games, either live or on TV. Revenue sharing has considerable advantages to a league. The high revenue teams subsidize the low revenue teams, presumably allowing for greater competitive parity over the long term, which in turn presumably makes for a more attractive product, increasing revenues to the benefit of every team in the league. But it does make for a collective action problem, providing a perverse incentive that can be exploited as much as the other owners will allow.
This is, however, not quite what the Chargers are doing. They aren't sacrificing local revenues. Quite the opposite. There is another set of incentives at play here: luxury suites. Luxury suites aren't new. They have been around for decades. I saw two Phillies games from a luxury suite at the old Veterans Stadium, when my employer scored the tickets from some corporation higher up the food chain. The suite was nice, but it didn't knock my socks off. That has changed. The modern stadium luxury suite brings to mind the lovely word "sybaritic." And the modern football stadium has more of them. Indeed, more and more luxurious luxury suites is the drive behind most modern stadium construction.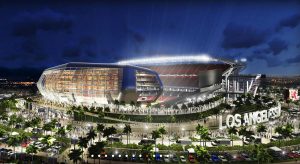 This is why owners are demanding new stadiums when you drive a car older than the current place.  It's not that the place is a dump, but the trend for more and fancier luxury boxes has marched on since the place was built. This is true across the various team sports, but especially so with the NFL. To understand why, recall that 40% of the gate receipts that goes to the league collective. Luxury suites are an exception. That all stays local. Spend money to sell one of the cheap seats and not only is it a cheap seat, but you only get to keep 60%. Spend money to sell a luxury suite and the revenue is all yours.
The results, to the extent that they are public, are impressive. Forbes in 2013 reported that the Cowboys, Washington Redskins and New York Giants all generate at least $75 million annually from club seats and luxury suites. (I am not entirely sure what "club seats" means here, but I take it as not part of the shared revenue. I am happy in the surety that I will be corrected if I am wrong about this.) Think back to those Packers numbers from 2014, where their local revenues were about $150 million.
Thus the business model becomes clear. Selling tickets to Joe Sixpack grows increasingly irrelevant. Yes, he will buy overpriced beer and nachos, and this revenue stays local, so that is good. But sales to rich people can be vastly more overpriced! In this light, the proles in the stands are mere backdrop: part of the spectacle being sold to the people who matter.
But are they are a necessary part? The luxury box sales are to corporations, who in turn use them to shmooze customers and generally as conspicuous consumption: a corporate potlatch. The Chargers moved from San Diego to Los Angeles because the mere fact of the new location increased the franchise value–in Forbes' estimation by 36% overnight, and this is expected to grow. Los Angeles has a vastly larger pool of corporate cash sloshing around looking for a place to be spent. But does a luxury box overlooking a sparse crowd hold the same cachet? Is the knowledge of a luxurious experience while the little people sweat in the sun important, or are the little people beneath notice? I don't know. I am kind of fascinated to find out.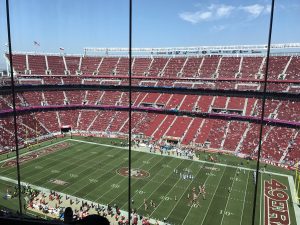 A couple of other points to touch on: Empty seats are not the same thing as unsold tickets. The new 49er's stadium, two counties down from San Francisco, is also an enthusiastic target of empty seat porn.  Yet its games officially are sold out. It is likely that the Chargers games are as well, or nearly so. What's going on here is that many many tickets are bought up by brokers for resale on the secondary market. This only works if the market price is higher than the face price. The brokers have structural incentives to stay in the game even while losing money, if they think matters will reverse themselves later, but if people continue to stay away in droves this bubble will burst eventually. My take is that this is secondary so far as the teams are concerned. While it is lovely to get revenue for empty seats as long as they can string it out, the real action is in the luxury boxes.
Another point is that these empty seat stories all come, at least so far, from the west coast: the Chargers and 49ers especially, and to a lesser extent the Rams. The NFL has always been something of an awkward fit for the west coast. Those 1:00 starts on the east coast are 10:00 a.m. starts on the west. Who is even out of bed yet at that hour? (Well, me: much to my surprise I have turned into a morning person in my senility. "Sleeping in" means getting up at 6:30. But that's just me. I am no one's target market.) Also, the Chargers and 49ers both suck. So this may be a local phenomenon with no broader implications.  Or it may be that this is a wider phenomenon, but the coastal media results in selection bias.  I don't know.
Finally, bringing this back to the title topic, what, if anything, does this mean for the Peak NFL hypothesis? That hypothesis emerged from falling television ratings. It is too soon to know anything definitive about this year's ratings, but so far they are not great. Not disastrous, but not good. How does l'affaire Charger fit into this, if at all? It's hard to say. It may be nothing: a mere blip. And really, the NFL business model has for the last half century marginalized actual attendance. Most of the revenue comes from fans who rarely if ever go to the stadium. But it certainly can't be good. The most precious commodity of the NFL, or any professional sports league, is the collective fiction that it matters. The greatest threat to the NFL is that people will drift away. It doesn't matter whether this is due to concern about head trauma or due to outrage over players taking a knee during the anthem or due to reaching a breaking point of too many commercials. The danger is that once they skip a few games, they find that they still have something to talk about over the water cooler on Monday, while now having their Sunday afternoons back. The sight of vast swaths of empty seats can only reinforce the growing sense that this stuff doesn't matter, or at least is optional.
Returning to Rodger Sherman's question "What if the Chargers never develop an enduring fan base…" What if? I wrote back in February that "I am not predicting a collapse. I'm not sure I am even predicting a long, slow decline." That there is decisiveness to be proud of, and I am fearlessly sticking to it! If this long, slow decline comes to pass, we will look back at the Chargers move as the slope getting ever so slightly steeper.