Demonstrating Against Trump by Demonstrating Against America: What could go wrong?
A quick recap
Inappropriate police violence exists in the United States. Black people are on the receiving end of a lot of it. A lot of people are upset about this.
One of them is Colin Kaepernick, a millionaire ex-San-Francisco starting quarterback. To protest police violence, he quietly kneeled during the national anthem. Many people did not like this. As a result, no team has been willing to take him on as a player, and he is effectively unemployed despite being better than most starting quarterbacks for most teams.
Other people have kneeled including at least a gaggle of people on the Cleveland Browns. People are further upset by this.
Trump
Donald Trump in Huntsville, Alabama:
Wouldn't you love to see one of these NFL owners, when somebody disrespects our flag, to say 'get that son of a b*tch off the field right now – he's fired.' [sic]
The response
People have pointed out that Donald Trump is a hypocrite. For example, he criticized Barack Obama for opining that the Washington Redskins should change their name.
President should not be telling the Washington Redskins to change their name-our country has far bigger problems! FOCUS on them,not nonsense

— Donald J. Trump (@realDonaldTrump) October 8, 2013
So, he's been critical of Obama when he was asked to comment on sports as president but now that he is president he's gone out of his way to advertise his opinions about the behaviors of specific players. People have pointed this out.
Someone familiar with the flag code points out that typical sporting events feature several violations of the flag code. These are behaviors that are specifically designated as disrespectful that many people who think of themselves as patriotic nevertheless do.
Since "disrespecting the flag" is still the narrative being used, this courtesy of the US Flag Code Chapter 10: Respect for flag

A Thread

— Koooooooooooooooooop (@koopa_kinte) September 23, 2017
Additionally, he points out that kneeling during the national anthem is a conduct violation, not disrespect. In contrast, wearing the US flag as clothing, done by a number of people who think themselves patriots is considered disrespectful.
Not covered in the "Respect for Flag" section; standing/kneeling/sitting. That's considered a conduct violation, not disrespectful.

— Koooooooooooooooooop (@koopa_kinte) September 23, 2017
Donald Trump has thrown down a challenge to many players in the NFL. Several people are predicting that additional players on Sunday will kneel in support of their teammates right to free speech.
Even the players who hate the guts of the guys kneeling for an anthem & disagree with all of it are gonna have their back due to this

— kilgore trout (@KT_So_It_Goes) September 23, 2017
Where we Kneel
Scott Adams has called Trump a master persuader. As has always been Scott Adams's strength and weakness, he fits this theory into situations where it doesn't belong even as it is based on a kernel of truth.
Unfortunately for people like me who would prefer for Trump to be exposed, I think Scott Adams is being proven right.
If additional players take knees, they will be doing so against Trump, but from the perspective of a viewer watching the games, they will be doing so against the United States of America. We should be thankful every day regardless of who the president is that America is not her president, but that knowledge is rapidly being eroded.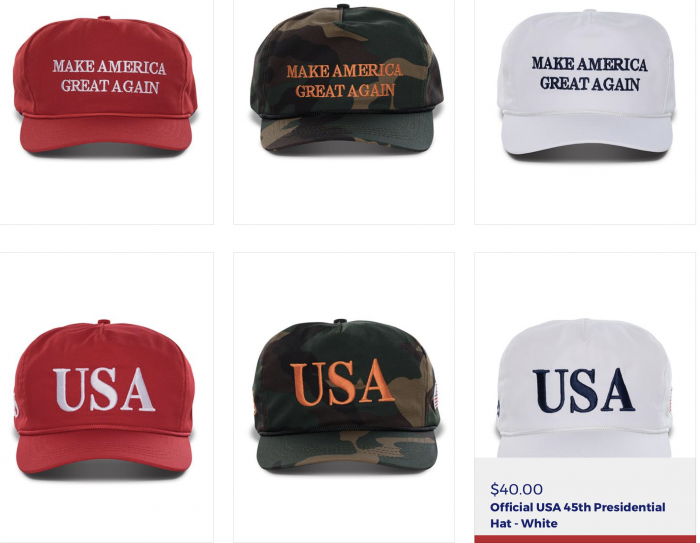 This is intentional. Look at the Trump campaign hats.
The man may be in love with himself like no one else on this planet, but notice he was still smart enough to keep his own name off hats whose purchase literally supports him.
Liberals could not do the same today, and this is bad. We need to remember that Ta-Nehisi Coates did not win the prior presidency. Barack Obama did. And Obama was an optimist on America. In the face of turning over the White House to Donald Trump he dared say this to Ta-Nehisi Coates's face:
To be optimistic about the long-term trends of the United States doesn't mean that everything is going to go in a smooth, direct, straight line," he said. "It goes forward sometimes, sometimes it goes back, sometimes it goes sideways, sometimes it zigs and zags.
If you spend time on the left half of Twitter, it's very easy to feel that optimism "about the long-term trends of the United States" is lacking and perhaps vanished entirely when Obama finished packing his last suit.
In contrast, for the right, Making America Great Again is a worthy project. Yes, it lacks any sort of substance, but it uses the words Great and America and sounds like an action, and that's enough to give some people goosebumps.
Who Owns America?
America the brand is thoroughly owned by the right.
I live in a liberal city. When I see an American flag at a residence here, I think "oh, there's a Trump supporter." And I think I'm more often than not correct. I don't think I've even seen hipsters try to fly the flag ironically. That would be a bridge too far for them. Flag-waver is an insult.
I don't know why it has to be this way. The national anthem doesn't have anything to do with police brutality. It's just that if you are a football player, there are relatively few ways to make your message heard over everyone else. Kaepernick found a way, but it was a way that unfortunately makes it seem like supporting Black Lives Matter is somehow anti-American when the movement needs people to feel the opposite.
A Way Out
I don't know how to get out. What I do know is that when people choose to resist Trump by demonstrating in ways that seem more against America than against him, it will coincide precisely with the branding message in his $40 campaign hats.
I have spent many years of my life dreaming of being an NFL player. Tomorrow, I will be thankful I am not one.