Jemele Hill, or, The Politics Of Describing A Duck As "A Duck"
---
Donald Trump has demanded that ESPN, and, by extension, Jemele Hill, "apologize for untruth."
ESPN is paying a really big price for its politics (and bad programming). People are dumping it in RECORD numbers. Apologize for untruth!

— Donald J. Trump (@realDonaldTrump) September 15, 2017
"Apologize for untruth" is an apparently meaningful demand in the president's world. The alleged untruth for which he is demanding an apology is Hill's excoriation of the president as a white supremacist:
Donald Trump is a white supremacist who has largely surrounded himself w/ other white supremacists.

— Jemele Hill (@jemelehill) September 11, 2017
This demand for an apology looks strikingly familiar. It is almost as if it is a well-worn play from a tired old playbook, one utilized again and again and again by conservatives who would prefer that their motivations go undiscussed.
—
Late in the debate over gay marriage, when it finally seemed perfectly clear that those who recognized the equality of their fellow man were winning, those who continued to oppose gay marriage wanted to make something very, very clear: they were not motivated by their hatred of gays.
Earlier in the history of advocacy for gay marriage, hating gays was a perfectly acceptable position to take. Campaigning upon the idea that gays were worthy of explicit hatred played perfectly well. Yes, there were those who loudly objected to the idea that gay citizens were second-class citizens forever deserving of second-class citizenship, the popular majority disagreed firmly. But then the majority started to shift on the issue, and suddenly what had once been a popular position started being more politically problematic. Opposing gay marriage suddenly necessitated something more substantive than, "Eww, gay people? GROSS!" Only something more substantive had never actually existed, as evidenced by gay marriage opponents' laughable inability to produce a persuasive explanation as to why it was exactly that their concerns about marriage began and ended at excluding gay couples from the institution.
This left gay marriage's supporters being asked to accept an unbelievable claim: that gay marriage's opponents were not motivated by their hatred of gays, but rather, by something else that there was simply no evidence for. Some people went along with this charade no matter how incredibly absurd it remains. Others did not, rightly understanding that what an individual wants to subject another person to matters considerably more than what they claim to feel about that same person. In other words, if you want another person to die alone in a hospital because the person they love is prevented from being by their side, it does not matter if you also say that you still love that person. The suffering wanted trumps the love claimed, so to speak.
—
Which brings us back to Hill. She is ESPN's Sportscenter host. As mentioned earlier, she earlier this week correctly identified Donald Trump as being a white supremacist. The evidence for this is both plain and overwhelming, and it certainly didn't take Trump's refusal to disavow Charlottesville's racist protestors to know this about the man. He has surrounded himself with bigots from the very outset and his outright hostility toward minority populations is entirely apparent to anybody who bothers to pay attention.  Hill is one of the many people who are paying attention, so when she blasted Trump for being exactly what he is, nobody anywhere should have been surprised.
But of course, there were people who fetched hither their fainting couches at the idea that anybody on ESPN might also have political opinions. To that end, ESPN absolutely embarrassed itself by sanctioning Hill* for having accurately described the president, and in doing so, opened the door for the White House to call for Hill's firing. Or, to put it in Sarah Huckabee Sanders' own words:
I think that's one of the more outrageous comments that anyone could make, and certainly something that I think is a fireable offense by ESPN.
That a conservative government official is calling for the dismissal of a private employee is… odd… but putting that hypocrisy aside, note that Sanders makes literally no attempt to substantively rebut the criticism. It's not that Trump isn't a white supremacist in other words; it is simply that saying so out loud is "outrageous" and that having put that thought into the broader universe is a fireable offense.
Or, as the execrable Clay Travis – a conservative sports commentator – put it:
To me, calling someone a white supremacist is like calling them a pedophile. You better be 100% right with that accusation.

— Clay Travis (@ClayTravis) September 12, 2017
(Is it worth noting that this thinking is precisely the sort of thing that aids and abets both white supremacy and pedophilia? Yes.)
Sanders's demand that Hill be fired is part and parcel of the play being executed here. Describe the comment as outrageous – without offering any reasons as to why exactly it is outrageous – and then demand a punishment. But perhaps trusting anybody in the Trump Administration to properly diagnose outrageousness is too big an ask. For instance, it has never once been the case that any member of the Trump Administration has ever called for white supremacists to lose their jobs, despite having had plenty of chances to do precisely that. This might be motivated by the White House's employ of several of those aforementioned white supremacists.
What Jemele Hill did this week was very, very, very similar to what other members of the American media have done recently. Here are some samples, including The New Yorker: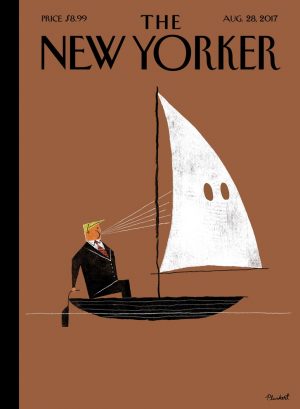 and The Economist: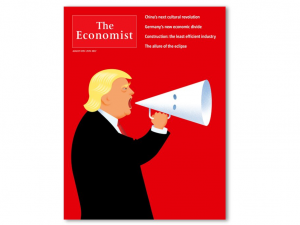 and Time:
If one wanted, they could accuse Hill of having been late to the party, although she almost certainly believed the worst of Trump long before she tweeted it. The fact remains that nothing had the White House calling for heads to roll before Hill got in on the act. It is almost as though there is something fundamentally different about Jemele Hill than there is about The New Yorker's David Remnick and The Economist's Zanny Minton Beddoes or Time's Nancy Gibbs.
But here, we are trapped, because to make such an implication is to be engaged in the sort of "outrageous" commentary that the White House currently, and conservatives forever, have declared as out of bounds. Certainty is required, as Travis insisted insisted above, and even though that certainty already exists, it is not now and never will be persuasive enough to those defending Trump's entire existence. Critics like Hill are asked to simply keep quiet despite the mountain of evidence directly in front of them, because to do otherwise is outrageous. Just as it was outrageous to describe those opposed to gay marriage as bigots, despite a similarly sized mountain. Critics are asked to do this because to believe the worst of another person – white supremacy, in the case of Donald Trump, or bigotry, in the case of opposition to gay marriage – is mean in a way that demanding the government punish hated minorities is not, as if American history is not littered with the names of those whose motivations were never more substantive than hurting the people they loathed.
Hill rightly described a duck as a duck, and was met immediately with the idea that the only reasonable course of action is to say no such thing, no matter how true it might be. This is the game of the whole thing, in which somehow saying, "Hey look, a duck!" is offensive, even if the duck is standing there with a megaphone, screaming, "I'm a duck!" for all the world to hear.
---
(*This included Jim Brady's response. He is ESPN's Public Editor. He thinks that ESPN's policy against "inflammatory rhetoric" should have tempered Hill's description of the president. "You mustn't describe the man as a duck," Brady thought to himself, "because even though ducks are ducks, you cannot say that ducks are ducks, because some ducks get very offended by such things.")