How to Argue for Young Earth Creationism
As I've mentioned a handful of times, I was raised a Young Earth Creationist. At the time, it didn't seem like a particularly nutty way to be raised. Anyway, one of my youth group leaders thought that the whole Young Earth Creationism thing was important enough to proselytize and so many of us were taught to be Young Earth Creationism Evangelists. Weaponized YECs.
Now, this might strike one as silly, but my little corner was taught that Young Earth Creationism was at the foundation of our Christian Faith. Why? Well, because the Bible has the lineage of Jesus going back all the way to (In The) Beginning. You can get from Jesus to King David a couple of ways. The Gospel of Matthew takes you from Joseph and Mary back to Abraham and the Gospel of Luke takes you from Joseph all the way back to Adam. Bishop Ussher used these genealogies to date the creation of the earth back to 4004 B.C. The argument, so it went, was that if Adam was a metaphor, then Jesus was likely a metaphor. They talk about this in 1st Corinthians 15:12-19, after all:
Now if Christ is preached that He has been raised from the dead, how do some among you say that there is no resurrection of the dead? But if there is no resurrection of the dead, then Christ is not risen. And if Christ is not risen, then our preaching is empty and your faith is also empty. Yes, and we are found false witnesses of God, because we have testified of God that He raised up Christ, whom He did not raise up—if in fact the dead do not rise. For if the dead do not rise, then Christ is not risen. And if Christ is not risen, your faith is futile; you are still in your sins! Then also those who have fallen asleep in Christ have perished. If in this life only we have hope in Christ, we are of all men the most pitiable.
And with that in mind, they trained a bunch of kids how to argue in service of Young Earth Creationism and they gave us a very interesting (to my mind, anyway) bunch of tools to use when we went out into the world to spread the word.
The main thing that they taught us was that most people don't know a whole lot about biology. Most people just take what is taught them and they regurgitate it for a test in the classroom without ever thinking about what they've regurgitated. So they hammered on a lot of the various things that were taught in biology class and then they simply reframed them in a new way and asked us to think about them… really, really think about them. Of course, since we were kids, we needed to be walked through how to think about them. Of course, they were more than happy to shepherd us.
The first thing they asked us to notice was that there was a dialectic (they didn't use that word, but that's what they pointed out). That is to say, that the argument wasn't really about Science at all. Science, they pointed out, was a *METHOD*. It wasn't a team or something to cheer. Heck, it wasn't something to get emotional about at all. But look at how emotional all those scientists got when we were arguing Creationism, they pointed out. And that's not all! Look at how emotional all of these "Evolutionists" got throughout history! They gave us one of those quotations that's attributed to everyone from Augustine to C.S. Lewis: "The Truth is like a lion. You don't have to defend It. Get out of Its way. It can take care of Itself."
The emphasis on the training, at that point, was to show us what it would look like when someone got in the way of The Truth. See how people get upset when you tell them about the Truth! There were several examples that they taught us but they mostly revolved around the whole idea of taking a single outlier and then using that outlier as if it were representative of everything that happened in the debate. The biggest and best example they gave us, to my mind, was the example of Nebraska Man.
Some information: Nebraska Man was not, as they taught us, a hoax. It was, instead, a premature classification (granted, a particularly egregious one). Here's what happened: some scientists found a tooth in a field and, based on this tooth, these enthusiastic scientists declared that they had found one of the missing links. I mean, seriously: they *LEANED* into it. This tooth proved that prehistoric man had done something or other and this proves that we need to teach evolution in schools and… well… a few months later it turned out that it was the tooth of an extinct pig. (I don't know why it was particularly relevant that the pig was extinct. Even so, the folks who trained me always hammered on that point as if it made the mistake even more embarrassing. An *EXTINCT* pig!, they pointed out every time. It made the cadence of the sentence better, I guess.)
Of course, of course, we were told, Evolutionists would brag about how when they make mistakes they change their minds, as if they wanted a cookie for doing so, but we were told to not look at how they changed their minds after they got caught but what they said *BEFORE* they got caught. Look at what they said about the Nebraska Man. How they crowed! People were bragging about finding the first anthropoid ape in North America based on little more than a tooth. On top of that, they were commissioning drawings that showed a day in the life of Nebraska Man. Based on the discovery of a tooth!
It was the exuberance that they had us focus on. Not the fact that there was nowhere *NEAR* consensus among scientists at the time. Certainly not the fact that once it was found out that stuff was retracted appropriately. It was the enthusiasm for finding this stuff in the first place. The statements that rubbed it in the face of people who believed in The Bible. The drawings. Oh, goodness. The drawings. "They made these drawings of people after they found *A TOOTH*!" ("From an *EXTINCT* pig!")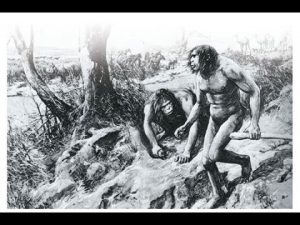 The enthusiasm was given as evidence that there were teams and that the scientists were hiding behind the facade of "Science!" in order to be on a team. It wasn't about the method. It wasn't about truth. It was about picking sides and trying to win.
After all, if someone says 2+2=4, it doesn't make sense to yell "IN YOUR FACE!" at anyone nearby who might be arguing that 2+2=5. It's really only the people who argue that it equals 5 that yell stuff like that. The people who believe that it's 4 don't get emotional when you disagree with them… and if someone does, the proper response is not to get huffy and aggressive and to start talking about the various traits of the person making the statement. The proper response is to say "No, that's wrong. 2+2=4." So that was one of the tells we were told to look for and point out. The Truth, after all, was like a lion. It doesn't need someone to get huffy and aggressive and to start talking about what people who think it must actually be like, deep down. The Truth can protect itself and, by showing itself, it does a far better defense of itself than any huff/aggression/ad hominem attack could ever dream of providing.
From there, we were asked to read stuff like Inherit the Wind and then asked to compare the transcripts of the actual trial itself with the dramatization that followed and then we were asked "why in the world would science need to lie about what really happened?"
And then, at that point, it became VITALLY important that we each learned what "really" happened. We had to learn the names and dates of the so-called hoaxes. We had to learn, by memory, the differences between (deep breath) Piltdown Man and Nebraska Man and Java Man and Peking Man and we had to have these facts at our fingertips. (Keep in mind: This was before Smartphones were a thing.) We had to be able to argue this stuff at a moment's notice because…
Well, the people we were arguing against usually weren't that well-versed in it. They took a year of biology in high school and they probably memorized stuff just long enough to get past the test and then promptly forgot it. And the ones who didn't promptly forget it, probably gradually forgot it. You know the Krebs Cycle? That thing that turns ADP into ATP and turns Oxygen into Carbon Dioxide? Yeah, I knew about it once, but I have since forgotten everything about it except that it's that thing that turns Oxygen into Carbon Dioxide. (I had to google to remember the ADP to ATP part of it.) Well, since it was a dialectic, the point was to get people to wonder. Get them to doubt. Most importantly, to get them to SEE THE DIALECTIC. Ask them questions about "how come your professors never told you about Nebraska Man?" (and never mind that the answer was "they had to cover everything from the Krebs Cycle to Photosynthesis to Reproduction to a section involving dissecting a (not yet extinct) fetal pig and there wasn't really time for that sort of thing if there were only 175 days of school".)
On top of that, we were trained to always be calm, cool, and collected. There was a dialectic, after all, and there were bystanders. If we were arguing with someone, we had the obligation to be dispassionate and stereotypically "scientific". Let the people we were arguing with get upset. Let the people we were arguing with display how attached they are to their narrative. Let them rage and rant. It is our job to stand there and be calm and have tons of facts at our fingertips. It was their job to say "I don't know" and get frustrated.
Over and over again, it was reiterated to us that it wasn't just about the person with whom we were arguing. There would be people watching and it was our job to present identically to how stereotypical scientists: calm, cool, collected, tons of information at our immediate recall, and the ability to withstand some angry person yelling about how they were told something different by people they trusted implicitly.
And since the goal was not necessarily to change minds by giving facts but change them by exposing the dialectic, we were given tools that helped expose the dialectic. And then, once we could get people to doubt that it was about science but think that maybe it could indeed be about sides, we were halfway to victory.
Among the tools we were given to expose the dialectic was The Gish Gallop. Named after Duane Gish, this is when you give 12-15 "whatabouts" in a very short period of time. Again: this was before the internet. So the people we were talking to didn't have all of human knowledge in their back pocket. The best part about the Gish Gallop is that, in a very short period of time, it communicates familiarity with the various theories and, since it's probably impossible for anybody under the best of circumstances to deal with 12-15 "whatabouts" in a very short period of time, it communicates *GREATER* familiarity with the subject than the person with whom we were arguing. That doesn't really help with the person you're arguing with, but wasn't necessarily about changing the mind of the person we were arguing with.
Remember: it wasn't about Truth. It was about the dialectic. We were not only communicating with the person we were arguing with. We were communicating with the audience.
Another of the important tools we were given was the reframing and undermining of science in general. Tools like carbon dating? Well, you could argue that carbon dating didn't work. For example, there were seals that were freshly killed and were then carbon dated. They were aged as being 10,000 years old. 10,000 years old, we then boggled. How many orders of magnitude was that over a few days? The tools that science is using just don't work. And people argue as if science is this great tool that is so very accurate, but they can't even get stuff like fresh meat right. (For the record, carbon dating is a tool that works on a geologic scale… getting to within 10,000 years of when the seals were killed should have had everybody saying "golly, that's pretty accurate!" rather than looking at them as dealing with orders of magnitude.)
Yet another tool: The Odious Conclusion. You can see this trick above in Paul's first letter to the Corinthians. Either this good thing is true or this odious conclusion is true. Since we want to avoid the odious conclusion, therefore, the good thing is true! How this worked for Young Earth Creationism was to invoke eugenics. If you were arguing with someone only passing familiar with the theory of evolution, it was easy to set them up and get them to argue that there was a choice between Young Earth Creationism and some particularly odious statement. "If evolution was true, doesn't that mean that eugenics could work?" was a fun one (remember: no internet in the back pocket). You'd find that most people had never even thought about the question and it was fun to ask questions focusing on whether evolution leads to odious conclusions. Then, of course, you could point out that if God created everyone equal, you didn't have to worry about whether or not the eugenicists had a point. Force them to choose between something pleasant and something odious.
And, hey, the big guns: If you really wanted to go for the jugular with the odious conclusion argument, you could point out that Young Earth Creation had whatever dead loved ones hostage. Wanna see your grandparents again? Better believe in a Young Earth! Remember at the beginning where we tied whether or not Christianity was true to Bishop Ussher?
Well, you can tie whether Heaven is true to whether Christianity is true. Which means that you can tie whether you'll see your deceased loved ones again to whether or not you're willing to believe in a Young Earth.
And since most people wanted to see their loved ones again, it was easy to get them to consider avoiding the odious conclusion.
So those were some of the tools that we used way back before every single computer on the planet was connected to every other single computer on the planet (let alone before everybody had one of these computers on their person).
I don't know whether Young Earth Creationism is really much of a thing anymore, now that everybody is connected and thus everybody can easily find people who have written essays dedicated to the scientists who were skeptical of Nebraska man (with citations!), people who have written 10,000 word essays dealing with each and every "whatabout" in any given Gish Gallop (with citations!), and people who are capable of writing a sensitive essay making distinctions between "what I wish were true on a personal level" and "what we can actually measure given the instrumentation that we have" (with citations!).
But, even so, if you ever find yourself wanting to argue on behalf of Young Earth Creationism on some beach somewhere (and it had better be a beach that has smartphones banned), those are the techniques that I was trained to use.
(Image is "Dino on a Leash" by sundancekid. Used under a noncommercial reuse with modification Creative Commons License.)