Wednesday! : Pickathon Edition
So, a couple of weekends ago, I had the opportunity to perform in a totally non-musical capacity at the indie-music festival Pickathon. It's a four day affair artists specializing in various indie-oriented popular music genres, including hop hop, alt-country, rock, blue grass, glam, brit pop, punk, electronica, and many others, set in the forests outside suburban Portland.
As luck would have it, and apropos of nothing else in this post, I ended up scheduled on my favorite of all the festivals many stages, which looked like something the forest elves from Lord of the Rings might have built. In the morning, when I we first toured it, it looked like this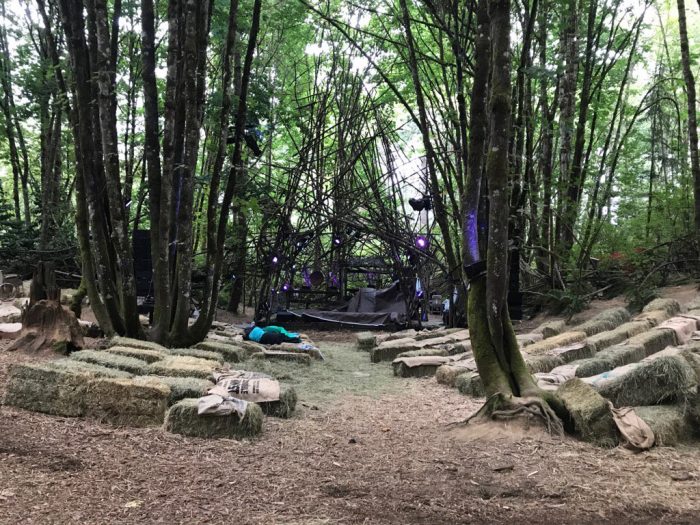 but at night it looked nothing shortchanged of ethereal.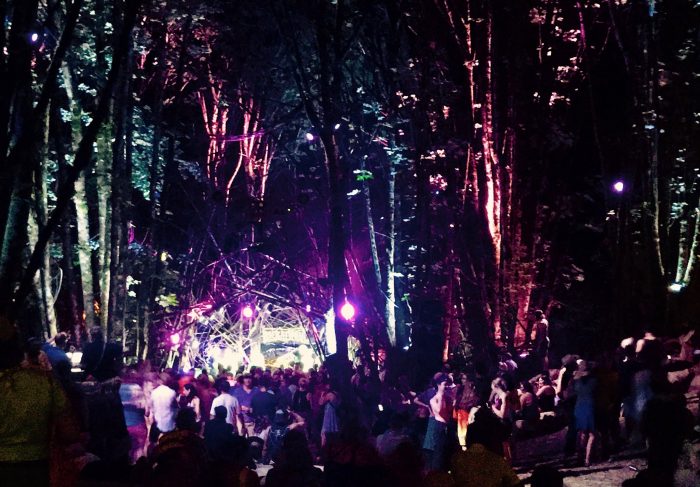 Prior to this weekend, I had never seen any of Pickathon's acts live, and in fact there were only a small handful I was that familiar with, such Drive By Truckers, Dinosaur Jr, and the Last Artful Dodger. Most I had never even heard of before. Every single act I saw over the weekend was just bloody fantastic, with no exceptions.
It occurred to me that this crowd might be more familiar with the acts I saw than I was, but then again you all might not be. So I thought I'd list my very favorite top 10 Pickathon acts, and encourage everyone to seek them out should they come to your town.
Tank & The Bangas
One of the artists I had heard of prior to this weekend was New Orleans' Tank & The Bangas. You may have heard of them too, as over the past few years they have become an NPR darling. I'd even heard their funk/soul/hip-hop album Thinktank, and I liked it well enough. But I was wholly unprepared for how freaking fun they would be live on stage. They weren't just my favorite act, they were the runaway consensus Best Set of the festival. They played the audience like a fiddle, as they at any given moment shifted from speed rap to soulful crooning to something that might well have come out on a Lin-Manuel Miranda score.
TANK AND THE BANGAS - BOXES (BalconyTV)
Charles Bradley
Bradley was the act I was most looking forward to seeing before I got to Pickathon, after my 17 year-old son came back from a festival last summer raving about his show.
A lot of people compare the near-octogenarian to James Brown, since Bradley spent much of his musical life being a Brown impersonator – but the truth is he's closer to a 1962-63 era Otis Redding. Along with artists like Leon Bridges, Bradley is one of the artists bridging the gap and introducing the spirit of early soul and the Apollo sound to my son's peers.
Not to be morbid, but the guy is just shy of 80 and so God only knows how many more years he has in him. (Honestly, I don't know how someone his age belts out his numbers the way he does.) So go see him as soon as you can, while we are still blessed enough to have him among us.
Charles Bradley - The World (Is Going Up in Flames) (Live on KEXP)
Sweet Spirit
When I was first arriving at the festival, someone recognized me from my show — the first and likely only time that has or ever will happen in my life. He encouraged me to go see Austin's Sweet Spirit, which was about to play at any minute, and so I thought what the hell, I can set up my tent later, and thus proceeded to go and fall in love.
Sweet Spirit delivered more energy than I have ever seen from a band at 1:00 in the afternoon, mixing soul and doo-wop hooks with a driving post-punk motor, and the result was nothing less than infectious. I spent the rest of the afternoon humming and singing their set to myself.
Xenia Rubinos
I saw Xenia Rubinos play during the Saturday dinner hour at the festivals largest stage, when most people were eating and talking and just generally not being riveted by Xenia Rubinos. This, as it turned out, was great for me, my wife, and a couple of hundred others who were able to sidle right up to the stage to dance without having to elbow our way though throngs of people.
Much of her set was simply her voice, a bass, and drums (Rubinos would occasionally pick up a guitar oh hit the keyboards). Despite these spartan arrangements, Rubinos filled the whole sonic space with what felt like a massive Charles Bradley-sized band. Bonus for me: In her hour on stage, I don't think she did two songs that were from the same genre.
Xenia Rubinos - "Mexican Chef"
Jalen N'Gonda
I'd say that Jalen N'Gonda is a poor-mans Leon Bridges, but the truth is he might be even better live — a feat made all that more impressive as he performed solo, with just his voice and a reverbing Gibson. The whole weekend I didn't come across one person who had heard of him prior to Pickathon, but I didn't come across one who had seen him perform his first set that didn't opt to go see it performed again the next day.
I don't believe I have ever heard a voice sound that good live.
Jalen N'Gonda - Holler (When You Call My Name) | Mahogany Session
Black Milk & Nat Turner
Black Milk & Turner was hands down everyone's favorite act to dance to, whipping an already exhausted crowd in a state of frenzy at 2:00 in the morning. And if that's not enough reason to go see them live, every woman at the festival afterward seem to agree that they were the most beautiful men and worth the price of admission just to look at them. So there's that.
Black Milk + Nat Turner Band | Otis Live
Hiss Golden Messenger
I'd heard tracks from Hiss Golden Messenger over the past few years, and if I'm being honest they always left me non-plussed. Didn't really hate them; didn't really love them. They just didn't connect with me in any way. They are so very, very good live, though. They are so good that I came back home after the festival and looked them up on Apple Music to see if I liked their studio stuff more now than I had before. Oddly, I didn't.
I don't know that I would ever buy a Hiss Golden Messenger album. But I will absolutely go see them the next time they come to Portland.
Hiss Golden Messenger - "Lucia" (Live at WFUV)
The Last Artful Dodger
Like Hiss, the Last Artful Dodger is someone I've known for a while that I am expected to like as a card-carrying NPR-listening indie music lover. But for whatever reason, her music had never quite connected with me. Also like Hiss, I fell in love with her live.
Unlike Hiss, I find myself loving her stuff now that I am home giving it a new listen with fresh ears.
The Last Artful, Dodgr - Squadron
Sunflower Bean
I was actually on my way to go see another artist when I passed the stage Sunflower Bean was performing on, and I never made it to where I was originally going.
To my ear, Sunflower Bean sounds exactly like those bands I listened to in the 90s that tried so very hard to sound like those bands I listened to in the 80s trying so very hard to capture that psychedelic pop that flourished in the mid-60s, if that's a thing.
Is that a thing?
If that's a thing, that's totally what Sunflower Bean is.
Sunflower Bean - Easier Said
Mandolin Orange
I saw Mandolin Orange on a small indoor stage in a tiny little barn, which just felt right. Most of the other acts I've listed here made the audience want to dance. Mandolin Orange, on the other hand, simply made people want to be still. Indeed, it was the one act where I noticed a few other people in the audience wiping away tears during especially lovely moments.
Mandolin Orange - Lines on the Floor - Pickathon 2017