How Do You Get Good at Things?
Content note: This piece does not answer the question it raises.
To get good at something, you need to do a lot of it. If you do a lot of something, you will get good at it.
Let's say you buy into that pair of ideas wholly, which you should, because they are true. How do you go about doing the thing? There are plenty of people who are willing to believe they will become good piano players if they put in 10,000 hours, but how do they actually follow through on taking their own prescription?
You go to Amazon and buy the first book on how to play the piano. You purchase a piano and place it in your room. You schedule a lesson with an instructor who shows you your first set of exercises.
How do you do those exercises every day when the teacher leaves? How do you work through the book? How do you do make those and similar decisions 10,000 hours in a row?
I don't actually know the answer. I want to cover some possibilities though.
Discipline Imposed by Others
I recently wrote a post about how I made my daughter the best climber in her class. I stand by every word of it.
Still, there's something to be said about the scale of one's ambition. My daughter is the best climber out of 20-something semi-random kids. As far as I know, none of her peers were ever encouraged at all to develop their climbing.
She might go on to become an Olympic climber if she's extraordinarily committed to it 1, but that isn't a goal of mine for her. Becoming an Olympian is a tall mountain to get up, and I won't be dragging her up it.
If you are a particular kind of parent, you might though. Amy Chua's Battle Hymn of the Tiger Mother describes her doing just that for her two children. But Chua is granite. Her will will not be bent. Mine most certainly will. I simply won't discipline myself to discipline my daughter to do something she doesn't want to do for hours each day.
Even Chua is unable to do it indefinitely with both children. Her younger daughter eventually rebels against the endless violin practices. When she takes up tennis, which she has an actual interest in, she excels quickly. She does so without endless grinding against her mother's plan for her, and instead takes up a healthy activity that, frankly, is far more attractive than violin to the prestigious colleges that Chua planned for her daughter to attend.
Discipline Imposed by Oneself
I suspect this is what people try after reading a book like Malcolm Gladwell's Outliers. He says work for 10,000 hours, so start working those hours.
The Atlantic wrote recently about Dan McLaughlin, who tried to 10,000-hours his way into the PGA tour. He had no prior golfing experience and seemingly no particular interest in golf but instead was curious as to whether he could do something he had never done before well.
He failed. Quite publicly, due to injury.
If you want to become a professional in a ruthlessly competitive field that large numbers of people willingly pay money to do, then that is an order-of-magnitude difference than merely becoming very good at something. And Dan is a very good golfer:
Barely over halfway through, he'd pared his handicap to an all-time low of 2.6—a mark achieved by fewer than 6 percent of golfers.
That is what practice does. I promise you that you could get together any number of people who have never played golf before regardless of their fortunate genetics and none of them will be able to keep up with Dan.
Dan is almost certainly a good enough golfer to get a job somewhere within the golfing industry. For example, he might be a good coach should he choose that path and have some additional important skills. If he succeeds in that, it will be a direct consequence of his practice.
What practicing might not get you is into the PGA circuit. Dan is competing against people who have intrinsic passion in the sport. They practice and don't think about it as practice. They've been doing it a lot longer than Dan. Very few people can manufacture that level of commitment for something that is just an experiment rather than a genuine passion. Passionate people rack up hours effortlessly while Dan was disciplining himself to practice as part of a project.
I have hobbies of my own that I've tried to discipline myself to spend time on: jogging and playing the guitar. These are things I believe would be healthy for me to do. And I do do them occasionally and stop often, until the next surge of motivation.
I haven't given up on these exactly. I jogged once last week and my guitar is somewhere around here. Still, each time I do either requires a conscious decision. I am going to go for a run now. I am going to practice the guitar now.
Habit
People do plenty of stuff they don't love and don't have to discipline themselves to do. These are habits.
This seems like a miracle solution to me, and it's a reason I've read my fair share about developing habits.
What I can remember about the consensus on habit formation is this:
Try to anchor your new habit onto an existing habit. For example, if you already brush your teeth every day and want to start running, use the end of brushing your teeth as your trigger to start your run.
Remove barriers to starting. For example, if you want to play your guitar, leave it out, tuned, and in the way. Leave your music open on a music stand.
Discipline yourself for some number of days, say 21. After that, the discipline required to maintain the habit should be minimal.
Make your new habit small. For example, when establishing your habit, play just 1 minute of guitar or do just one pushup.
Regarding this last point, it's been made by several people, but among them is BJ Fogg, who runs Tiny Habits.
It's worth looking at Fogg's feedback to people planning habits. He declares nearly every one to be too ambitious. To take a typical example, someone wanted to try the habit
After I brush my teeth I'll floss for thirty seconds.
He revised it to
After I brush my teeth, I'll floss one tooth.
Another example is that this habit
After I get to my office, I will write down top three goals for work.
which was revised to
After I sit down to start my day, I will write "1" " 2″ and "3" on a piece of paper.
In this case, the anchor was changed to something more specific (sitting down), and the required action is truly tiny (writing down three numbers).
About the only thing I've managed to establish such a habit for is learning Chinese. I remain convinced that if I could just design myself to have the right habits I'd be living a much better life, but it's awful hard to get there.
Passion
If I remember correctly, Jason Kuznicki is a real runner. He actually loves running. Accordingly, he's done much more of it than I and is much faster too. I don't get the impression that he's disciplined himself to become fast. He just likes running.
For most of us, accumulating 10,000 hours in an activity is a consequence of having found something you like–or at least something you acquired a taste for.
Unless you are a machine able to program yourself 2 , you will only be able to dedicate significant effort to activities you find intrinsically rewarding. It logically makes sense for me to run and run repeatedly several times per week. But I don't, because I don't love running on any particular day. I can discipline myself into it a few times when I have the excess mental capacity to wonder about my health, but that's never going to amount to a marathon.
While we implore people to do what they love, I'm not sure everyone has something they love to the nearly obsessive extent required to rack up effortless hours of practice. One of my somewhat consistent habits is writing, and I can't really say I love it. It's something I am comfortable keeping as a hobby indefinitely. It's been my pleasure to read writers better than I on this site for a few years, and it is quite obvious to me that some of them are having more fun writing than I ever expect to.
Learning to Love
Why do people love things?
I don't know. But I have some guesses.
In general, people like things they are already pretty good at. Doing something well—better than others—makes us feel good about ourselves and so we can develop an affection for the activity itself.
People like things they can feel themselves getting better at.
One of the reasons I love rock climbing is I can tackle a wall, fail, and try several more times getting a bit further as I figure out how to do it properly. This gives you a sense of upward trajectory that makes you happy and that is reflected in your feelings toward the activity in general.
I think that's basically it. I tried getting my daughter to ride her balance bike, and never got very far. Then all of the sudden she saw a kid younger than her riding and wanted to catch up, which she is doing pretty rapidly. She's now excited and happy about this activity she didn't like before.
Looking back at my daughter's behavior, it seems she made an ruthlessly rational choice. She didn't want to put effort into the activity when she wasn't seeing returns from it. Seeing another person made her optimistic again about seeing returns. Now that she is actually making progress, she is willing to invest effort. Investing effort where and when you see rewards seems like pretty intelligent behavior to me.
There's a peculiar type of love for an activity that deserves special mention here. It's flow. Here's Wikipedia on it:
Jeanne Nakamura and Csíkszentmihályi identify the following six factors as encompassing an experience of flow:

Intense and focused concentration on the present moment
Merging of action and awareness
A loss of reflective self-consciousness
A sense of personal control or agency over the situation or activity
A distortion of temporal experience, one's subjective experience of time is altered
Experience of the activity as intrinsically rewarding, also referred to as autotelic experience

Those aspects can appear independently of each other, but only in combination do they constitute a so-called flow experience. Additionally, psychology writer Kendra Cherry has mentioned three other components that Csíkszentmihályi lists as being a part of the flow experience:

"Immediate feedback"
Feeling that you have the potential to succeed
Feeling so engrossed in the experience, that other needs become negligible
Csikszentmihályi lists three condtions for flow:
One must be involved in an activity with a clear set of goals and progress. This adds direction and structure to the task.

The task at hand must have clear and immediate feedback. This helps the person negotiate any changing demands and allows them to adjust their performance to maintain the flow state.

One must have a good balance between the perceived challenges of the task at hand and their own perceived skills. One must have confidence in one's ability to complete the task at hand.
But those conditions are speculative. They weren't empirically derived with a large sample. So, we get Schaffer in 2013 proposing seven flow conditions:
Knowing what to do
Knowing how to do it
Knowing how well you are doing
Knowing where to go (if navigation is involved)
High perceived challenges
High perceived skills
Freedom from distractions
If I try to distill this list, it sounds like people achieve flow by believing they are awesome. They should do something that they think is hard, but they are actually good at it because they are really good at that thing.
So, while a master pianist is in flow, they are doing something they are already great at, know they are great at, and nevertheless still feel challenged by.
If you can believe this about your own play, then you can practice the piano and even skip meals and forget to go to sleep because you are enjoying yourself so much.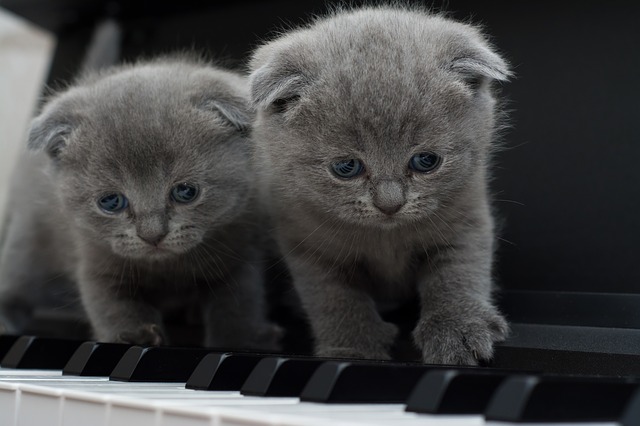 Unfortunately, if you aren't actually already a pretty good player, you probably can't convince yourself that you are. Instead, you will press some keys and realize it sounds awful. You have to practice past the awfulness before you can practice in flow.
That sounds hard, but some people are doing it as we speak. Future great piano players are now playing terribly on their way to being great. What gets them to play?