Smoked Corn Salad: A Labor Day Recipe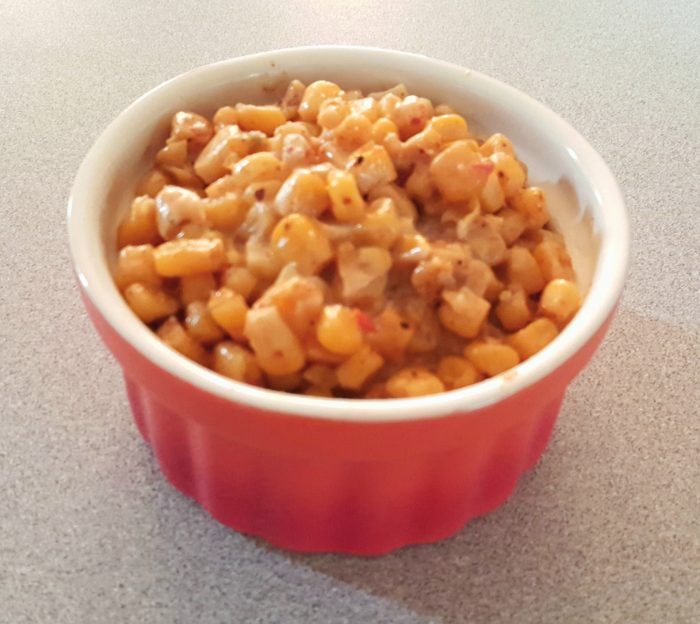 My oldest daughter remarked recently that the problem with Mexican-inspired side dishes is that everyone seems to just take a regular recipe and add corn or black beans to it. I also complained loudly when Emeril Lagasse once did a Kentucky-themed episode of his cooking show that just involved him splashing bourbon into every dish. With that said, this is a corn dish that I created for a birthday taco dinner, so I will freely admit I am a hypocrite of the first order. But this recipe still kicks ass.
The original recipe that inspired this dish called for using corn on the cob, but I have found that in most recipes it's better to start with the canned stuff. It's already tender enough to eat straight out of the can, while corn on the cob, if not cooked properly, can be a bit too crunchy. So I used 4 cans of yellow and white mixed sweet corn. I mixed the corn with a very small amount of canola oil to keep it from burning and then put it into a disposable 9×13 casserole dish. The key to this dish is to get a good smoke flavor into the corn. Having never smoked any vegetable before, I didn't have any expectations going in. Now having done so, I have found that corn seems to take smoke really well and I'm already thinking about what other vegetables I want to experiment with (carrots are the front-runner).
I prefer charcoal, so once I had a hot bed of coals, I put on a generous amount of mesquite chips that had been soaked in water for 30 minutes. The casserole dish went on top and I closed the lid on the grill for about 20 minutes. When I opened it back up I expected the corn to be starting to blacken in a few spots, which was what I wanted for visual appeal. That was not the case because the canned corn seemed to have too much residual moisture. This is where using cob corn might be better because I think the dryness will cause it to blacken more. Regardless, the mesquite did the trick and the corn had absorbed plenty of smoke. I brought it into the house and my wife immediately smelled the smoke from across the house.
The corn then went into a 375 degree oven for about 30 minutes to roast more. While waiting, I made the sauce. I started with about 2/3 cup of mayonnaise and added a 7oz can of Herdez salsa verde. My hope was that the flavor of the tomatillos would really complement the smoke on the corn, but after trying the sauce, there wasn't much flavor beyond the mayonnaise. Not wanting to water it down by adding more salsa verde, I went to the spice cabinet. I add some garlic powder and a fair amount of chile powder. This did the trick and gave the sauce just enough zing. When the corn was done I mixed them together. I added some diced pimentos for color and the dish was done.
I was extremely happy with the results here. Some things I might try next time would be less mayo and more salsa verde or to possibly add some green chiles. The smoke taste was so strong that I wouldn't do anything to crank it up any more. The dish was well-received at the birthday party and I'm looking forward to trying it again on the next crowd. All-in-all a very easy recipe and something different than chips and salsa.
Hope everyone has a great Labor Day and enjoys the four-day workweek.
SMOKED CORN SALAD
Ingredients
4 cans sweet corn (yellow or mixed yellow & white) drained
1 tablespoon canola oil
2/3 cup mayonnaise
7oz salsa verde
garlic powder to taste
chile powder to taste
1 small jar, diced pimentos drained
Directions
Mixed corn and canola oil and put in grill-friendly pan. Start smoke in grill, add corn and close lid for 20 minutes. After smoking, place corn in a 375 degree oven for 30 minutes. While roasting, mix mayo, salsa and seasonings. Remove corn from oven and mix sauce and pimentos with corn.