Tuesday!
In the MP3 era, we don't really have album covers per se, anymore.
Personally, I think that this is a dang shame.
On one level, the whole "album cover" thing was a strange idea in the first place. "How do we market this song/artist?" "Well, we're going to have a model wearing what looks like a white dress at first glance… but then, when you look closer, she's actually covered in whipped cream that has been sculpted to look like a white dress!" "Brilliant! What's the music on the album going to be like?" "Brass instrumentals."
Going through any given list of the worst or weirdest album covers of all time are usually good for a chuckle or three, but if you want a list of "best album covers", you're stuck with lists that, for some reason, are overwhelmingly populated by albums from the five years prior to the list's publication with the #3, #2, and #1 slots reserved for, depending on the writer, some combination of Sgt. Pepper's, Velvet Underground, and Sticky Fingers.
None of those album covers really stayed with me, though. I mean, going back now, I can tell you that Sergeant Pepper's cover was brilliant just because of how "busy" it was (you'd always find something new!), Velvet Underground's was funny because, get this, it had a sticker on it… and Sticky Fingers was funny because, yes, the zipper actually worked.
The latter two didn't translate to CD because they became mere photographs of the original covers and the former one didn't really translate to CD because you, seriously, needed a magnifying glass to see anything more than the ability to say "yep, that's Sgt. Pepper's all right".
So then I started thinking about the album covers that still stick with me, even after all these years and get me to say "you know, that really was a brilliant album cover…" and the first ones that always come to mind are the four solo albums from the members of Kiss: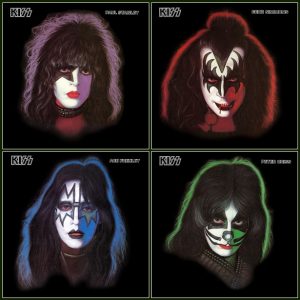 What an amazing marketing gimmick. What a strange set of icons. What an amazing set of album covers…
Sgt. Pepper's, Sticky Fingers, and Velvet Underground don't even hold a candle.
So… whad'ya got?