Reflecting on Kid Rock's Presidency
Welcome loyal patriots to America's number one cable news program, Everything is Fake News! I'm your host, Mike Cernovich, and tonight we will be looking at the incredible political career of Kid Rock, 46th President of the United States, as he leaves the White House after serving two successful terms.
Having conquered the music world with his note for note copy of All Summer Long, Rock set his sights on politics. After the astonishing victory of Donald Trump, various narcissistic entertainers around the country had a moment akin to kids seeing the Sex Pistols in the 70s. "If those talentless hacks can do it, why can't I?"
It was in the first and final debate with Debbie Stabenow that Rock demonstrated just how MAGA Mindset the man could be. While the Senator rambled on and on about debt ratios and financial reform, Kid grew increasingly frustrated with the sluggish pace of the debate. As he was scheduled to appear on Dancing With the Stars later that evening, he made the boldest move ever seen in world politics. Grabbing the confused Senator, Rock body-slammed her on stage while blaring Toby Keith's Courtesy of the Red, White and Blue. Rock, standing triumphantly over his elitist foe, chanted "USA! USA!" as the audience roared in approval. He then answered the remaining questions from the debate moderator by quoting Lynyrd Skynrd songs. He went on to win the election by a 10-point margin, only partially due to the death of Stabenow at the debate.
Rock's time in the Senate was noted for his injection of real American culture into the chamber. Rather than waste vigor debating legislation, he used his floor time to sell noteworthy products and rightly depreciate celebrities that had reviled him in the past. His two key pieces of legislation, allowing for senators to make floor votes from any American strip club and replacing e pluribus unum with "Love It or Leave It" as the nation's motto, were well received. These monumental successes for America made him an obvious choice for President following Donald Trump's third term. President Trump, seeing the energy Kid possessed (in addition to the ratings he might sustain in his Oval Office reality program airing on Fox), threw his support behind Rock.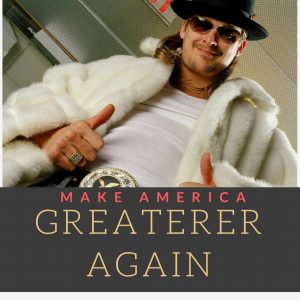 Along with his running mate Tila Tequila, Rock embarked on the most ambitious campaign in history, touring the nation with a carnival staffed with 135 people. His promise to "Make America Even Greaterer Again" was well received by the 140 million Americans who mystifyingly lost access to health care in 2017. Free weed and booze were distributed at all campaign events, with those suffering from cancer receiving extra doses of Satori and Bruce Banner #3.
Even after closing all globalist newspapers with Trump's "Stop Fake News Act of 2019," there continued to be opposition to his presidency and his chosen successor. The Democrats hosted a field of 17 candidates vying for their party's nomination, but few were able to break away from the pack.
The Dirtbag Left, having failed to stop Trump and create socialism in America, saw the error in their ways and decided to rebrand their movement and push more measured alternatives to the governing order. Called "Fuck You and Your Mom" Democrats, they recruited Flavor Flav to run with Robert Downey Jr. to challenge Rock. The two campaigns decided against traditional campaigning in favor of a series of documentaries developed by Michael Moore and Dinesh D'Souza. With the polls tight through October, a fortunate turn of events put Kid Rock in office: Flav and Downey were found dead two days before the election in an apparent drug/sex overdose at Comet Ping Pong.
Following in the footsteps of Trump's second and third inaugurations, all citizens in good standing were required to attend one of the simultaneous inauguration events across the country. Classifying kale and avocado toast as narcotics and placing sin taxes levied on said items paid for entertainment at the assorted gatherings. Rock decided to pattern his inauguration parade on the greatest fictional take on the Presidency in modern history: President Dwayne Elizondo Mountain Dew Herbert Camacho.
One of his first executive orders was to change the way Grammys were awarded. Rather than being voted on by industry insiders, the top awards would now go to the most popular acts of the year. Demonstrating his brass creativity, President Rock posthumously took awards away from previous winners and redistributed them to more deserving musical acts. Rock personally snapped up all of Radiohead's Grammys, decrying it as "arty nonsense made by foreigners" and gave the trophies to himself.
President Rock's foreign policy categorically made America greaterer by demanding back payment for all foreign aid from mooching countries around the world. When world leaders laughed at the President at G20, Rock validated his MAGA approach by bombing El Salvador, showing globalist leaders what America was made of.
Rock's ambitious budget promised free healthcare, ammunition and jet skis to anyone who voted for him. Top donors would be given beachside property in Oklahoma. Since all jobs had been made government work in the Twitter War of 2020, it meant all domestic opposition was fired from their places of employment. These jobs were redistributed to more worthy Americans. To fill the vacancies in medicine, law, education, engineering and finance by the vacancies, all credentials were classified as elitist and superfluous.
Sadly, the Deep State would not stand for Rock's populist agenda and struck to destabilize America to stop it from taking hold. The country went into a financial spiral due to nefarious academics and economists, who wrote critically of the seven-sentence budget.
President Rock's financial program was built on the premise that back payment for foreign aid would fund its various provisions, yet only Mexico had paid anything for the border wall after it became clear that it would serve to keep Americans from illegally entering Mexico.
Rock arrested all opposition to his Presidency under the "Muslims and Liberals Act of 2023," and fought to bring the death sentence to the group's leader, Hilary Clinton. Clinton had died in 2021, but President Rock made sure her body was exhumed and executed for her crimes.
When we return from our break, we will get to the bottom of the most pressing issue facing America today: the Clinton email server. Stay tuned for our two-hour investigative report with Attorney General James O'Keefe into this unspeakable crime and how it continues to work against the Rock Presidency and threatens the very foundations of all that Makes America Greaterer.