The New Doctor
We regret to see that there is an effort being made to introduce a political firebrand into the convention, in the form of a motion for the admission of colored club representatives into the Association. We hope nothing of the kind will be attempted. Thus far we have steered clear of this stumbling-block, and we sincerely hope it will be avoided for years to come.

If the colored clubs are as numerous as represented, it would be advisable for them to get up an association of their own. We wish to exclude every question from discussion in the Convention that in any way has a political complexion, and for this reason we shall oppose any such recognition as the one above alluded to. (Source: New York Sunday Mercury November 10, 1867)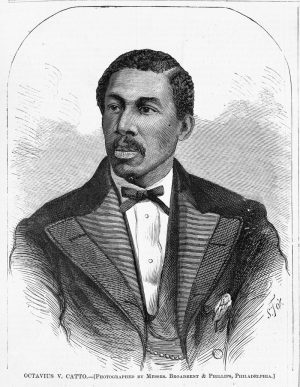 The context of this excerpt is that the previous month the Pythian Base Ball Club of Philadelphia had tried to join the convention of the Pennsylvania State Association of Base Ball Players. Ordinarily this would not have been a problem. Quite the opposite: the Pythians were a self-consciously respectable middle class organization. They were just the sort of club that baseball associations loved, except for one unfortunate detail: they were a colored club. That fellow to the right is Octavius Catto, their team captain and second baseman. Their application threw the convention into disarray. There were discussions, hand-wringing, procedural motions, and the application was tabled to give time for canvassing.
The Pythians' application was sponsored by Thomas Fitzgerald. Fitzgerald was very much a baseball insider: former president of the National Association of Base Ball Players and president of the Athletic Club during its ascent to the top of the Philadelphia baseball scene. He also was a radical Republican, stumping for Lincoln before that became trendy. What separated radical from moderate Republicans was civil rights for blacks. The radicals took the issue seriously. The moderates weren't necessarily opposed to idea, but didn't think it should get in the way of the serious business of government. Fitzgerald's support for the Pythians' membership application was a natural extension of his politics.
The application was withdrawn on Fitzgerald's advice. After canvassing the other delegates he concluded that it wasn't going to fly. He thought it wiser to retreat to fight another day. Dr. Martin Luther King, Jr., would have some trenchant commentary on this phenomenon, but that is a discussion for another day.
The excerpt quoted above was written in anticipation that there might be a similar attempt at the upcoming national convention. The writer is Henry Chadwick, the premier baseball journalist and a central figure in organized baseball at this time. Chadwick was not particularly racist, by the standards of the day. I write this as a connoisseur of Chadwickiana.  I have read over thirty years of his writing (with about another fifteen to go) and the subject of race virtually never comes up. It simply wasn't a topic that interested him.
What did interest Chadwick was the promotion of sports in general and baseball in particular. Specifically, the promotion of his vision of baseball (both playing and watching) as a respectable middle class activity. His views on hot topics such as Sunday games or liquor sales consistently align with contemporary ideas of middle class propriety. I take him at his word when he worried about the introduction of politics into baseball. It would create division, with the potential to become a wedge issue within his desired middle class patronage.
Next we jump forward twenty years. The context for the next excerpt is that limited racial integration had in fact occurred, lasting a bit over a decade. The emphasis should be on "limited." We're talking about around half a dozen players, mostly on the high minor league level. Why this occurred, and why it ended, are great topics, but for another day. Relevant here is that by 1887 this era was winding down. Black players on mostly-white clubs had been tolerated, but this was growing less true. Often it was their teammates who objected. Within a couple of years, management would conclude it wasn't worth the hassle.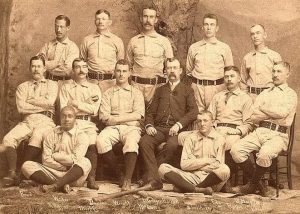 The specific event at hand was a sitting of the Syracuse (N.Y.) Stars for a photographic portrait, including Robert Higgins, a colored pitcher. Douglas Crothers, a white pitcher, objected to being photographed with a black man. The manager insisted, and Crothers slugged the manager, resulting in his suspension. The excerpt that follows is in response to this suspension. (I didn't find the photograph in a perfunctory search. Here is the team photo from the following year, with two–count them! Two!–black players. Higgins is in the lower left. That is Fleet Walker in the upper left. He had been playing on white clubs since 1883. His expression has a distinct "tired of putting up with shit" look to it.)
The general impression is that Crothers was about right when he refused to have his picture taken in a group with Higgins, the "C–n." This thing of ringing n——s into white clubs and compelling the players to associate with them is beyond common decency, and Crothers deserves great credit for showing his manhood. If Syracuse wants a colored club there are plenty of n—–s to be had, but this thing of having their teams made up of half black and half white, like many of the International League clubs is really disgusting and, if anything, degrading. (Source: National Police Gazette July 2, 1887; racial slurs elided.)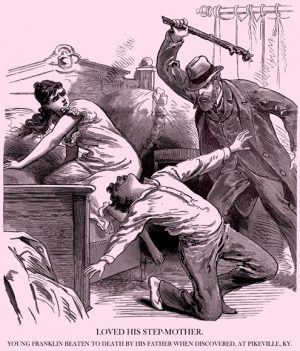 The writer here is June Rankin.  I wrote previously about his brother William, who gifted us with the myth that Alexander Cartwright invented baseball. Note that the discreet dashes in the excerpt were not in the original.  It spelled those words out fully. June's day job was as the sporting editor of the New York Herald. The Herald was a reputable paper, and one doesn't find such language used there–at least not in the editorial voice. This, however, is not from a reputable paper.  It is from the National Police Gazette, the supermarket tabloid of its day.  The Gazette was heavily illustrated, running to lurid tales of homicides, fallen women, homicides, homicides involving fallen women, and natural disasters. This illustration from 1894 is gloriously representative of the genre. The Gazette had extensive sports coverage, but it ran more to boxing and horse racing. Baseball, with its emphasis on propriety, wasn't really in its wheelhouse. On the other hand, baseball was huge, and couldn't be ignored. So it gave half a page each week during the season to baseball, contracting the work out to Rankin. What we see in the excerpt is Rankin letting his freak flag fly.
Look past the surface. Underlying Chadwick's genteel politesse and Rankin's deliberate offensiveness is the exact same policy. Both are advocating separation of the races lest white folks be disturbed. The presence or absence of spittle flecks is neither here nor there.
Finally to bring this puppy home, Chadwick's error is painfully obvious to us today. He wanted to avoid politics. In reality, his policy merely avoided controversy. These are not the same thing. He recognized that admitting blacks would be a political act. He missed the flip side, that excluding blacks was equally a political act. There is no opt-out provision available.
Also, Tilda Swinton would have been an awesome Doctor! Maybe next time.