"War for the Planet of the Apes" Movie Review
About 20 minutes into "War for the Planet of the Apes," director Matt Reeves's follow-up to his own "Dawn of the Planet of the Apes," a woman started crying behind me in the theater. And she didn't stop until the credits rolled. There's a depth of feeling here that I don't often find in any movie, let alone one that cost roughly $150 million.
It's been years since the events of "Rise of the Planet of the Apes," where man's hubris – as it is wont to do in science fiction – bit him in the ass. A drug intended to cure Alzheimer's went viral and proved fatal to man but enhanced the intelligence of apes, most notably Caesar (Andy Serkis). In the sequel, "Dawn," we learned that most of the human population had been wiped out, and a tenuous peace between man and ape shattered when Koba (Toby Kebbell), one of Caesar's top lieutenants, ignited a conflict.
"War" opens as human soldiers attack an ape outpost in the woods of northern California. After a particularly brutal skirmish, Caesar commands his apes to head east, while he sets out to avenge those lost. He's joined by Rocket (Terry Notary), Luca (Michael Adamthwaite) and the orangutan Maurice (Karin Konoval). During their journey, they stumble upon a young girl (Amiah Miller) and Bad Ape (Steve Zahn). Not long after finding the human base, Caesar is captured by a ruthless Colonel (Woody Harrelson). The man tells him that theirs is a holy war, one that will decide the fate of the planet. Will it belong to the humans or the apes?
The film itself is part biblical epic. One of my favorite shots, the moment I knew I was all in, comes during the opening battle. We watch overhead as the men fire on the apes and the apes launch spears in return. The camerawork moves slowly and smoothly despite the chaos below. It's as though ours is the disapproving and sorrowful gaze of a higher power. Caesar himself acts as both a Christ and Moses-like figure.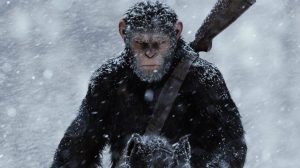 It's become fashionable for blockbusters to tread in darker and grittier waters. Think of your Dark Knights, your Bourne trilogies, etc. Still, this is a breathtakingly bleak film with apes being whipped and strung up on crosses. It's pervasively drizzly and snowy. Cinematographer Michael Seresin permeates his images with drab browns, grays, and blues.
Still, there's grace and humor to be found. When you first meet Bad Ape, you might have flashbacks to something like Dobby from the Harry Potter series – broadly comic computer-generated characters that derail the movie whenever they're on screen. But Zahn imbues Bad Ape with the kind of humanity you've come to expect from his live action roles, even when he is playing a dimmer bulb. There's also a wonderfully tender scene where Maurice, in a series of stark close-ups, learns that the young girl they've discovered can't speak.
One of the technological advances on "Dawn" involved being able to shoot actors in motion capture suits while performing in real environments as opposed to a sound stage. It lent the film an authenticity and made the effects feel especially tactile. That strategy is used here as well. A cavalry of apes thunders out of the fog on horseback, like something out of "Seven Samurai." Caesar and his friends ride along expansive coastal vistas. You don't often see films successfully pull off this vast scale while maintaining an intimate understanding of their characters.
Speaking of characters, the lifeblood of this trilogy has been and remains Andy Serkis as Caesar. Film fans, of course, know Serkis from his motion capture work on Gollum in "The Lord of the Rings." Throughout "War," Caesar wrestles with whether or not he'll succumb to his bloodthirsty impulses. There's a subtlety to Serkis's portrayal that's, again, uncommon in computer enhanced performances. (Props as well to Weta Digital for their technical wizardry.) The way he shifts his eyes or sets his jaw communicates so much. I'm thinking in particular about the look on his face as he's put in a cage at the Colonel's base. No words are needed.
Composer Michael Giacchino, who previously worked with Reeves on "Dawn," does his fair share of the emotional heavy lifting as well. This is his best score in years. It combines the disjointed percussive music that Jerry Goldsmith brought to the original film along with Giacchino's own penchant for writing simple yet impactful melodies. To fans of the composer's work on "Up," I'm not saying "War" has a piano motif that'll hit you with the full force of something like "Married Life." I'm just saying it may come damn close.
It's easy to be cynical about Hollywood. Mid-level productions squeezed by a parade of reboots, sequels, and prequels, most of which have the stink of being passionless cash grabs. And frankly, I was skeptical when 20th Century Fox announced their re-imagining of "Planet of the Apes." But this is a franchise that extinguishes any misgivings about the current movie marketplace. These are thoughtful and entertaining films endowed with artistry and humanity. And "War for the Planet of the Apes" is that rare third entry that actually tops its predecessor.