Weekend!
I went rock climbing.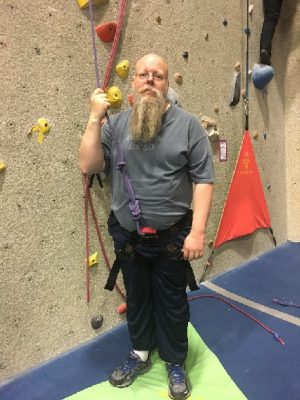 The first thing they make you do when you show up for the first time at City Rock is they make you read and sign a waiver. You could die doing this, you know. You're climbing a wall and you're not going up only a couple of feet. You're going up tens of feet. If you screw up when you put on your safety equipment, you could die. They make you acknowledge that and then sign something.
After that, they make you watch a short video explaining, again, that this is something where you could die. So use the safety equipment, have your buddy check your safety equipment, don't engage in horseplay, be aware of your surroundings, don't let your babies crawl on the area underneath where climbers are climbing upside down, that sort of thing.
Then you go down to the main floor and look up and you realize that, yes, City Rock was the big movie theater that you went to back when you wanted to see The Godfather on the biggest screen in town. Only they put little fixtures on the walls where the biggest screen in town used to be and now people climb these fixtures recreationally.
For what it is worth, I have heard no stories about anyone dying there.
The basic idea is that you find a "route" you want to climb and the route is marked by the color of the various blocks on the wall. That lets you put an easy route pretty much on top of a medium route on top of a difficult route and so you can have three times as many routes in a particular area as you would otherwise.
When I got ready to do it the first time, my buddy told me that, once I got up about 8 feet, he'd tell me to let go and we'd demonstrate how good my safety equipment was and how, seriously, I was safe as houses. I nodded and got up to the wall and he then told me "try to just use the black ones" and I looked at him as if I knew that he was talking crazy and he said, I thought, "Okay, just go up Rambo-style."
And I climbed up about 8 feet and he told me "Okay, now we're going to have you let go! Let go!"
And I let go with my left hand and immediately I went from being basically in my head to being absolutely 100% in my body and my body was generating adrenaline and OH MY GOSH I WAS EIGHT FEET ABOVE THE FLOOR AND I WAS LETTING GO WAS I FREAKING CRAZY and it took a second for me to be able to grab the rope with both hands. "Now put your feet on the wall like you're standing on it and getting ready to rappel down!"
My brain exploded because it's one thing to be balanced by the rope and have your toes grabbing onto the footholds below you, it's quite another to be leaning back with your feet flat on a wall and the only thing that is holding you up is a piece of thread attached to a belt that you've never worn before.
"GREAT!", my buddy yelled to my body, which was not listening to him at all. I then got back to grabbing the little handholds and climbed up another 3-4 feet where I made the mistake of looking down.
So, then, I gave the signal and rappelled down the wall.
My other friends I was with all took turns climbing. Some had gone before and made it all the way up to the little squeezy bike horn at the top, some had never gone before and made it all the way up to the little squeezy bike horn at the top, some had never gone before and only made it a couple of feet higher than I did.
And then it was my turn again.
"I'm going to go up farther this time but I'm still going to do it Rambo-style."
"Rainbow-style, Jaybird. Different colors. Rainbow-style."
"Oh. Well, I'm going to go up Rambo-style anyway."
This time, I made it up about 5 feet higher than the first time before making the mistake of looking down, leaving my headspace and entering my kidneyspace and then giving the signal and rappelling down the wall.
Others climbed and we went around clapping and giving encouragement and my buddy would yell out stuff like "right foot, up a little more!" and people would get up to the little squeezy bike horn and then rappel down… and then it was my turn again.
So I knew that the problem was not with my equipment, which I knew was safe. The problem was not with my body which was feeling exercised but not spent. The problem was with my head and leaving it.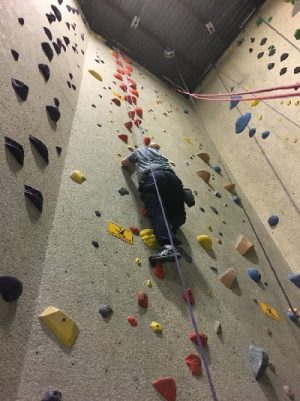 So, this time, I started climbing and everybody was behind me and cheering me on and giving advice like "lift with your legs!" and "just use your hands and arms to steady yourself, use the rocks like you're climbing a ladder!" and one co-worker was giving a steady amount of very good advice in a constant stream. I turned to tell him that Maribou was over a bit yonder watching me and that she probably needed advice very badly and asked if he could please go over and give advice to her.
Which, of course, involved looking down.
I did my best to get back on the horse and went up the highest I got, a little more than halfway… but my kidneys took over again and I went back down.
Then we ate at the Ute and Yeti bar and grille there in the climbing gym and I had the best dang Spicy Italian sandwich I've had in years and years. Seriously, if you're ever in town, you need to go there and just get the Spicy Italian.
And then we went home and I took the best shower I've had in the last few years and went to bed.
When I woke up this morning, I felt great! Spry! I stood up and didn't feel bad at all! And the kitties yelled at me and told me to get cracking and give them some breakfast! And I got to the stairs and found myself going down the stairs one step at a time. Like, both feet on the same step before thinking about putting my feet on the next one. My hips, apparently, had opinions about the night before.
But it was fun and I'm going to do it again. But not tonight.
And not tomorrow.
This weekend will most probably be devoted to recovery.
So… what's on your docket?
(Image is "Play" by Clare Briggs. Used with permission of the Briggs estate.)