Linky Friday: I Fought The Lawd
Law:
[L1] To be guilty of fraud, do you have to actually have defrauded someone?
[L2] I think we want to be pretty careful before we start making exceptions to this.
[L3] Zillow picked on a young blogger previously linkied here, but the blog won.
[L4] Comcast allegedly misunderstood what "cutting the cord" means.
[L5] A Canadian court wants to compel Google to delist websites with certain illegal content (in this case, bootleg and unauthorized songs and movies).
[L6] Judicial activism I can get behind.
War:
[W1] A Canadian sniper just got a record-breaking killshot.
[W2] We metaphorically sank the battleship.
[W3] The personal archives of Daesh fighters introduce us to their dark and dramatic private worlds.
[W4] Matt Hipple argues that any space corps belongs with the Navy.
[W5] The dark history of the engineering of the VX Nerve Agent.
[W6] Seems like Los Alamos needs to shape up.
Religion: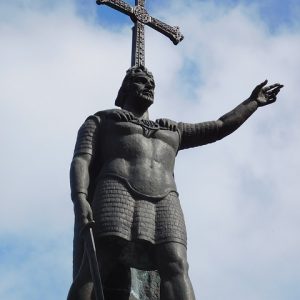 [R1] The New York Times looks at the partisanship of pastors.
[R2] Is Muslim theocracy a product of the failures of western secularism?
[R3] With the Ark Encounter theme park having gone bust, Ken Ham blames atheists and fake news.
[R4] The Smithsonian is finding God! Well, not quite, but I suspect you know what I mean.
[R5] "[A]mnesty for assault victims."
[R6] Church, but for the secular.
Media:
[M1] Adam Gurri argues that actually hot take culture is good.
[M2] Lee Smith argues that Facebook is destroying the media. Sure seems like something always is.
[M3] The media lost interest in the Steve Scalise shooting a lot more quickly than it did the Gabby Giffords one. One the one hand, we didn't have a president that was as good at drawing media attention as the current one is. On the other, I'm not sure that's why.
[M4] Jonathan Kay, Damon Linker, and Bret Stephens (listed in descending order of worthiness) all take aim at Twitter. Kevin Drum for the defense.
[M5] China is putting up a ban on livestreaming, because it's too hard to censor.
[M6] It's definitely to CNN's credit they took decisive action, but given the givens they need to take extra care to be careful from the outset. Also, Vice?
Politics:
[Po1] As go the suburbs, so goes the state.
[Po2] Seems like maybe there was more policy could do about illegal immigration than the last couple presidents let on.
[Po3] Karl Smith suggests that libertarians exist.
[Po4] Stephen Daisley laments how Labour went to the left until it ended up on the right. Trump's name doesn't come up, but if you're not inclined not to see some parallels, you just might…
[Po5] Also: How the British left went mad for Bolshevism and ignored the purges.
[Po6] And lastly, how Labour was saved by George Osborne and Ed Miliband.
Feature Image by Waiting For The Word