Shouldn't Need Saying
On the one hand, I think that putting up Decalogue monuments on governmental spaces, particularly in this day and age, is a provocative act in our ongoing culture war about the role of religion in public life and Christianity in the United States. As most longtime readers know, I'm an advocate of applying the Establishment Clause aggressively and so am predisposed to see the recent erection of an explicitly religious monument on the grounds of the capitol of Arkansas as a violation of the First and Fourteenth Amendments.
But the way to restore the legal order to things is through the courts, not through a moderately dangerous act of vehicular vandalism. Someone's private money paid for that monument, and that someone should be able to recover that monument and display their own property on their own real estate or donate it to their church or make some other private use of it. As crimes go, destroying the monument may not be the biggest thing that the Pulaski County Sheriffs have to deal with, but it's nevertheless a silly and wasteful act, an act which will only escalate the already-difficult tension between the prevailing culture and the demands of law.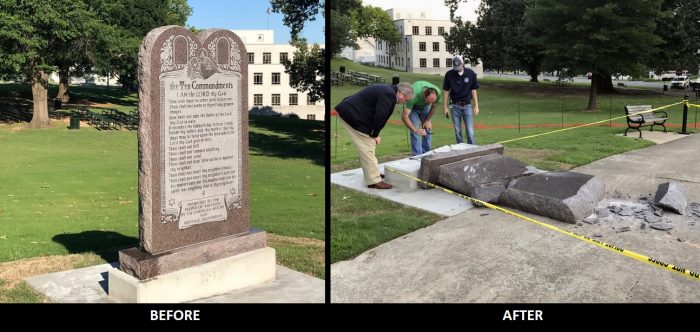 The monument stood on its own for less than twenty-four hours. I didn't like it either, but I'd have told the dude to take a chill pill and let the court do its job.