Foreign Born and Anti-Christian and Anti-American Socialists and Infidels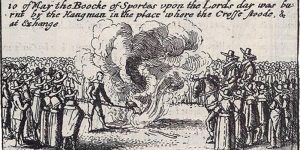 From the report by the Rev. T. A. Fernley of the monthly meeting of Philadelphia's Sunday Association:
Nothing of stirring interest has transpired during the month except the continued agitation of the so-called personal liberty movement by foreign born and anti-Christian and anti-American socialists and infidels. We are far from thinking that all who have come to our shores of late years belong to the class who are seeking to overthrow our Christian Sunday, but the most blatant, the most foul-mouthed and ignorant are disgracing themselves and their nationalities by their efforts in that direction.  The (Philadelphia) Times October 18, 1887
Sabbatarianism was a major front of the culture wars in the 19th century. I run into it often in my early baseball research. The idea behind Sabbatarianism was that the working classes had only one day off a week. They were supposed to spend it in church. The culture warriors realized they couldn't quite get away with mandating church attendance, but failing that it was important that the people not enjoy themselves that day by, for example, attending a baseball game. This was routinely expressed in tones of high moral dudgeon.
Nativism, of course, dates from about the time the second boat landed. This little gem of an excerpt combines Sabbatarianism and Nativism into a nasty little package. Note that the "anti-Christian … infidels" were in many cases devout Christians, but the wrong sort. The American expression of how to spend Sunday afternoons was of distinctively Anglo-Saxon Protestant origin. Christians from continental Europe often found it mystifying.
There are only vestiges of Sabbatarianism left. Some places still restrict liquor sales on Sunday, and Chick-fil-A makes a point of conspicuous piety by being closed that day. But the idea of avoiding sports on Sunday is not part of the discussion–especially during football season, which is nearly sacramental in modern Evangelicalism.
Sabbatarianism is so much not a thing today that I have trouble persuading people that it ever was. There is a life cycle to culture war issues. Early on, they are existential crises. Then once they are lost, as they usually are, they gradually fade away until it is convenient to deny they ever were a thing in the first place. Fifty years ago interracial marriage was condemned on explicitly Christian grounds. Liberty University only allowed interracial dating in 1985. Yet today you can find conservative Christians who scoff at the idea that anyone ever made a religious argument against it, and condemn the claim as liberal disinformation. I suspect that gay marriage will go the same route, though it will likely take a generation or two.
Sabbatariansim faded away as an issue long ago. But what strikes me about the Reverend Fernley's report is how very very easy it would be to substitute a bit of vocabulary here and there and have it fit right in today. Plus ça change, and all that…