The Montauk Catamaran Company Post-Apocalypse Freedom and Creativity Fellowship Redux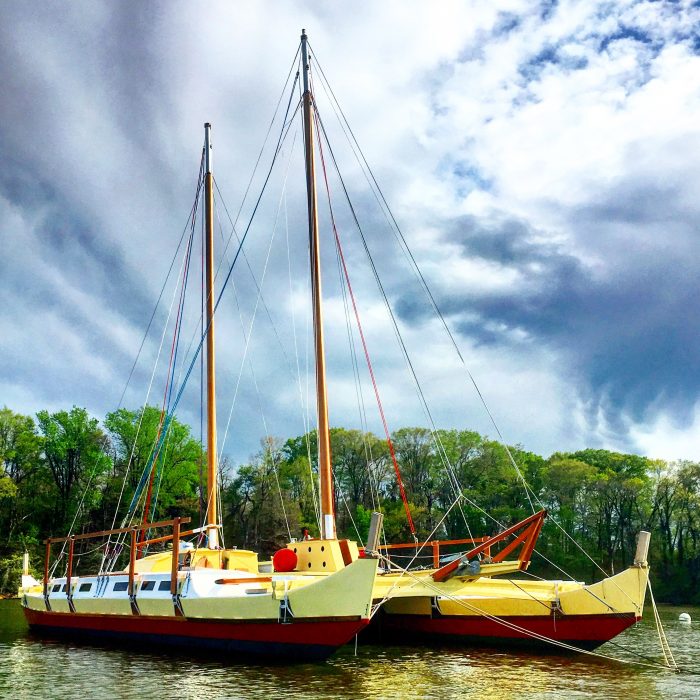 Announcing the Montauk Catamaran Company Post-Apocalypse Freedom and Creativity Fellowships
WHAT:
A private cabin on the catamaran Mon Tiki Largo, a hand-built, 65 foot neo-Polynesian catamaran during her Spring voyage from the Chesapeake Bay to Montauk NY via New York Harbor. This will be an inshore and near-shore trip, with Mon Tiki Largo at anchor in a quiet spots more nights than not. There will be opportunities to go ashore, and there is good cellphone coverage most of the way.
WHY:
Because you want some uninterrupted time with a small group of interesting people in an inspiring location with plenty of time to think.
WHEN:
Leg One: Georgetown MD to New York Harbor via the Delaware Bay and New Jersey Coastline, approximately April 25-29, 2017.
Leg Two: New York Harbor to Montauk New York via Long Island Sound, approximately April 30-May 2, 2017.
Transportation from Long Island/NYC to Georgetown MD is available on Tuesday April 25, 2017.
WHO:
Artists, writers, musicians, programmers, designers, makers — anyone with a professional or serious avocational relationship with creativity.
HOW:
Contact the Montauk Catamaran Company by phone or email.
—
This is a once-in-a-lifetime opportunity and you will not regret it. You'll have lots of free time to think, you'll see the East Coast from an entirely new perspective, and it will look great on your resume.
Ready? Set? GO!