In The Not-Too-Distant Future…
A row of theater seats, and on the right-hand side, the silhouettes of two robots along with a very human host. It may not be a readily recognizable image to some, but for me, it means a hell of a lot. The show is Mystery Science Theater 3000. After 18 years off the air, it's returning, this time to Netflix. Thanks to a hugely successful Kickstarter campaign (full disclosure: I was a backer), a brand new season will be available and streaming on Friday, April 14.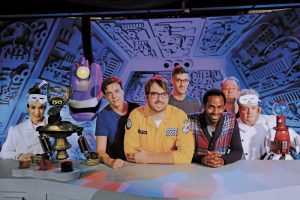 MST3K, created by Joel Hodgson, was a cult hit. It premiered on KTMA in Minneapolis, Minnesota and went on to have an additional 10 seasons across The Comedy Channel (later Comedy Central) and Sci-Fi Channel. The premise: a man (Hodgson or Mike Nelson in later seasons) gets launched into space by mad scientists. He creates a few robots to keep himself company, including Tom Servo and Crow. Together, the three riff and guffaw their way through some of the worst movies imaginable, usually B-movies (C or D even) in the science fiction, horror and fantasy genres.
I first came to Mystery Science in my early teens. I learned that Godzilla had been featured on it, and not really knowing what it was – A TV show? TV shows aren't two hours long! – I recorded an episode. At the time, the show was on at two or three in the morning. I woke up the next day, eager to see what was in my VCR. Though Godzilla showed up in the opening credits, I was disappointed to find that the episode didn't spotlight him. And while I enjoyed the robot puppets, a lot of the humor was over my head.
But Mystery Science lingered, and I came back to it in high school. My freshman English teacher hosted a Sci-Fi Club, and once a semester, he and the students would get together on a Saturday to watch a couple films and always an episode of MST3K. One of the episodes, "Prince of Space," was about a superhero battling spacemen intent on conquering Earth. Of course! What else are spacemen going to do? Much to the chagrin of Mike and the bots, the Prince frequently tells the baddies that their weapons have no effect on him. "In fact, I strongly suggest you discontinue use of said weapons," Tom Servo quips. I still remember my teacher's booming laugh.
A few years later, I was moving from rural Pennsylvania to Los Angeles. I had a couple weeks at home between returning from college in upstate New York and heading west. It was a difficult time. It was hard for my parents to watch their only child move so far away, and it was hard for me, having gone to film school and talked about working in entertainment, to make sense of their surprise. So, after each awkward, wordless dinner, I would retreat to my friend Ben's house. We went to high school together and attended many of those Saturday movie marathons. Inevitably, we would turn to MST3K and laugh until morning. Still, when we get together around the holidays, we'll usually watch an episode. And if we don't, we'll watch another movie and do the riffing ourselves.
When my then girlfriend (now wife) and I arrived in Los Angeles, we lived in a very small apartment. It was overwhelming to move from a town of roughly 30,000 people to a city of nearly 4 million. Though we didn't have jobs at the time and hardly any money, one of the first things I did – to provide some semblance of home and (comic) relief – was purchase a DVD set of MST3K. It included what has become one of my favorite episodes, "The Touch of Satan." It's about a young man who finds himself on a farm that may or may not have been touched by…Satan. He starts a romance with the daughter of the farmer. The two walk by a pond when she announces, "This is where the fish lives."
Sometimes you don't even need the commentary to get a laugh out of these movies.
My wife has become quite the riffer, always ready with a dry, sardonic aside. We sometimes go to RiffTrax screenings, which are broadcast in theaters nationwide. They feature the last MST3K cast – Nelson, Bill Corbett (who voiced Crow), and Kevin Murphy (Tom Servo) – before the show left the air. Turkey Day Marathons became a tradition for Mystery Science, and in that spirit, the day after Thanksgiving, my wife and I host friends for dinner, drinks and a couple episodes.
On April 9, as a Kickstarter backer, I had an opportunity to watch a sneak peek of the first new episode. I was a bit nervous. I've been burned by sequels, prequels, reboots, and requels of beloved properties before. After an 18-year absence, would the show retain its sense of humor and encyclopedic knowledge of pop culture? Would it have changed too much? Would I have changed, not bound by nostalgia to the new cast?
Within minutes, all my fears were assuaged.
The production maintains its DIY identity – albeit one with just a little more polish and moving parts. The new cast has great chemistry – Jonah Ray as the very human host with Hampton Yount voicing Crow and Baron Vaughn as Tom Servo. As do the new mad scientists played by Felicia Day and Patton Oswalt. The interstitial host segments, which were hit-or-miss in the original run, are entertaining and breezy. And, most importantly, the jokes and riffs are quintessential MST3K.
Sometimes you can't go home, but then again, sometimes you can.
Thanks for reading! Have you ever seen Mystery Science Theater 3000? What are some of your favorite episodes?