The Gateway Pundit Presidency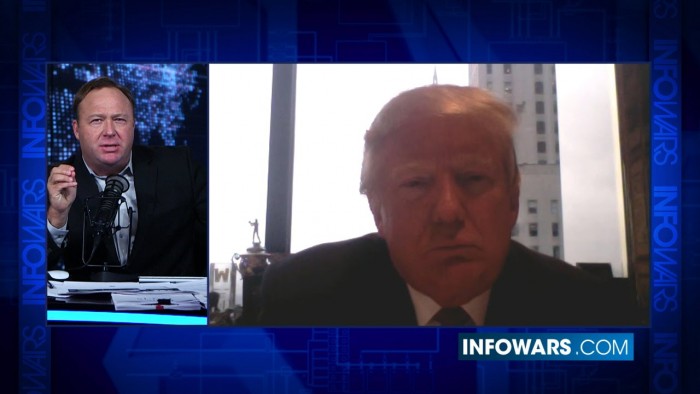 This winter, Jim Hoft's Gateway Pundit was admitted to the official White House Press corps. This news received scant coverage or comment in the mainstream press.
There is a perfectly good reason for this: one of the biggest challenges in covering the new White House administration is that there's just so much there to cover. The operative word for the First 100 Days of the Trump era has been 'chaos.' There are a plethora of reasons for this chaos, including senior staff in-fighting, an apparent lack of understanding by many of those same senior staff how the executive office actually works, a press that was built to cover an entirely different kind of White House, a lack of good faith by pretty much everyone about everything, and, of course, a fledgling POTUS who seems in equal measures uninformed and incurious about the trappings of his newest position. Every day seems to bring a new potential scandal being reported, and due to these alleged scandals' outrageousness, fluid nature, and sheer number, it's hard to keep track over time which are true and which are fanciful conspiracy theory dressed up in easy-to-swallow, Meet-The-Press-esque sound bites.
Still, the Gateway Pundit's elevation in status to that of a legitimate news organization by the White House was a portent of a much bigger institutional change in our federal government. This change deserves more coverage and introspection than the press provided.
For those unaware, the Gateway Pundit is what might be described as a conservative political news blog, depending upon your definition of the word "news." Hoft's site seemingly reports any rumor forwarded to him as fact, provided that said rumor is potentially damaging to liberals or Democrats; there is no internal fact checking apparatus. Thus Gateway Pundit has credulously reported (badly) photoshopped images of Obama groping Melania Trump, that the Obamacare bill had a secret provision that allowed Obama officials to enter your home at any time for any reason and take whatever they wished, that in 2016 the Post Office was inspecting mail-in ballots and destroying any for Donald Trump, that white mass-murderers are in fact African Americans photoshopped by the government and news outlets to look white, that Obama had been uncovered as a sleeper agent of the Muslim Brotherhood, that John McCain works for the Russians, and — perhaps most importantly, at least for the purposes of this post — that Barack Obama illegally ordered Donald Trump's phones to be tapped during the 2016 election.
For its part, the new administration was fairly quiet about credentialing Hoft. The initial revelation came not from White House officials, who remained largely mum about the seismic shift in generations-old policy, but from Hoft himself. He made the announcement the day prior to Trump's inauguration, at the DeploraBall. (For those out of the loop, the DeploraBall was an event hosted and attended in part by noted White supremacists, anti-Semites, and — because hey, why not? — hedge fund manager and vilified AIDs drug villain Martin Shkreli. The purpose of the DeploraBall was to celebrate the alt-right's impact on the Presidential election.)  1  As Hoft himself announced that evening,
During the election I had a million readers a day at the Gateway Pundit, thank you, and the reason was because I was telling the truth …. we've been in contact with the  Trump Administration and they're going to do something different and we got their word that the Gateway Pundit is going to have a White House Correspondent this year!
As I said, this news received scant coverage, aside from a few hours of guffaws and scoffs by some on Twitter. However, in the wake of the President's accusations of having his phones tapped by the preceding Barack Obama, I believe it is time the revisit the Gateway Pundit's ascendancy. Because what at first blush appeared to be a trolling of the press might be a harbinger of something far more important and considerably more dangerous.
*     *     *
Friday, March 3, 2017 was not a very good day for President Donald Trump. The week had started out well enough. On Tuesday, February 28, 2017, Trump delivered a speech to Congress that earned high praise even from people who traditionally were critics.  2  The quality of Trump's speech neutralized escalating criticism of Trump's senior staff's apparent involvement with Russian agents during the campaign. The post-speech honeymoon was short lived, however.
National Security Advisor Michael Flynn had already been forced to resign. A mere twenty-four days after officially stepping into that role, Flynn was shown to have lied about his own dealings with Russian officials.
Shortly after Trump's trip to Capitol Hill, it was revealed that Trump campaign surrogate and newly minted Attorney General Jeff Sessions had lied about his contact with Russian officials during his Senate confirmation hearings.
Additionally, the press was beginning to break stories about his personal attorney's previously undisclosed connections to the Russian and Ukrainian oligarchy, and also a Trump senior business advisor's pulp-novel-esque connections to both the Russian and the New York mafia.
Then Thursday afternoon, Trump advisor JD Gordon told CNN that the Trump campaign had indeed pushed the RNC to change its hardline stance on the Ukraine to one that favored Russia after the campaign met with the Russian ambassador in 2016— all of which the Trump administration had previously denied ever happened.
It was in the wake of this very bad day that the president sent out his now infamous texts at 4:00 am Saturday morning, accusing then-President Obama of wiretapping his phones during the 2016 election.  3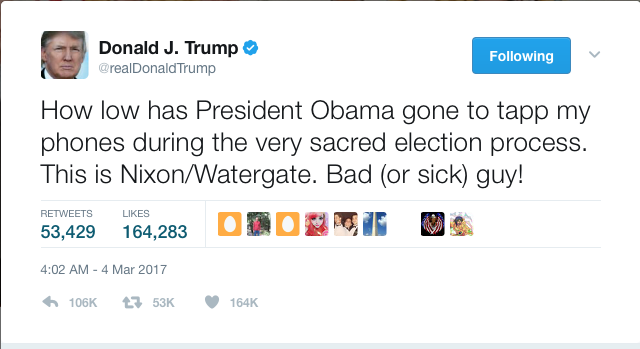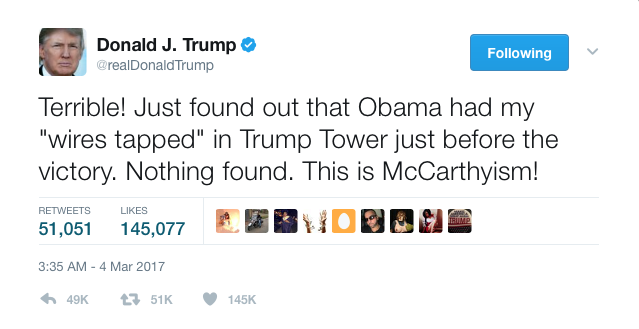 It was an odd accusation, to say the least, not least because it betrayed a lack of understanding regarding how FISA warrants work. For a lay person this misunderstanding is quite understandable, but for the President it's nothing short of shocking. More curious was the administration's call for Congress to investigate the matter. As President, Trump could have simply picked up the phone and asked the FBI, NSA, or CIA to show him the warrant. In order for Congress to do the same, they would need to go through the Executive branch that Trump himself runs. So out of touch with reality were Trump's tweets — on a procedural and structural level, regardless of your opinion of Messrs. Obama or Trump — that it begged the question: where on Earth was the administration getting its information?
The answer, as we now know, is that it came from a conspiracy theorist with a syndicated talk radio show.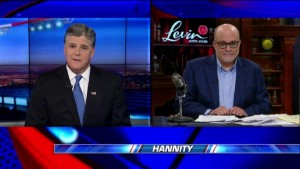 Shortly after Michael Flynn's ouster, shock jock Mark Levin began to promote the theory that Obama wiretapped Trump, and he did so without any evidence, circumstantial or otherwise. If you know anything about Levin, this is entirely unsurprising. In the past he has similarly "reported" that Obama was an agent for the Muslim Brotherhood, was planning on implementing martial law as part of Obamacare, and was plotting a coup in order to remain president after the 2016 election.  4  Breitbart News picked the story and ran with it (again, without any evidence) and soon after that it was reported to the President, who demanded a Congressional investigation into the matter. After the story was debunked by the US law enforcement and intelligence communities, the White house went on to claim that Obama had used the British government to spy on Trump, again without even circumstantial evidence. This time the scurrilous rumor came from Fox News's Andrew Napolitano, a poor-man's Judge Wapner, television pundit, and 9/11 Truther. The British-Obama theory was so bats**t crazy and baseless that Fox News actually pulled Napolitano from the air indefinitely.
In other words, the White House signaled new policy, requested allocation of government resources, and created an international incident with arguably the US's closest ally — and they did so for no other reason than the White House's willingness to believe baseless conspiracy theories on the simple basis that those who created them publicly praised Donald Trump.
The main take on this development by the mainstream press has been that the phony Obama wiretapping scandal was mere political theatre; "Trump [trolls] the White House press corps," was the way the New Yorker's Andrew Marantz put it. But this reading, I believe, is an error, likely born of the hope that things aren't quite as off the rails as they might seem. The reality, I suspect, is far more terrifying: the executive branch of the United States of America is putting the country at risk because it cannot differentiate between actual data and exciting, far-fringe, cloak-and-dagger fictions proffered by sources that care more about ratings and sensationalism than patriotism.
One obvious example of this is Sebastian Gorka, perhaps Trump's most visible national security advisor and member of the White House Strategic Initiative Group, who now appears to be a member of the Nazi-linked Order of Vitéz. Prior to his recent elevation, Gorka was seen as something of a crank by his peers. His ascendancy appears to be entirely related to his position as an editor for Breitbart and his willing to say outrageous things about ex-President Obama on talk radio and Fox News. In any other administration, Gorka's mix of possible Nazi sympathies and lack of respect from national security experts would lead to a dismissal; in the Trump administration, largely because of the far-fringe media's seal of approval, Gorka appears to have a strong voice in crafting US foreign policy.
There are other examples:  the Trump camp's using the Bowling Green Massacre, or the specter of thousands of Muslims dancing on rooftops after 9/11, or the terror attack on Sweden — none of which ever happened but all three of which were reported on far right conspiracy sites — to justify what was meant to be largely be a faith-based ban on certain immigrants. The US State Department is shifting allegiances from NATO countries to Putin, based almost entirely on sites like Breitbart and Info Wars that praise the brutal Russian dictator and find Europe too sissified. The administration has broken with the decades-old non-partisan policy of allowing pool reporters to travel with the Secretary of State, so that the press can report on our dealings with foreign nations.  5  And remember Andrew Napolitano, the 9/11 Truther who started the rumor about the Obama spying with the British government? He's been used by the Trump administration as an expert in legal matters and judge selections.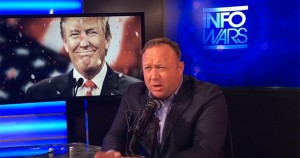 That the Trump administration is using content from right-wing blogs and talk radio shows as the primary basis for policy is, on its face, deeply troubling. But what's truly disturbing is to which sources Trump himself seems to paying attention. Many of Trump's claims — such as the mainstream media no longer covers terrorism, that same media being the "enemy of the people," incorrect statistics of black crime, and evidence of millions of illegal immigrant voting for Hilary Clinton — all come directly and verbatim from Sandy Hook/Tornadoes Are Secret Government Weapons Made to Kill Heartlanders/Obama and Queen Elizabeth are Lizard People Truther Alex Jones. (Jones actually says that Trump calls him for policy advice, a claim the White House has not confirmed but won't deny.) Fox News is certainly biased, but they do have real journalists like Chris Wallace working for them. Trump, however, has gone on the record to state that the two shows he trusts the most are the two least trustworthy shows on the conservative news channel: Sean Hannity and (God help us all) Fox & Friends.
This, I believe, is the prism through which we should view Hoft's Gateway Pundit being allowed into the White House press corps. (Well, that and the fact that Hoft appears to have gone out of his way to find a correspondent who is a Milo Yiannopoulos doppelgänger.) And so you know, it's not just Gateway Pundit. The White House has issued press corps passes to a number of talk radio shock jocks, who are allowed to Skype in to press conferences. This includes such journalistic gems as Alabama's Dale Jackson and Portland's own Lars Larson.
Four years ago, I wrote a series of researched posts that argued that the reliance on its sensational, ratings-able-all-else, conspiracy theory-driven media machine might result in the worst outcome possible: the death of the Republican Party and (perhaps) American conservatism. I really believed that at the time. Now, however, it's clear that I wasn't being pessimistic enough. Because it turns out that there is a far worse result than conspiracy theory-driven media killing conservatism: Conspiracy theory-driven media having the first say in US policy.
---
[All images via Youtube screenshot]