I Know How College Got Expensive
There are some fascinating graphics of the prices of various goods over time. Here is a typical one from AEI of price changes for some stuff from 1996 to 2016.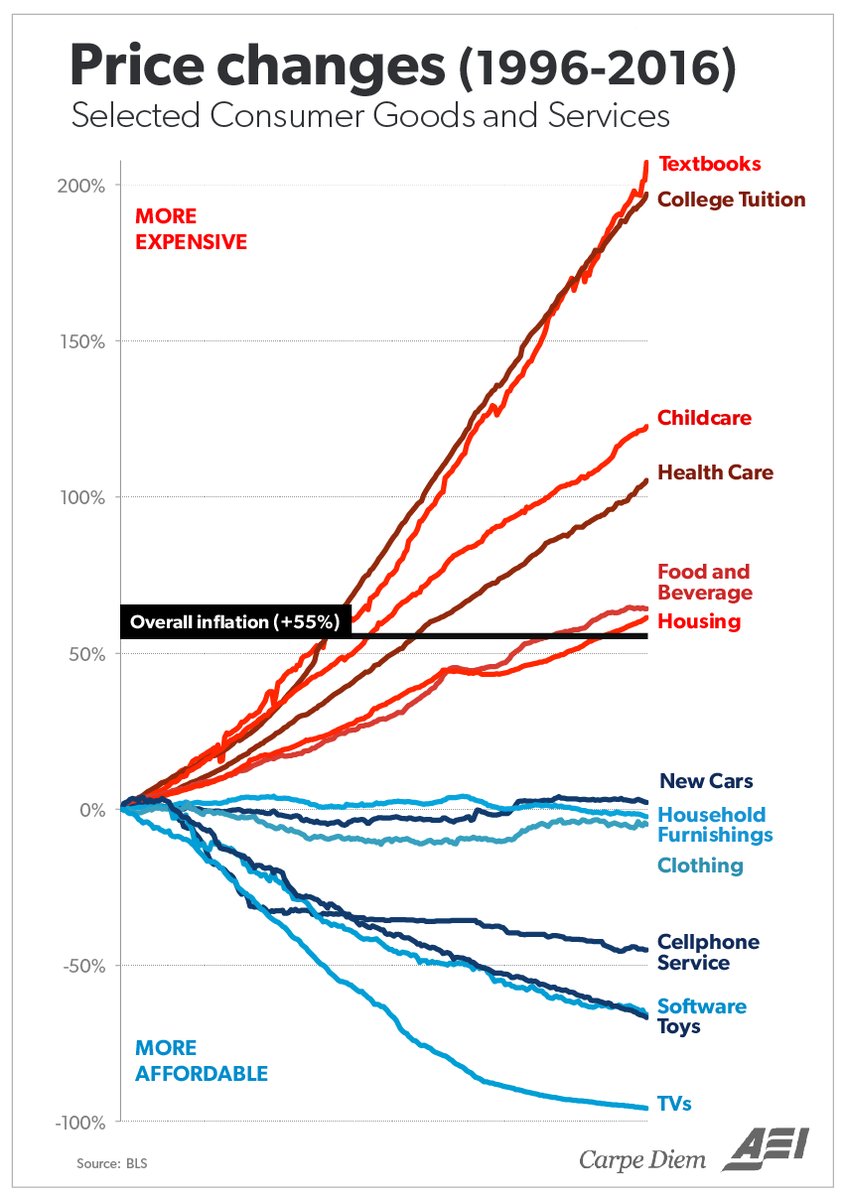 You'll notice that this is not inflation-adusted, so you'll have to do that using your own eyes. (I don't have the patience to make my own graph.) The housing line is in reality flat; adjust everything else downward accordingly. The rank ordering and proportions don't change.
Each industry deserves separate analysis. There is no general theory of why things that are becoming more expensive are becoming more expensive. 1 Each industry is subject to its own forces, and the reasons that college costs went up might not necessarily have anything to do with the reasons that healthcare costs went up. Indeed, even within an industry different products might have their prices change in the same manner but for different reasons.
I.
Do not think of higher ed as a product produced by the higher-ed industry and purchased by the public. Instead, think of institutions competing with one another. I wrote about this once before when I said individual universities are stuck with needing to offer professors tenure to compete with one another for talent even if tenure isn't in the interest of the industry as a whole.
The game of higher ed is very much a ranked one. Universities are not really like restaurants where different people like different ones and everyone gets to be non-judgmentally happy with their own and others' choices. Instead, some institutions are clearly better than others and everyone knows this at some primal level even as they explain why their choice was really the best fit for them and who wanted to go to Berkeley anyway? Students don't know know how to evaluate schools, so they use published rankings to guide their decisions and add in large corrections for things like location and where their friends will be going.
As a result, there is a great deal of pressure on institutions to increase their rankings to attract students, donors, and faculty, all of whom are drawn to success.
The New York Times wrote about this with respect to George Washington University a couple years ago. There are many versions of this same article, however, that have been written over the years:
The university was an inexpensive commuter school when Stephen Joel Trachtenberg became president in 1988. By the time he was finished, two decades later, it had been transformed into a nationally recognized research university, with expanded facilities and five new schools specializing in public health, public policy, political management, media and public affairs and professional studies.

U.S. News & World Report now ranks the university at No. 54 nationwide, just outside the "first tier."

It was no secret where the money had come from to pay for it all: the students and their families. Under Mr. Trachtenberg's leadership, tuition grew until George Washington was, for a time, the most expensive university in America.
Also:
Mr. Trachtenberg, however, understood something crucial about the modern university. It had come to inhabit a market for luxury goods. People don't buy Gucci bags merely for their beauty and functionality. They buy them because other people will know they can afford the price of purchase. The great virtue of a luxury good, from the manufacturer's standpoint, isn't just that people will pay extra money for the feeling associated with a name brand. It's that the high price is, in and of itself, a crucial part of what people are buying.

Mr. Trachtenberg convinced people that George Washington was worth a lot more money by charging a lot more money. Unlike most college presidents, he was surprisingly candid about his strategy. College is like vodka, he liked to explain. Vodka is by definition a flavorless beverage. It all tastes the same. But people will spend $30 for a bottle of Absolut because of the brand. A Timex watch costs $20, a Rolex $10,000. They both tell the same time.

The Absolut Rolex plan worked. The number of applicants surged from some 6,000 to 20,000, the average SAT score of students rose by nearly 200 points, and the endowment jumped from $200 million to almost $1 billion.

It wasn't easy, because the schools it was competing with in the national market for students, scholars and money weren't standing still. "We built a new building, they built two new buildings," he said. "That's what was going on all the time."

He looked for opportunities to paint the luxury school picture. He built Ivory Tower, a residence hall of one- and two-bedroom suites complete with living room, kitchen and private bathroom (featured last year on the College Finder website as one of the five best dorms in the United States). He expanded squash into a varsity sport, as it was at a small number of elite Northeastern campuses.

The university became a magnet for the children of new money who didn't quite have the SATs or family connections required for admission to Stanford or Yale. It also aggressively recruited international students, rich families from Asia and the Middle East who believed, as nearly everyone did, that American universities were the best in the world.
Who benefits from George Washington's actions? Several parties. Donors are happy from seeing returns on their investments. Alumni are happy to see the prestige associated with their degrees appreciate slightly. Current students are happy from their institutions trajectory and its likely influence on their job prospects. The same is true for faculty and prospective faculty.
Who loses? Well, current students have higher debt loads. It's the entire takeaway from the Times article. But the article itself opened with this by the author:
One day in 2013, I sat down in a Starbucks in the Foggy Bottom neighborhood of Washington with Hugh Moren, then a junior at the nearby George Washington University. I asked him how much money he was borrowing to go to college.

"Eighty-two thousand dollars," he said. "By the time I graduate, a hundred ten."

The number shocked me, but not as much as the way it didn't shock him.
This comports with my experiences with students. Few students perceive themselves as having had real choices to make. If they are set on going to college and also set on going to the highest-ranked college they can get admission to, there are few degrees of freedom left for caring for their finances.
What else could this student have done? How much could he have saved with another option? What would he have missed out on?
It's also not even clear that this student is doing the wrong thing. Yes, college has gotten a great deal more expensive, but it's also gotten a great deal more valuable: 2
much of our present inequality stems from disparities in education. This has evolved in two directions: From 1980 to 2012, inflation-adjusted, full-time earnings of college-educated males increased anywhere from 20 percent to 56 percent, depending on whether they also acquired graduate degrees. Conversely, real earnings of high school graduates fell 11 percent, and earnings of high school dropouts fell 22 percent.
This income gap actually dwarfs the redistribution from the 99% to 1% that dominates national media discussions:
…The earnings gap between the median college-educated two-income family and the median high school-educated two-income family rose by $28,000 between 1979 and 2012. This [shift] — which excludes the top 1 percent, since we're focusing on medians — is four times as large as the redistribution that has taken place from the bottom 99 percent to the top 1 percent of households in the same period.
In fact, even after subtracting out  the increases in college tuition, college appears to be a better deal now than it was for the olds:
Recent estimates find that for men the lifetime present value [after subtracting tuition costs] has risen from $213,000 to $590,000 between 1965 and 2010, and for women it's risen from $129,000 to $370,000. So it's risen by a quarter-million dollars.
A party that is rationally less than happy with the actions of GWU are all the other universities that compete with George Washington University. When GWU's rank goes up, theirs may go down. They will have to spend more and increase their own tuition rates in order to remain competitive. The end result over time is everyone spending increasingly larger amounts to get ahead. No one, however, gets ahead for long because everyone else is steadily spending improving too. They are like peacocks growing increasingly long feathers in an effort to become more attractive than their peers, but in the end collectively weighed down for their efforts.
II.
Why don't colleges attract students on price?
To some extent, they do. I know someone whose son got admission to Harvard and MIT. Harvard offered a full scholarship while MIT stuck to MSRP. He visited both campuses and ultimately decided that Harvard was a better fit, much to his parents' relief.
He's an unusual case. Students rarely have offers from multiple similarly-ranked schools that differ drastically in price. There is no cheap MIT to lure away price-sensitive students. Even if there were, MIT could and does offer price-sensitive merit-based scholarships ultimately paid in part by the $48,452 for nine months of instruction charged to rich students. Even if there were a $10k per year MIT-substitute, the real MIT could offer the price-sensitive students scholarships so that MIT would remain competitive while continuing to charge the rich students.
Such price discrimination is what ended up killing the airline People's Express in the 1980s when they tried to offer everyone a low-priced ticket. Their low price wasn't lower than what American Airlines could offer to the most price-sensitive customers. Meanwhile, American Airlines had plenty of business customers to make up for those cheap tickets.
III.
There have been some attempts at defection, but when even Harvard with a more-than-$36-billion endowment charges still lists a high tuition, those who seek to lower tuition or even avoid increases for longer periods of time will incur risk, and university administrators are not known for their gambling tendencies.
IV.
College tuition will continue to climb inexorably until it stops. What will stop it?
A good candidate is software. Software has been eating the world, but it hasn't yet eaten education. I think this is merely a result of the strong tradition of respecting bachelor degrees from accredited institutions as real and everything else as less than that.
There have been attempts to disintermediate colleges before. They have generally failed. The long, expensive process of going through college persists. And this might indeed be a feature of it since it implies degree holders have some minimal amount of conscientiousness. And this is among the things that must be replicated.
The college of the future may be online, but it cannot be easy. It probably needs to award real degrees accredited by existing, real accrediting agencies. It needs to be as rigorous or more rigorous than an in-person degree. It cannot be any much more student-focused than existing institutions. Until then, expect the prices on that graph to glide up and to the right.