Top 10 Films of 2016
It's been a rough year – culturally, politically, pretty much every way-ly. The movies, as they often do, offered some reprieve. I wanted to honor the 10 films that most resonated with me in 2016. I'm going to try my best to avoid spoilers, but you might be able to infer plot and character details from some of the write-ups. So, if you're sensitive to that sort of thing and you haven't seen a particular film, give that section a skip!
10.) American Honey
Andrea Arnold's "American Honey" is not going to be for everyone. Like one of her earlier films, "Fish Tank," it confronts poverty and not in an especially sanitized way. Star (Sasha Lane) is living on the fringe. She takes up a job selling magazines with a troupe of young people, among them her on-again-off-again lover, Jake (Shia LaBeouf). It's a road movie populated by big and sometimes grating personalities, but it shows pockets of America that aren't often seen on screen. Star is a character of almost unbridled spirit. Arnold mines a lot of tension out of putting her in very compromising situations. A standout sequence involves her getting in a car with a bunch of leering cowboys. She goes to one of their mansions, and the booze starts to flow. You speculate about the number of ways it could go wrong and how badly. Yet it's a film of great beauty. Cinematographer Robbie Ryan's images are bursting with life and color.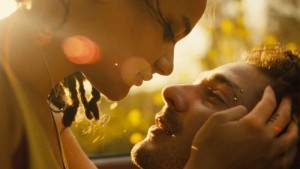 9.) The Jungle Book
Jon Favreau's adaptation of Rudyard Kipling's "The Jungle Book" has stayed with me since April, thanks to its vibrant imagery. Favreau employed a strategy similar to that of James Cameron's for "Avatar," where he created a world almost entirely within the computer save for Neel Sethi playing Mowgli. For once, celebrity voice casting doesn't feel like a stunt. Bill Murray brings his…Bill Murrayness to the role of Baloo the bear. He's wry, humorous and lovable. And Idris Elba voices Shere Khan with menace to spare. When so many blockbusters see fit to make their antagonists as bland and uninteresting as possible, it was a real relief to see a film – a family film! – make its villain genuinely menacing and filled with resolve. At the beginning of 2016, I would have never expected to see a live-action remake of a Disney film on my year-end top 10. But here we are!
8.) Hunt for the Wilderpeople
Writer/director Taika Waititi first came to my attention with "What We Do in the Shadows," a hilarious mockumentary about mild-mannered vampire flatmates. In "Hunt for the Wilderpeople," he abandons the faux-documentary approach for a much more controlled aesthetic. The film is scarcely less funny than "What We Do in the Shadows," but it also swims in deeper and more dramatic waters. Juvenile delinquent Ricky Baker (Julian Dennison) is taken to live with Bella (Rima Te Wiata) and her ornery mountain-man husband, Hec (Sam Neill). After a tragic turn of events, Ricky and Hec are on the run from the authorities. One of the funniest moments in the film comes when young Ricky sees a Wanted poster of Hec. "Cauc…asian," he reads. "Well, they've got that wrong, because you're obviously white."
7.) Kubo and the Two Strings
I'm a big fan of Laika – they're one of the last studios working in stop-motion animation. Travis Knight's "Kubo and the Two Strings" has them tackling their largest canvas yet. A one-eyed boy named Kubo (voiced by Art Parkinson) is warned by his mother not to stay out after sunset or powerful entities, his aunts (Rooney Mara) and grandfather (Ralph Fiennes), will come for his other eye. Like children in many fairy tales, Kubo does not heed his mother's warning. He is then thrust into a quest with a guardian monkey (Charlize Theron) and a beetle-like samurai (Matthew McConaughey) to find magic armor that will help him defeat his enemies. I love the tactile nature that comes with stop-motion animation – whether it's a ship made out of leaves or a skeleton giant (an effect that's revealed in the end credits of the film).
6.) Jackie
Depicting grief on a grand and very public scale, Pablo Larraín's "Jackie" is hypnotic and intoxicating. Uniquely and loosely structured by screenwriter Noah Oppenheim, it largely follows Jackie Kennedy through the days after her husband's assassination. Natalie Portman, an actress I'm usually colder on than hot, plays the First Lady. She's outstanding. So much of the film is about the friction between private and public life in the wake of such loss, and Portman portrays both pageantry and vulnerability. So too does cinematographer Stéphane Fontaine's camera, the way it depicts Jackie in her home – a small figure moving through an expansive estate. The film was shot on 16mm, which is very rare today. I love the grainy look of it with its muted colors, like a photograph that's fading. Mica Levi's Bernard Herrmann-y score also provides an undercurrent of emotion, roiling beneath the immaculate and picturesque images.
5.) Everybody Wants Some!!
From "Before Midnight" to "Boyhood" and now "Everybody Wants Some!!," writer/director Richard Linklater has been on a hot streak. His latest harkens back to his own "Dazed and Confused." Linklater even described it as a spiritual sequel to that 1993 comedy. A group of college baseball players spend the final days of summer drinking, hanging out, and chasing after women. Like "Boyhood" and "Dazed," "Everybody Wants Some!!" is an exploration of the margins of adolescence and the transition into adulthood. As such, it is one of Linklater's funniest films. From the politics of choosing a bar to competitive activities like bloody knuckles and ping pong to bets placed on whether a player can split a pitched baseball with an axe. Though Linklater isn't known for his strong visual sense, the camera seems freer here, following these young men around their college community and capturing the waning days of summer and the beginning of a new chapter.
4.) Moonlight
There's an image from Barry Jenkins's "Moonlight" that has been making the rounds in the press. It's of Juan (Mahershala Ali) teaching young Chiron (Alex Hibbert) how to swim. Juan holds the boy on his back in the ocean. The camera is just above water level, the sun glinting off the surface. I think the image has resonated because it really is emblematic of the entire film – beauty and grace. It depicts three chapters in Chiron's life (in addition to Hibbert, the character is played by teenager Ashton Sanders and adult Trevante Rhodes). There are hard knocks to be sure. Juan sells drugs to Chiron's mother, Paula (Naomie Harris). As a boy, Chiron is learning about himself and his sexuality. Kevin (Jharrel Jerome), a young man he has feelings for, is coerced into bullying him. Jenkins and his cinematographer, James Laxton, implement slow-motion and close-ups to capture wordless looks and gestures that speak volumes.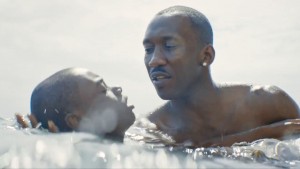 3.) 10 Cloverfield Lane
"The Twilight Zone" is one of my favorite TV shows, and in a year that could have been ripped from the imagination of Rod Serling, it's fitting that a film that feels like a feature-length episode would find itself on this list. A loose – and I do mean loose – sequel to 2008's "Cloverfield," "10 Cloverfield Lane" is about a young woman, Michelle (Mary Elizabeth Winstead), who finds herself in an underground bunker after a car accident. The bunker belongs to Howard (John Goodman), and he tells her that a massive attack – international or extra-terrestrial, he's not sure – has eradicated all life on the surface. But Michelle and her co-occupant, Emmett (John Gallagher, Jr.), aren't certain they can trust him. The direction is remarkably assured for first-time feature filmmaker Dan Trachtenberg. His taut camerawork gives the viewer details to focus on. A set of keys have rarely felt so momentous. I really liked the opening passage, a mostly dialogue-free stretch showing Michelle fleeing her apartment, getting into the accident and attempting to free herself from captivity. The screenwriters refreshingly allow Michelle – Winstead is so great in the role – to be resourceful and active. In that regard, it's a film that bucks many horror and thriller trends.
2.) The Handmaiden
Count Fujiwara (Jung-woo Ha) hires Sook-Hee (Tae-ri Kim) as a handmaiden to help him to steal the inheritance of Lady Hideko (Min-hee Kim), a woman he plans to marry. Fans of international cinema as well as just gonzo cinema in general will recognize writer/director Park Chan-wook from his work on "Oldboy." Here, he navigates through twists and turns, alternating perspectives as he goes. "The Handmaiden" is a triumph of both embracing and subverting the ol' Hitchcock saying about suspense being when the audience has information that characters do not. Based on what we know, we make assumptions on what's about to happen. Sometimes those assumptions are correct, and sometimes they're thrillingly wrong. The result is one of the most cinematic films of the year as well as one of the most deliriously entertaining.
1.) Manchester by the Sea
Jaw-dropping. It's a word that gets tossed around a lot, so much so that it loses all meaning. Well, there's a reveal about 45 minutes into "Manchester by the Sea" that's just that. My hand shot to my mouth, agape, before an eruption of tears. Just open weeping. Kenneth Lonergan's film is about Lee (Casey Affleck), a blue-collar guy who returns to his hometown after the death of his brother (Kyle Chandler, seen in flashbacks). He forges a tumultuous relationship with his nephew, Patrick (Lucas Hedges). Though there are emotional flare-ups to be sure, "Manchester" eschews the lofty speeches and plate-smashing that usually accompany a film of this sort. Lonergan traffics in messier and more honest terrain. A reunion between two characters late in the film is conducted in half sentences. It's a stirring dramatization of what happen when words fail to heal wounds that run too deep. And yet, it's a film of surprising humor and wit. Patrick has a panic attack after he puts some chickens in the freezer. "If this is gonna happen every time you see frozen chicken, I think I should take you to the hospital," Lee tells him. "Because I don't know anything about that." The humor is welcome and much needed.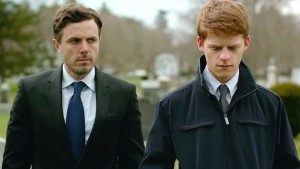 And now some honorable mentions: "Certain Women," "La La Land," "Moana," "The Nice Guys" and "Sing Street."
I would love to hear what 2016 films stood out to you. Please comment below. Thanks so much for reading!