Have We Passed Peak NFL?
I'm sure you are aware of the big news story that gripped the nation last fall: The NFL's TV ratings were down! You might also have heard that the Super Bowl has finally passed us. I won't tell you how it turned out, so as not to spoil it should have DVR'ed it. But the important thing is that it too saw lower ratings. This raises the question, have we passed peak NFL?
This year's Super Bowl had the lowest viewership since 2013, and was about 6 percent below last year's. Overall ratings for the entire season are down about 9 percent. What's up with this? The commentariat has not been shy about offering its opinions. I won't even try to make a comprehensive review, because life is short. What I find interesting about the various explanations is that they all point to the NFL, while not being precisely screwed, having peaked.
For example, one explanation is over-exposure. Remember that balmy summer of 1999 when ABC tossed out a cheap and cheesy summer time-filler game show called Who Wants to be a Millionaire? To everyone's surprise, it was wildly popular. ABC responded by converting the entire network into WWtbaM every day, all day. OK, not really. But not by nearly as great an exaggeration as it would have been, had the network executives a lick of sense. The entirely predictable result was that the show's popularity crashed and burned. ABC dropped the show, though it survives in the shadowlands that are syndicated television. Getting back to the NFL, the idea is that the same thing has happened. We have not only the early and late Sunday afternoon games, as ordained by God in His Heavens, but Sunday night, Monday night, and Thursday night games. This is too much of a good thing, and people tune out. Or so the theory goes. People are being trained to not bother watching NFL games. The NFL could dial it back some, but is the problem too much NFL, or too much football? College games are now omnipresent during the season, and the NFL has no control over that. To the extent that football fans watch both professional and college ball–and this extent is large–this problem is unsolvable.
The explanation I personally favor, at least as an underlying cause, is even worse for the NFL: Those Kids Nowadays and their changing viewing habits. The idea of watching a show when some network thinks you should just seems weird. It even seems weird to me, and I grew up in a society where planning your evenings around the TV schedule was perfectly normal. Then came VCRs. We could use them to timeshift, but the user interface was horrible, as was the playback quality. We only actually timeshifted shows if really motivated. In practice the network schedules still dominated. Then came DVRs. And then streaming. At this point, it simply doesn't occur to me to wonder what is on TV. And that is before we even discuss cord-cutting.
For years, live sports was the great bulwark against changing viewing habits. People still wanted to see the games live, which meant that those luscious, beautiful commercials still played with people still at least theoretically watching them. But is this still true? It's not just the NFL. Last summer's Olympic Games ratings were down, too, garnering a different set of explanations. But perhaps the underlying issue is that people less and less think in terms of "Oh, it's eight o'clock. Quick! Turn on the TV!"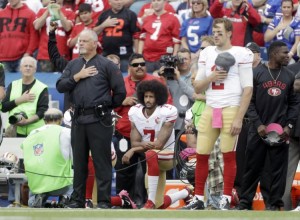 Other explanations for the NFL ratings include lack of star power with compelling marketable storylines; poor quality of play and/or officiating; concern over head trauma; etc. My personal favorite is the Colin Kaepernick theory: that while we have reconciled ourselves to Those People playing in the NFL, and even, albeit reluctantly, to Those People playing the positions where you have to be smart, this is tolerably only so long as Those People keep in their place. As soon as they get uppity, we're out of here. I personally doubt more than three people actually stopped watching games because of this, but it is popular to claim to have in comment threads. Perhaps the most favorable explanation is the too damn many commercials theory. This is favorable, in that it is within the NFL's control. They can, if this is indeed the driving force, figure out the number of commercials to maximize revenues, and go with that.
All of these explanations tell us, however, that the NFL has reached the limits of how many people are dedicated, or even interested. They have the core fans–the guys who paint their bodies in their team colors. Those guys aren't going anywhere. But around this core is a series of concentric rings of people, growing less and less interested as you move outward. Whatever the explanation, we have reached the point where people might be willing to tune in, but it doesn't take much to distract them. And this is nothing if not the age of distractions.
Which brings us to the NFL's favored quasi-official explanation: that ratings were down because people were engrossed by the election campaign. This is the favored explanation because it has nothing to do with anything the NFL did or did not do, and therefore no one should be fired. And surprisingly, there is reason to believe it is partially true. Ratings improved after the election, from disastrous to merely bad. While overall ratings are down about 9 percent, if you just look at after the election they are down only 6 percent. Left unspoken is that had the ratings been down 6 percent throughout the season, we would still be having this discussion, and the NFL executives would still be wringing their hands,
OK, so the election distracted people. But then a lot of them stayed distracted. Spectator sports rely on a collective fiction: the fiction that they matter. I have the sports gene. I get it. I have been through championship seasons. The communal elation is amazing. You know things are heating up with the announcers on the classical music station start getting giddy, and scores are announced between pieces at the symphony. I've been through that, at is a great! But I also know that it doesn't really matter. Win the championship and everyone is happy and the city shuts down for the victory parade. Lose the championship and everyone is sad and we stand around bitching about it. Either way, this is for a few days, then life is back to normal. And either way, it is easy to opt out of the whole thing. It is harder if your city's team is on a championship run, but statistically speaking, it probably isn't. And if it is this year, next year it probably won't be. There will always been opportunities to opt out.
A bunch of people got distracted last fall. Then a lot of them went back to watching games. But then again, a lot of them didn't. Maybe they will next year, and 2016 will be a mere blip. But I don't think so. I think that those people who didn't go back discovered that they were perfectly happy with life without the NFL. No, they weren't the dedicated fans, or anything like the dedicated fans. They were in that outer circle of casual fans. But they were part of the collective fiction. With them gone, the fiction becomes a bit harder for the rest of us to sustain.
I am not predicting a collapse. I'm not sure I am even predicting a long, slow decline. The NFL's marketing savvy is undeniable. I won't be surprised if they are able to pull it together and regain stability. But the eternal upward march to a glorious NFL future? I think that is over; that we have reached peak NFL.