Of Course I Want Trump to Fail
One of the more annoying memes circulating on the Facebook pages of my conservative friends is the airplane analogy. According to this meme, the United States is like a giant plane that Trump will soon be piloting. Wanting him to fail means you clearly want the plane to crash. Several of my friends have posted this sentiment, smugly suggesting that this is the right attitude to take toward Trump's undesired victory. As good Americans, we should all wish him success.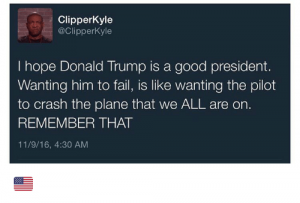 My usual pithy response to this nonsense is to point out that if I think the plane is being piloted by an unqualified, unstable, suicidal lunatic who's more likely than not to crash it into a mountainside, then it's my duty to do all I can to warn the other passengers. This sentiment has gotten me chided for lacking a positive attitude, a cardinal sin in a country where we're supposed to be eternally optimistic that everything is going to work out just fine, no matter what.
My other standard response is that I don't actually want Trump to fail but think it's likely he will, so I pray he's stopped before he does irreparable damage to the country. This response hasn't won me any points with optimistic conservatives either. Besides, it's not true. I do want Trump to fail. Bigly. Boldly. And in such a way that he can be ushered from the White House and back to his gold-plated penthouse in Trump Tower long before his first term is over.
Is my desire to see Trump fail the same as wanting the country-as-airplane to go down in a spectacular ball of flames? Does it make me somehow unpatriotic? Hardly. If my conservative friends were being honest, they'd admit that had Clinton won, they wouldn't exactly be cheering for her success. Nor, when Obama won, were they hoping that he'd turn out to be a good president.
Eight years ago, before Obama even took office, conservatives were enthusiastically rooting for his failure. Rush Limbaugh said that he "disagreed fervently" with Republicans who'd "caved" and admitted they hoped Obama would succeed. Instead, Limbaugh openly declared that he wanted Obama to fail. A few months later, then Louisiana Governor Bobby Jindal expressed the same sentiment, stating that it was fine for Republicans to want Obama to fail if they believed he was "jeopardizing the country."
As Michael Grunwald detailed in his book The New New Deal, Republicans plotted to obstruct Obama from the start of his administration, a plot that included:
…secret meetings led by House GOP whip Eric Cantor (in December 2008) and Senate minority leader Mitch McConnell (in early January 2009) in which they laid out their daring (though cynical and political) no-honeymoon strategy of all-out resistance to a popular President-elect during an economic emergency. "If he was for it," former Ohio Senator George Voinovich explained, "we had to be against it."
As McConnell famously proclaimed: "The single most important thing we want to achieve is for President Obama to be a one-term president."
Needless to say, not many conservatives took the advice they're now dispensing when they call on liberals to support Trump and dismiss those upset by his victory as "crybabies." How quickly they forget their own temper tantrums.
As a liberal, I'm obviously hoping Trump fails. That's not to say I want him to fail in a way that would do tremendous damage to the country. However, I'm not about to root for his success in imposing his personal agenda. I hope that The Wall doesn't get built, that Congress doesn't gut the ACA, and that Trump's appointees don't destroy the very departments that they've been nominated to preside over. I hope that Republicans don't turn Medicare into a voucher system or decimate Social Security. I pray that Democrats find a spine and take a page from the GOP playbook to obstruct Trump and his minions whenever and wherever possible.
I further hope that the media finally gets serious about examining Trump's layers upon layers of conflicts of interest, and that they figure out to whom he owes money and how much he owes, instead of dissecting his every last obnoxious and distracting tweet as if it were gospel. I hope that they investigate fully his connections to Putin and other unsavory characters. I also hope that they keep pushing him to release his taxes, like every other presidential candidate has done for the last few decades.
I want Trump to fail because I believe that his "success" would endanger the country. A man who puts himself above the rules, who cannot control his own worst impulses, who seeks vengeance rather than reconciliation, who respects nothing other than his own desires, is not someone who should be at the helm of the most powerful country in the world. That he soon will be is something I find abominable. Trump's every move needs to be scrutinized and people need to speak up whenever he crosses an ethical, moral, or Constitutional line.
Am I hopeful that any of these things will come to pass? Not particularly. No person or institution has yet to stop Trump on his path of destruction and I'm not about to to underestimate his capacity or that of his handlers to continue marching forward. It will take organized resistance and more than a little good luck to get him out of office as soon as possible. The goal would be made easier by a colossal failure on his part, one so egregious that even his opportunistic "supporters" in the GOP decide to cut loss and run.
So yes, I want Trump to fail. The sooner the better. In the words of Alden Solovy in his Liturgy for the Inauguration:
May G-d bless and keep the President away from…
… Obamacare.
… Twitter.
… the nuclear launch codes.
… Medicare and Social Security.
… the White House.
… acting on his misogynistic impulses.

May G-d bless and teach the President…
… humility, justice and kindness.
… to keep his oath to preserve, protect and defend the Constitution of the United States.
… to build bridges of kindness and trust between all the peoples of the United States.
… to build bridges of kindness and trust between all the peoples of the world.
… the true meaning of compassion and human dignity.
… to see his inadequacies and his inappropriateness for the job.
… the difference between leading the nation and humiliating dissenters.

May G-d bless and save the President from himself,
And save us from him.