Play all of the Nintendo!
I didn't mean to do this.
I stumbled into what will likely take a few years to complete: Play every game for NES and write a short review about it.
I got one of those fancy PowerPaks for my original NES, the same NES I had since I was 10. I promptly loaded all the games onto a Compact Flash card and giggled at the possibility of having access to everything. I had this feeling before but the main difference between this and emulators on a computer is that I would be playing with the original hardware and controllers. Nothing could be closer to actually having all these games on hand. I was always an odd purist about it, because I wanted to know in the back of my mind, that all the timings and such would be the same, that the experience would be right.
There was a second issue.
Having ALL THE GAMES comes with it a certain amount of ADD. After playing any title for a few seconds, I feel my finger creep to the power button, hungry to load up more and see what else could be in store. This, of course, leads to being bored more quickly, since no game really has the opportunity to sink its teeth into me. I had to find a better way.
So, I decided to force myself to start at the top and work my way down and to give myself further incentive by writing a short blurb about each title. I wasn't going to try and beat each game, I'm no Wizard (sorry, Fred Savage), but I was going to give it a fighting chance to hook me. I needed enough to write something, even if that something is wildly wrong or ends up down a tangent that doesn't have a lot to do with the game: so be it. This was an exercise in trying to write more and play more old games. I want a clear understanding of the most iconic period in games for me, on the very first system I ever owned. Where this will lead me, is uncertain. But, I'm hoping we can all have a good time on the way. I'm especially looking forward to all the random kid-centric shovelware. Aren't you?
So without further ado, here are the first 3 titles I played: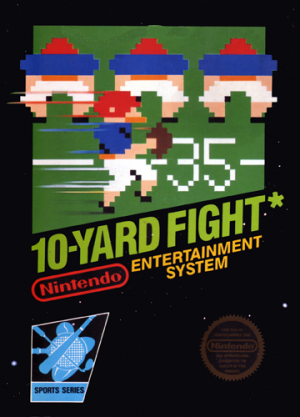 I spent the first part of 10-Yard Fight thinking I was on offense when I was really on defense and it took a touchdown with the points landing in "C" to convince me otherwise. I understand this is the grandaddy of all football games, but oh boy is it clunky: kickoff returns felt like I was leading a zombie horde, my possessions were magically taken away from me (I can only assumed I fumbled?), kicking looked to me like passing. Once I got a sense of offense, and actually waited the agonizing time it took for my receiver to get into position, then I just ran the same play over and over and actually scored some points. Running the ball was a mystery. When the game was done, I was told to go to the locker room because I suck. Sure thing coach, be happy to oblige and never look back. Avoid it!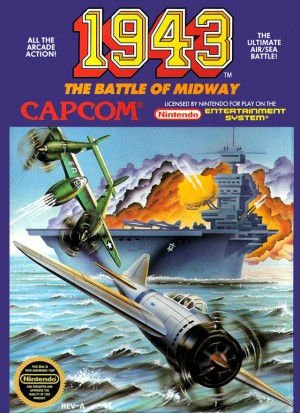 Sadly, the rom for 1942 wouldn't run correctly, so I moved on to the sequel. I've always had a soft spot for shoot 'em ups, and this one still holds up, though the difficulty (like many NES games) seems to ramp up almost exponentially. The power ups and leveling system may be limited, but it's nice to see in such an older arcade port. I am, however, a little perplexed on why the Japanese would develop a game about destroying their own airborne military in the heart of WWII. I can't imagine the U.S. was the only market for this game and can't recall many where you are pitted against your own country: seems especially true of America. I'm sure it exists, but it's amusing no one seems to be bothered too much about it.That being said, it was hard for me to stop playing especially with the addition of an infinite continue screen that puts you back at the level you left, albeit at the beginning. That's how they get you. This time I'll get it, you think, this time I know I can blow up my own country. Play it!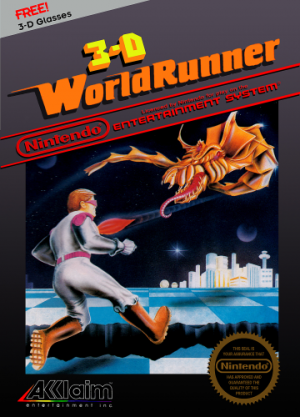 Interesting thing: this game is called 3-D Battles of World Runner, but the box seems to say otherwise. This was still pretty early for Nintendo to really start pushing the hardware, but this game from Square actually does a pretty good job of trying to blow some minds. It's a pretty simple game, some sort of Space-Harrier like runner where after your 3 lives you start all the way over again. After playing it for a bit, my goal became reaching World 2, which sadly just switched out a few enemies and changed the color of the checkerboard background. Music was the same repetitive tune as well. It did feel like an early title.I happened to have my Rad Racer 3D glasses near me and tried them on this, since in keeping with its name, it supposedly had some depth trickery up its sleeve. Sadly the tints were off a bit (they don't make these things universal it seems) but I still got a little bit of the effect. It was like Virtual Boy: which meant I had them on for all of 30 seconds before I noped out. This game was ragged on for being basically a straight up clone of Space Harrier, which I can completely understand. It was cool to see that effect trying to be put on a home system and I applaud it for that. It felt a lot like a predecessor to a mobile game, good for a few minutes but not a lot of staying power. Try it!

Come back next Thursday for more retro goodness! Look forward to seeing you all there.