Saturday!
Underwood Deviled Ham Commercial with Mason Reese
Okay. Doom.
Here's an oldie but a goodie from somewhere around the time of Doom 3: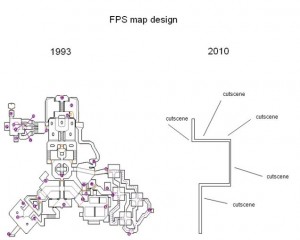 Remember that one? Good times.
Anyway, one of the main things that the developers of the original Doom always said in interviews was that they didn't know how to make a FPS, really, since the genre was so brand spankin' new, so they used games like Robotron 2084 as a template. Just have a guy and have a ton of monsters and throw the ton of monsters at the guy.
"Do we need a story?"
"Um. Hell opens a gate. Demons start pouring through the gate. And they're on Mars."
I mean, you don't need more than that. This is one of those "why are you doing this?" situations where "why WOULDN'T you do this?" is the perfect rejoinder.
Well, Doom II improved on the formula somewhat. Still no jump button, of course, but it was the 90's. We didn't need jump buttons.
Well, Doom III was the reason we had that graphic right there. Plus there was the flashlight thing. Gamespot gave Doom 3 an 8.9 and I should have seen that and flailed my arms about and yelled "DANGER DANGER" but, instead, I said "Huh… 8.9 is still pretty good." Well, it wasn't. It wasn't pretty good at all.
But Jaybird!, I hear you asking. What about the New and Improved Doom?
Well, I'll tell you: They didn't mess up. They actually did a pretty solid job of making a fun game with fun levels where you run around on Mars shooting demons because they opened a gate. There's a bit more back story this time. There are people who try to explain things to you over intercoms and you get a feeling that the place you're running around shooting up was a vibrant scientific community for a good long while before this demon gate opened, but that's not the focus of the game at all. They put you in a level and they give you some guns and they let you run around shooting demons.
Some of the levels emphasize hallways, yes… but some of them are wide open spaces and you have all sorts of everywhere to run around feeling vaguely agoraphobic rather than vaguely claustrophobic.
Now, when it comes to what they've added, they've added all kinds of stuff. The weapons are fun (and upgradable!) and, on top of that, your armor is upgradable and you can give yourself all kinds of bonuses, whether they be treasure based (like, have the map light up when you're near a secret area) or attack based or defense based, depending on your preferred play style. They've added grenades (did they have grenades in 3? I don't remember… but 3 wasn't fun so it doesn't matter). They've added a *JUMP* button.
It feels like Doom.
Which is probably the highest possible recommendation I could possibly give a non-RPG FPS.
But get it on sale for $20 anyway. If I had paid $60, I wouldn't feel like I got away with something. For $20? I feel like I got away with a steal.
So… what are you playing?
(Picture is HG Wells playing a war game from Illustrated London News (25 January 1913[/efn_note]