Book notes: Foucault and the Iranian Revolution
If a bombshell lands in academia, does it make a sound outside?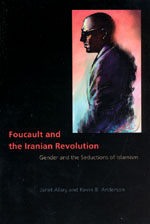 I was only vaguely familiar with "Foucault and the Iranian Revolution: Gender and the Seductions of Islam" when it came out in 2005 and can only surmise what impact it might have had. The book reprints French intellectual (his term) Michel Foucault's coverage of the Iranian Revolution for an Italian newspaper in 1978. It examines the strange reverence in which Foucault held the "spiritual politics" of the Ayatollah Khomeni and his followers, who impressed the writer with their willingness to die for their revolution. In Paris, Foucault was ridiculed and criticized for this "misstep". In North America, though, little has been known about the episode. Janet Afary and Kevin B Anderson do a service for intellectual history by translating Foucault's articles, the responses from his critics, and by contextualizing his Iran writings in his larger body of work. Instead of seeing this as an aberration, they argue that "something more organic to his core theoretical stance, was at work in creating the deep flaws that marked his writing on Iran." These misguided writings, they contend, were of a piece with his larger critique of the Enlightenment and modernity.
First allow me a sharp digression: a few months ago, I was enjoying lunch in a local restaurant and trying not to listen in on the conversation at the next table too blatantly. The two young professional office workers at the next table were discussing their problems with the office "IT guy" who seemed to have committed the cardinal sin in the corporate world of being socially awkward. "If only there was a way," she mused, "that we could get a mental health professional to assess him with a straightforward rigorous test and quantify that he has some sort of personality disorder with a specific diagnosis. Then we could be justify removing him." Their conversation, peppered with the sort of grad school jargon everyone learns in master's programs now, bothered me for weeks, for reasons I couldn't quite get a handle on. We'll come back to this.
The reverence with which Michel Foucault's work is still treated in some parts of North American academia is a bit mystifying given that intellectual independence is still held as an ideal. His work doesn't hold as much weight in History as in fields like lit crit, although I certainly experienced it as a weight in grad school. Foucault spent a year in our department doing research in the 1970s and many of the older professors knew him personally. He stayed with some of them and there was a rumor among the grad students that the elderly prof who put him up made Foucault sleep on the couch due to his outré sexual practices. I worked under one of the few Profs who didn't seem terribly impressed with Foucault. She was French, perhaps not surprisingly.
Maybe I came to Foucault too late. His admirers seem to discover his books as undergrads and experience them as a revelation. I had already read way too much by the time I got around to Foucault to hear out the academics who touted him as an iconoclast launching the most complete and stringent critique of modernity and the Enlightenment thus far. I saw that critique as warmed over Nietzsche with a dollop of anarchist theory and a strange aftertaste of some reactionary idealization of pre-modernity. It was too vague and overarching to work as a heuristic- ironically, he resorts entirely too often to sweeping "grand narratives". And when I read other historians' works on madness, prisons, or sexuality, they often pay lip service to Foucault's work and then show where it falls apart as history. Finally, there were plenty of academics who applied a "Foucaultian lens" to their own research with some success, but often that method struck me as uncritical trend-hopping- a sort of careerist repackaging of ideas. To be honest, quite a bit of academic writing strikes me as putting old ideas into new cans.
I was also struck by how little I heard about Foucault while in France. Afary and Anderson suggest this has to do with the lukewarm reception his History of Sexuality received there as well as the backlash he received about lauding the Iranian "spiritual revolution" while downplaying its dangers and excesses. To be fair, Foucault was not the only leftist to be happy to see the repressive Pahlavi regime- that weird mélange of disco decadence and authoritarian surveillance- die a dog's death in Iran and with very good reason. He was also highly percipient in recognizing that political Islam was going to have a major impact on world events in years to come. In trying to understand the phenomenon, Foucault was in the right place at the right time. He was doing his duty as a public intellectual.
He was strikingly naïve, however, in thinking the Ayatollah and the mullahs around him were going to cede power once the revolution was accomplished. And Foucault was incredibly misguided in thinking that the rights of women and homosexuals would be protected, provided they didn't "go against the rights of the majority". When called out for his mistakes, as it became clear to many that the theocratic terror that many on the Iranian left had feared was coming terribly to pass, Foucault simply objected to being called out and refused to respond. He accused his critics, even those on the Iranian left, of Islamophobia.
So, how could Foucault have been so wrong? The authors contend that his mistakes here were of a sort with his flaws elsewhere: that they flowed from "his hostility to modernity and its technologies of the body" as well as the post-structuralist left's strident critique of "the secular liberal or authoritarian modern state and its institutions". In one striking passage, Foucault describes the industrial capitalism that came out of the Enlightenment as "the harshest, most savage, most selfish, most dishonest, oppressive society one could possibly imagine." To say that Foucault's critique lacked in nuance might be stating the obvious.
But the authors also highlight his fascination with death and with limit experiences that confront death- such as being martyred for a political cause. Furthermore, they highlight a major flaw in his work that has long been problematic- his blind spot for patriarchal power and how it was used against women- became a much more serious issue when the mullahs wanted to bring it back in Iran. While feminists have drawn much from his work, Foucault was no feminist.
The book, then, throws its strongest punches from the left, which makes them land more effectively. The writers are not conservatives raging against the influence of postmodernism in the academy. But they recognize something that one of Foucault's critics, an Iranian feminist, pointed out to him to no avail: "The Western liberal left needs to know that Islamic law can become a dead weight on societies hungering for change." The book is also a useful reminder that radical Islamists might be anti-imperialist and fighting against Western military and cultural hegemony, but they are doing so in order to create another hegemony opposed to nearly every value that liberals cherish.
Nevertheless, even if we forget Foucault, critiques of the Enlightenment and of modernity will not go away. We are children of the Enlightenment for good or ill. The goods include our notions of human rights, representative democracy, feminism, social equality, modern medicine, and the scientific method.
But what I think bothered me about the two yuppies sitting near me in the restaurant was how perfectly they articulated the ways that a "scientific" assessment regime rooted in instrumentalist logic can be used as a tool to root out and be rid of nonconformists. We can perhaps dismiss the "anti-intellectualism" of reactionaries, Trump supporters, and the "uneducated" classes, but we cannot remain oblivious to the many ways that surveillance, quantification, and instrumental rationality penetrate the lives of all, but especially of those "uneducated" lower classes. The further along we go in creating a completely rational society, the more frequently we will have to deal with outbursts of irrational violence under various labels. To paraphrase J.G. Ballard, given the hyper-rational alternative, psychopathology becomes the last form of freedom left.
Get it here: [amazon template=image&asin=0226007863]