Four Reasons You Probably Haven't Thought of to be Horrified by Trump's Presidency
Democratic Twitter is very worried about a Trump presidency. This is not surprising.
I'm also not surprised by what they are worried about: Obamacare being gutted, Medicare being privatized, media being intimidated, hate crimes proliferating, and anti-semitism as a matter of course in the West Wing. Perhaps some people's marriages will be voided once more. Some democrats are even concerned about civil liberties again.
I am far more worried about a Trump presidency than these people.
I don't think people can appreciate the scale at which someone can screw things up. Many Democrats see the Iraq War as the upper bound of badness. It isn't even close.
Number One: Nuclear Proliferation

The probability of a surface nuclear weapon detonating somewhere on the earth has gone up. Trump has suggested that relatively unstable countries in unstable regions ought to have their own nuclear weapons. This might be. He says a lot of contradictory things, and he luckily seems to be less fickle with his actions than his speech. But that is an awful low bar.
Trump's speech itself is sufficient to trigger nuclear proliferation, and perhaps already has. He has said that he doesn't want to defend close allies on which we have military bases without payment. If such countries haven't already examined how they might defend themselves without America's cooperation, they are guilty of gross negligence. Some of their paths to self-defense likely ought to consider the development and deployment of nuclear weapons.
Number Two: Aggression Against American Allies

I'm worried our allies will be attacked. For better or worse, America's military might is a factor in their not being war in some important places. If Trump continues to advertise his unwillingness to defend its allies, we could see the rest of the Ukraine stalled up by Russia. Trump, during the campaign, seemed bizarrely unaware that Russia had already done so. We could see South Korea attacked. Bloodiest and saddest of all, we might see Taiwan attacked. This might still not be likely, but "expected value" in terms of lives lost due to any increase in the probability of such a confrontation would be a tragedy, at least on paper.
Number Three: Global Wealth Contraction

Trump seeks to reverse globalization. This is against America's interests, but I suspect we will weather the blow better than some others.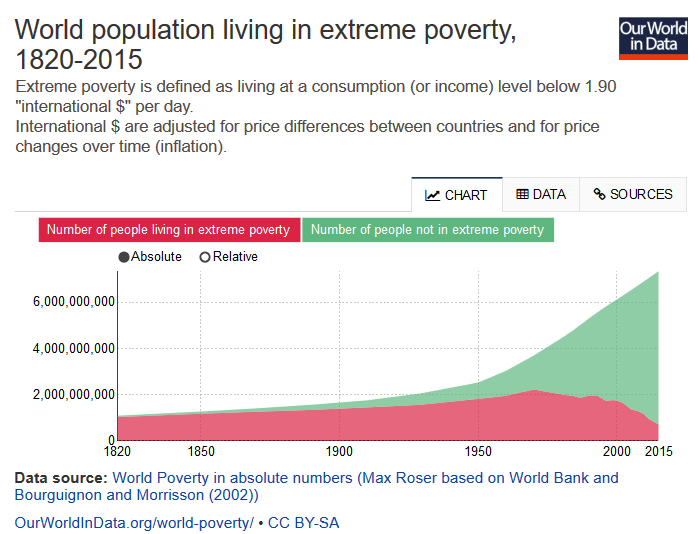 That is a biography of globalization. You can see the tremendous improvements in reducing the number of people living in extreme poverty since the 70s despite rapid population growth.
But don't think extreme poverty is no longer a problem. That tiny bar of red on the right represents 705 million people still living on less than a couple bucks per day. It's a huge, continuing tragedy, and even a small reduction in the rate of the improvement will kill an untold number of people.
Number Four: The World Rejects The Dollar
The dollar might not stay the world's reserve currency. Without prompting, Trump threatened default as a presidential candidate and stated his willingness to try to get debtors to accept partial payment on the national debt.
Trump doesn't have to do anything from this point. He's already justified the doubt by fielding the possibility. It is, frankly, irresponsible for anyone to hold all their assets in solely dollar-denominated investments even if we never hear another word about this ever again.
Additionally, the US dollar's status as the world's currency of choice does not solely stem from our willingness to pay our debts—though that is indeed a necessary condition. It depends on someone someday wanting to buy US goods, eventually. Dollars may transfer hands for a decade on the international markets, but eventually you're going to want to spend them or trade them to someone else who will want to spend them on US goods produced by US companies. I know it's hard to believe, but internationally people still want to buy stuff that is made in the USA.
To the extent Trump is successful in implementing his agenda, our goods will become less attractive. To the extent we disentangle ourselves from the global supply chain, our goods will become less attractive. This might never be a problem for Apple, but it certainly will be for unbranded products. As countries enact retaliatory trade barriers including tariffs, US goods will hold still less appeal, and accordingly US dollars.
It's not even clear that Trump thinks the dollar losing its status as the world's reserve currency would be a bad thing. It's entirely possible he thinks it's bad that China holds so much of the US's debt and would prefer the dollar to be much weaker and internationally unimportant.
Game Over
It'd be really bad if 20,000,000 Americans lost their health coverage. It'd be bad if happily married people weren't anymore even as their feelings for each other remain unchanged. I'd suggest, however, that if these are your greatest fears, you aren't being imaginative enough.