Still Life of The Author in this New America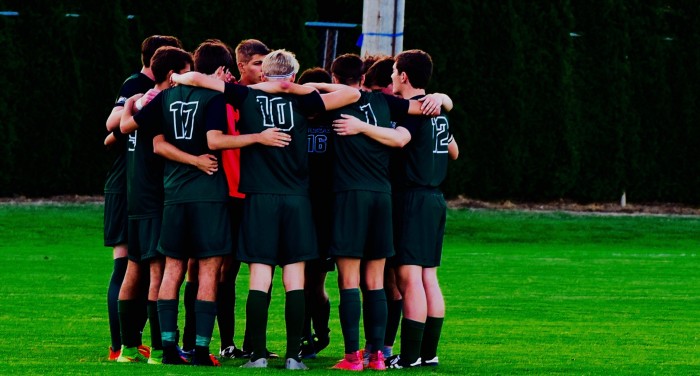 I.
The first foreshadowing of what was about to happen — the first that sank into my thick skull, that is — came at halftime of my son's soccer game.
He's my youngest, a high school senior (it turns out I'm old), and in addition to being election day last night was the Final Four of the state's championship soccer tournament. The game was in McMinnville, a rural town in the heart of Oregon's wine country that's about an hour's drive from our house. My wife and I listened to a little bit of the election coverage on NPR on the drive out, but at that time they had only called a couple of went-as-expected states. It wasn't until I glanced at my phone during halftime that I saw the inevitable unfolding before me.
By the time we got in the car to drive home after the game, it was all over but the shouting. Florida and North Carolina had already been colored in red on CNN's electoral map. By the time we arrived home, so had most of the Rust Belt. Within fifteen minutes of my opening my laptop, Decision Desk HQ had called it.
And now here I am, laptop open once again, up early in the morning of a brand new America. Sitting on my couch, wondering at the sheer, improbable, terrible hilarity of it all. Donald J. Trump: Real estate mogul. Reality TV star. Perennial late-night talk show host fodder.
President of the United States.
II.
I wrote a piece about this election several weeks ago that was scheduled to go up this morning. It was entitled, embarrassingly enough, How to Predict an Election. It's hard to over-emphasize just how much I got everything wrong in that piece. And I mean everything. Not just who would win the White House, but… well, everything. We unscheduled it the night of the election, and stuck it back in the WordPress Drafts folder, where it sits right now, at this very moment, like some modern, pixelated version of the Dewey Beats Truman! headline.
Or maybe, I didn't get everything wrong — just most things? Or only some things? I'll be damned if I know.
I have a list of Rules about elections I keep in my head, and I stick with them year after year, even when they tell me what I don't want to hear, because throughout my adult life they have never let me down. Pay attention to the polling. If one side has experts predicting a win, and the other has expert-wanna-bes, there's a reason for that. Never underestimate people's desire for the status quo, even when they shout otherwise at the top of their lungs. Stuff like that.
I confess, I don't know what to do with these Rules now. Was last night a one-time aberration? Are the rules still on target, but my reading of the landscape in 2016 that far off? Or have we entered some new world of post-internet reality where none of those rules apply any longer? I honestly have no idea. In many ways, this election is like the man who was its ultimate victor: totally uncharted territory.
Who knows what happens next?
III.
Here's where I'm breaking with most of the people I know: I'm giving Donald Trump a blank slate going forward into his first term.
To be clear, I do not give this blank slate because I think I was wrong about how good a POTUS Trump will be. I'm still pretty sure he'll be awful. Worse, I think Trump has a tendency to surround himself with people who are good at toadying up to him, competence in other areas be damned. The best example I can give of this right now was yesterday's televised court proceedings in Nevada, where Trump sent two construction-law attorneys who seemed to know nothing about Nevada election laws to represent his Nevada-election-law-based challenge.
Likewise, I am not giving him a blank slate because I'm now open to the idea of a wall around America, or scrapping the first amendment when it's convenient to deal with faiths that make white people nervous, or nationalizing a stop-and-frisk program. Same goes for a protectionist trade policy, which I can't imagine will be anything other than disastrous economically. And I certainly haven't grown a sudden tolerance to the idea of a thin-skinned Most Powerful Person on Earth determined to repay every perceived slight against him in kind.
No, I'm giving Trump a blank slate because I truly believe that elections matter. When the GOP decided to oppose Barack Obama no matter what he did before he even set foot in the White House, I found them to be offensive, petty, damaging to the republic, and indeed the very opposite of patriotic. I found their stated plans to do the same to Clinton these past few months to be equally all of those things. I railed against these things when they happened not because railing was a politically expedient strategy at that moment, but because those people's actions truly offended my democratic values. Now that I'm on the losing end of an election, I am loathe to become their mirror image.
I know that I'm breaking with most everyone I know by giving Trump this blank slate, and that I'm likely going to anger some of those most passionate about opposing him. Emotions running as high as they are right now, I worry I may even damage some of those relationships. And for what it's worth, I understand where my friends and loved ones are coming from. I truly do.
In his acceptance speech, Trump delivered a come-together message of unity and togetherness for all Americans. But for over a year prior he stoked the fires of fear, and he did so like a master. Many of his followers seemed to galvanize around his message of fearing the Other, and those fearful men and women swept him into the White House. Now that he's won, it's those Others who are justifiably feeling fear. And by "Others," I mean our family, friends, neighbors, and co-workers: people of color who have been painted the underlying reason for every white person's failures, victims of sexual assault who have seen the price of speaking their crimes out loud, people who are transgender who have been repeatedly equated to sex offenders, the developmentally disabled who have been mocked and forcibly removed from public spheres, Jews whose pulling of the world's most nefarious strings has been insinuated by the campaign in speeches and advertisements alike. The single vulnerable population I've seen Trump speak of fondly and with reverence is the gay and lesbian community — but with the crew he's promised to bring into the White House, I understand why they, too, are afraid of what the coming four years might bring. Me? Hey, I'm a straight white male, so I'm pretty sure I'm golden, to the degree that those straight white men who are about to take the keys to the Cabinet have anything to say about it. But as far as I'm concerned, that just gives me all the more responsibility to stand with and fight by the side of anyone being targeted for being anything else.
Believe me when I say I'm tempted to take up the #NeverTrump banner right now and waive it non-stop from now until November of 2020. Emotionally, I confess, carrying that banner feels to me like the easiest choice, the path of least internal resistance. So yes, I'll oppose any Trump policy I find to be bigoted, undemocratic, or just plain foolish. I'll proudly stand shoulder-to-shoulder with any of those beloved Others that Trump or his circus comes after, and make their fight my own wherever they'll have me. I'll call for his head if he actually uses the power of his office to make good on his promises to punish anyone who doesn't sing his praises. I'll do everything a good citizen is supposed to do when confronted with incompetency, corruption, or abuse of power from those in power the very moment Trump does those things in office, if in fact he does them. But not before.
Basically, I'll do anything short of what blurs the lines between being those people I've listened to calling into talk radio stations these past eight years and being the kind of person I want to be.
IV. 
The small, small, silver linings for me, personally, such as they are:
This election might actually lead to real change in the Democratic Party, and for liberals in general. For too long now, any misstep, appearance of impropriety, or outright malfeasance by anyone and everyone with a D after their name has been casually dismissed by the party faithful.
Trump's victory might well turn on its head the idea that the only way to win a national election is to be the person who amasses the most money.
Trump's unconventional, bypassing-the-gatekeepers road to victory might well be something that a non-Trumpism candidate might achieve down the road, for better purposes.
Who knows? Those moderate Republicans who opposed Trump this whole election? Maybe they finally break with the party, and stand more firmly against the growing casual racism, sexism, and various other bigotries they've been too willing to turn a blind eye toward this past decade-plus. A third party, perhaps, or maybe they become Democrats and start working toward compromise over frat-boy antics. Or maybe they'll somehow get control of their party back, and find a way to represent the white working poor without kowtowing to the deplorables.
I know, I know. It's a pretty paltry list. Worse, none of these silver linings seem like things that will actually happen, even now.
Still, we take our silver linings where we find them.
V.
I wish you could have been there last night, at the game. I've never seen anything like it at the high school level. The stadium packed, the crowd frenzied. And the speed of all the players on the field — oh my. If you'd just happened by, out for a walk and attracted by the stadium lights and the noise, you'd have sworn looking at the field and the stands alike that it was a college game. I know I'll never experience anything like it again.
Until this year, my son's high school hadn't won a soccer playoff game in over twenty years. They'd only had a handful of years during that same stretch where they weren't dead last in their league. They're the smallest school in the state's top 6A division. Most of the schools they compete against have five or six times the number of students to pull from. Worse, their sister school just over the hill is the one where everyone with ultra-high incomes live; not only do they get better facilities and money for coaching staff, they often get to arrange to have the most gifted athletes from our neighborhood transferred to their more well-respected program.
Last year our school hired a new coach who brought in a new system, cutting most of the seniors who'd started the years prior while angering more than a few parents in the process, and rebuilt the team from the ground up. (That change ended up being fortuitous for my son, who went from being a kid whom the previous coach refused to try out for varsity due to his pedigree, to one who started both that year and this.) The result in that first year was a surprise trip to the playoffs. This year they won their league outright, and then kept winning playoff game after playoff game. If you're a school that does this all the time, winning like that is probably great. But when you do it out of the blue and for the first time, it's special in a way that's utterly electric.
Still, every dream has to end eventually, and last night my son's team lost in the last seconds to the state's reigning champion.
After the game, my wife and I headed out on the field to congratulate the team on their year and to give our son a hug. It took a long while to get to him. There was a long line of teammates and students who had traveled all the way from Portland to McMinnville waiting to hug him first. He was wearing a smile and cheerfully thanking everyone for coming out, but I could tell even from a distance that he was fighting back tears. He waited until his line of well wishers emptied out, then walked over to his mom and I. He wrapped an arm around each of us, pulled us in tight, and then, his head against each of our shoulders, began to sob. I didn't have to ask why. It was an emotional dynamo of a year, and in that moment he was full of both joy and heartbreak, and threaded throughout all of that was the knowledge that this was his last high school game ever. And I tell you true: in that moment, had Hillary been cruising toward victory as expected, I would have traded her winning White House for my son's team winning that game and advancing to the state championship in a heartbeat.
Not that I found this surprising. For a while now, I've been pulling back from politics. Part of the reason for this is that the hours in my day are otherwise spoken for, what with marie claire deadlines and my 7 Deadly Sins show. Plus, you know, life. Also, if I'm being honest, I've grown restless with having the exact same arguments over and over and over, just for the sake of having said arguments. None of that will come as a huge surprise, I'm sure, to those who have noticed my recent falling off on postings and commenting.
But in addition to all of that, there is this: I'm not sure I like who've I've been becoming these past two years when it comes to politics. I'm far snarkier with people now than I used to be, less patient, quicker to assume the worst of those who disagree with me. I have found myself drawn more and more to Twitter, where the goal is less trying to understand other people than it is a mindless signaling of which tribe you're a member. We all look at Twitter's basket of deplorables with disdain, but the truth is that to one degree or another Twitter rewards each of us for our mockery and cruelty.
Besides, at the risk of sounding corny, I have faith this country can withstand whatever worst-case scenario Trump might throw at it. I truly do believe that. I believe it with a white-hot, unwavering certainty. Which is funny, when you think about it. Paul Ryan, Ron Paul, Sarah Palin, Tom Cotton, Rush Limbagh, Hugh Hewitt, Sean Hannitty, Tim Kowal, Tom Van Dyke, Lars Larson, Ann Coulter, David Barton, and all the other conservatives who are always so sure that a wrong vote here or there will surely be the death of the republic? Who would have thought that out of the lot of them, it would be an agnostic, dogma-eschewing, living-Constitution pragmatist like me who ultimately was the one who truly had faith in both this country and what our Founders bequeathed us. Weird.
That's why I'll be stepping back a bit from writing about politics in the months to come. Besides, after this election, it's not as if I can hang my hat on some assumption of sage wisdom. If Trump's victory teaches me anything, it's that I need to take the time to go further out into the world and listen to what it has to say. And then, after Trump takes office, we'll see. Maybe he really will be the stealth liberal that doubting conservatives always swore he'd be. Maybe he'll surprise us all by pulling one final rabbit out of the hat and be the next Ronald Reagan or Bill Clinton. And if he doesn't, I'll likely have some something sharp to say about it on these very pages when the time comes.
Until then, I want to hang out in that moment last night — on that field of a very different kind of battle, holding my son, feeling my own tears come and telling him how incredibly proud I am of him, how blessed I am to be his father. That field of battle is smaller, yes, and without a doubt it's the one that's less consequential.
But I believe to my core that it's the one that's more important.