Eight Awesome 19th Century Advertisements
I see a lot of old advertisements in my baseball research.  The ads for baseball equipment are an important part of the research, but most are merely distractions.  Some of them rise above the level of being awesome distractions:


The first example of awesomeness, to the right, is from the summer of 1884.  The nation was locked in the throes of a presidential race.  Who would win?  We can't tell, what with polling being nonexistent.  We can only hope that the next Commander-in-Chief would have the sterling qualities we have come to expect from Police Plug Tobacco.
I leave it to the political historians to compare the merits of the first Grover Cleveland administration with that of a wad of chewing tobacco.  Spare a moment, in the meantime, to consider the morass of bad jokes I had to wade through in the baseball coverage, about how Cleveland was doing in the race.
Moving on, next we have the obligatory quack medical device: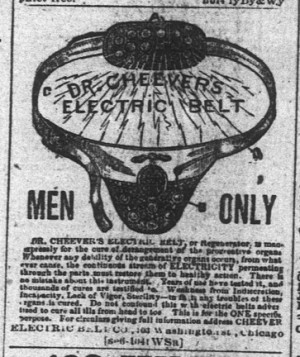 This is an evergreen of the "wacky old ads" genre, and for good reason.  Here we have Dr. Cheever's Electric Belt.  Sorry, ladies.  It's for men only.  Well, not for me, of course.  But for those men who suffer from debility of the generative organs, whether caused by Indiscretion, Incapacity, Lack of Vigor, or Sterility.  I'm not sure, but I think one of those is probably a euphemism for syphilis.  In any case, electricity obviously is the cure for what ails you.  This rather puts modern probiotic antioxidant toxin purges to shame.
But what about the ladies?  Don't they have generative organs, too?  I wouldn't know, but I have heard whispered rumors.  While Dr. Cheever can't help them, we have the good fortune to have Dr. Owen to the rescue, with the greatest invention of the age:
I wondered at first how the same belt could cure both gentlemen and lady parts, but then I noticed that the current is reversible.  That explains it.  And if you can't trust a medical device recommended by leading electricians, what can you trust?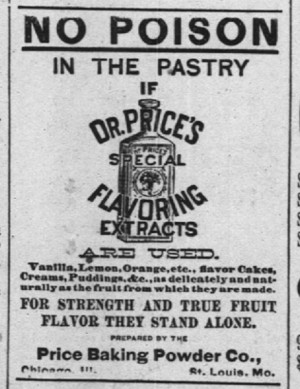 Speaking of pre-regulatory era free market paradises, I am comforted to read that the Price Baking Powder Company is not poisoning me.  I of course believe them, since no company would run the risk of loss to reputation by poisoning its customers, after saying it wouldn't.  I do, however, now have dark suspicions about the Price Baking Power Company's competitors.  What is it they have to hide?
Moving on to personal hygiene, here is a fantastic new invention, the safety razor: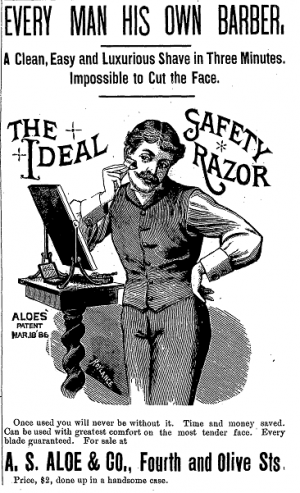 Sadly, I can attest from personal experience that it is indeed possible to cut the face with a safety razor.  The slightly inflated claim is not, however, what captures the attention, but how, well, swishy this guy is.  I am reliably informed that Oscar Wilde was alive back then, so they had gay gayness.  But did they have the stereotypes?  I honestly don't know.  I am reminded of the 1931 film The Public Enemy.  This was Jimmy Cagney's breakout film.  He plays a low-life gangster who rises to being a high-life gangster and then slain in a hail of bullets.  During his rise up the ladder, his mentor takes him to a tailor to get a decent suit.  The tailor is played as over-the-top gay, fawning over Cagney.  It is unmistakable.  What I have never figured out is if the audiences were in on it, or if it just went by as a somewhat weird scene with an overly ebullient tailor.  I wonder the same with this guy.  Would they see this as a stereotypical homosexual, or simply as a "dude," in the original slang sense of a man who dresses with a bit more care than his peers.  It doesn't seem to have been a general thing with this company. Here is another ad, for the same product, that goes for comedy: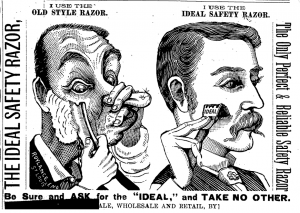 Speaking of dressing well, we next come to my personal favorite: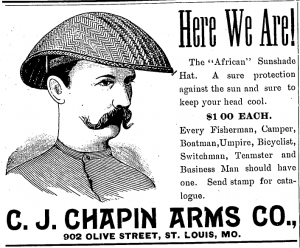 I cannot overstate how much I want that hat!  And that mustache!  But mostly that hat!
We have seen a lot of ridiculous products that no sensible consumer would want anything to do with.  I leave you now with the most ridiculous of them all: