The Myth of the Press's Anti-Trump October Surprise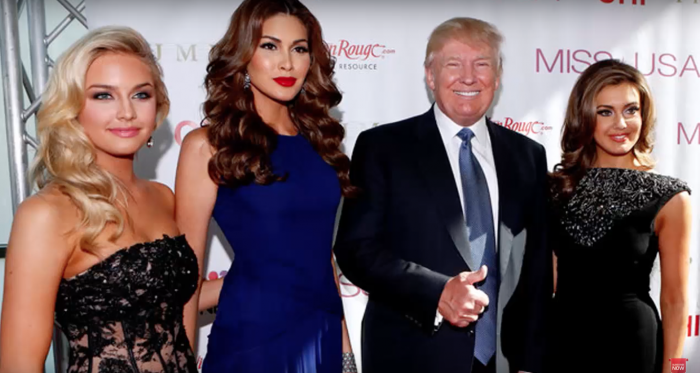 One of the most interesting narratives developing this past week through conservative circles, in the wake of the notorious tape showing Donald Trump make one of the few claims of his that end up fact checking as true, is this: The media conspired to suppress damning evidence against the weak Republican nominee throughout the primaries, only to release their Kraken as an "October surprise."
There are various flavors to this conspiracy theory trumpeted by the alt-right and #NeverTrumpers alike. Some are asking why Trump's GOP rivals didn't commandeer their own oppo files on Trump. Others point to it as proof that the New York Times, Washington Post, and every other purporter of "so-called" journalism were always in the bag for Clinton. And because Donald Trump is Donald Trump, others have crafted Elders of Zion-esque conspiracy theories that map shadowy meetings of "hollywood elites," "secret cabals," and "international banks which seek to undermine global sovereignty."  1  Everyone to the right of Joe Lieberman, it appears, see the shoes currently dropping as possible evidence or proof positive that the Fox-News set was right about the mainstream media all along.
There are two problems with this Planned October Surprise conspiracy theory, however. The first is that it's demonstrably not true. The second is that the actual truth of what these shoes dropping reveal is much, much worse.
Before we get to that bad news, however, a little trip in the Way Back machine is in order.
In July of 2015, exactly one month after Donald Trump officially threw his hat into the ring for President on the United States, the Daily Beast ran an article detailing the aftermath of a botched surgery on Trump to remove a bad spot. The surgery had not gone well, according to Trump's ex-wife Ivana, and the result was both painful and gruesome looking. Unfortunately for Ivana, she was the person who had recommended the hapless plastic surgeon to her husband. According to court transcripts, Mrs. Trump claimed that Mr. Trump raped her out of anger, tearing at her hair as he did so. Shortly after the Daily Beast story came out, Ivana Trump issued a statement walking back her previous testimony. Before she did so, however, the campaign's response was to send Mr. Trump's special counsel to the media and make the  (extremely incorrect) claim that, legally speaking, "by… definition you can't rape your spouse."
Throughout the course of the primaries, the press constantly reported on accusations from various women against Mr. Trump, as well as comments by the then-candidate that seemed to confirm those allegations. For example, in October the New York Times reported that several Miss USA pageant contestants complained that Trump kissed them without permission, even when asked to stop. They also claimed that he would attempt to walk into dressing rooms to see the contestants nude. (Trump was the owner the Miss USA and the Miss Universe pageants.) In a May interview with the Times, Trump's ex-business parter Jill Harth reported that Trump repeatedly tired to kiss her and stuck his hand up her skirt. (Harth was engaged at the time.)
Throughout the entire campaign, from June of 2015 on, a plethora of quotes from Trump about women have been unearthed on a regular basis. Statements he made on the Howard Stern Show — a lot of statements — have been recycled repeatedly over the past fifteen months, many of which echo the "new" stories being reported on these past few weeks. One more than one occasion, he bragged to Stern that because of his status and role with Miss USA and Miss Universe he was able to walk into dressing rooms to ogle contestants as they were undressing. He bragged that he had the foresight to dismiss contestants' accomplishments such as going to medical school over how they looked naked or in a bikini. He joked with Stern that he had an "obligation," as pageant owner, to sleep with constants. And that's just what has been reported over the past year about what Trump said to Howard Stern. That new story about him referring to Alicia Machado as Miss Piggy (for being too heavy for Trump's taste) and Miss Good Housekeeping (for being Latino)? It's not a new story. It's from the a front page NYT story published two and a half months prior to Trump's accepting the nomination.
As I noted my tl/dr article for Marie Claire, in late 2015 and early 2016 the press regularly reported that Trump
publicly refers to women as bimbos, pigs, dogs, and "disgusting animals." When running against onetime Hewlett-Packard CEO Carly Fiorina this spring, Trump suggested she didn't have what it takes to be a leader because she was a woman who was (to Trump's eye) physically unattractive. Annoyed by a tough question tossed his way during a primary debate by Fox anchor Megan Kelly, he later suggested the reason she had been tough had been because she had "blood coming out of her — wherever." He has repeatedly suggested the responsibility for male infidelity lies with women for not being attractive enough or not properly satisfying their husbands' urges in the bedroom. He once walked out of a deposition after a female attorney asked to take a short break so she could be excused to breastfeed her three-month old daughter; Trump declared the very practice of breastfeeding "disgusting." Earlier this year, he said in a television interview that if he were president, a woman getting an abortion would need to face "some form of punishment." When being pitched an idea by a shapely blond underling on his reality TV show The Apprentice, he famously responded, "It must be a pretty picture, you dropping to your knees." In his book The Art of the Comeback he reasoned that deep down all women are gold diggers, which likely explains why he was once quoted in New York magazine as saying the secret to communicating with women was "you have to treat 'em like s**t."
And it's no different when you look at those so-called "media-held" stories that are unrelated to Trump's treatment of women. Yes, the recent reporting by Washington Post reporter David Fahrenthold on Trump's illegal using donations to his non-profit foundation as his own personal slush fund has indeed been damning. But the press was reporting as early as last January that money collected by Trump to go directly to veterans charities was being pocketed by Trump organizations. Not long after, the press looked into a veterans charity event Trump held in lieu of participating in a January, 2015 GOP primary debate. As you may recall, Trump had CNN televise an event that competed with the debate, where he collected and personally donated "millions" for "various" veterans groups. As it turned out, however, even though the Trump campaign said that the checks had been sent and cashed to undisclosed charities, Trump himself never donated any money, and Trump organizations pocketed the donations made by others. It wasn't until this was uncovered by the press that monies were finally donated. Further, the press reported repeatedly from 2015 on that most of the multi-million "donations" Trump boasted of making over the years never actually occurred. Other "recent" scandals, such as the Trump camp's ties to Putin, also go back to 2015. The fraudulent Trump University, was being reported on as part of the primary election regularly as early as September of 2015. The press's coverage of Trump's embrace of the racism and anti-Semitism of the white nationalist movement goes back even further.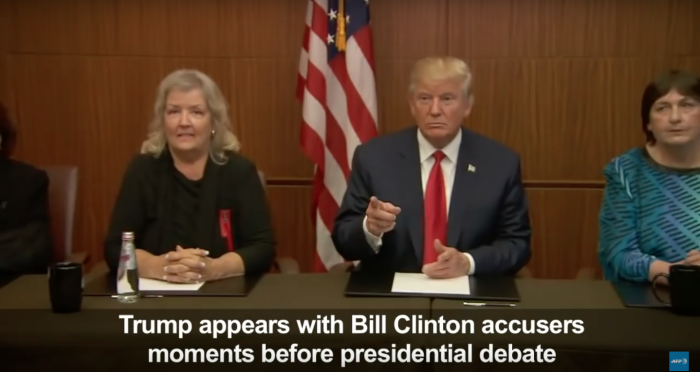 All of which is to say that almost all of the "new" stories you're reading about Trump these days aren't actually new at all. They're simply new occurrences of stories that have been reported on repeatedly over the past year. The press's reporting isn't really any different today than it was six or twelve months ago.
The audience, however, is.
And thus we circle back fro our bad news to our worse news. The truth is that what we're finding out about Trump right now isn't news to the Republicans that propelled Trump to nomination and power. It was reported all along. Constantly. They just didn't care.
Worse, it isn't just the far-right, Hannity-watching, Breitbart-reading, Kool-Aid drinkers that are now accusing the press of having hidden all of this until now. It's pretty much every conservative in my Facebook and Twitter feed. Even the sane, moderate, intelligent conservatives that I respect the Hell out of — people from stand-out places like The Buckley Club, Decision Desk HQ, and Paradox Project. If these guys went through this past year and didn't pick up on any of this coverage, that's a really bad sign of just how off the rails everything is right now.
There are several possible reasons for why no one on the right seems aware that the press has been regularly covering these stories. It's likely some combination of all the above and perhaps some I haven't thought of,  but none are good news for the nation at large.
One possible reason, of course, is that conservatives — even moderate ones — no longer read non-party-approved sources of news and information. Another is that they do read it but assume (because it's not party-approved) that whatever is being reported is not worth taking seriously — a Dean Chambers Writ Large mindset. A third possibility is that they know full well (even as they claim otherwise) that these things have been reported regularly, but are cynically trying to make themselves look better by undermining the institutions that still (mostly) hold things together in an pluralistic democracy, such as the free press. The least charitable possibility — the one I remain convinced is true of only that small percentage of Republican and conservatives who truly merit the label "deplorable" — is that they know exactly who and what Trump really is, up to an including being a sexual predator, and they simply have no problem with it.
As I said, none of these possibilities speak to a better future any time soon.  Each suggest that Trump and Trumpism are not the disease so much as they are the symptoms of a disease the Right does not yet know exists. As I've been saying for the past three months, the #NeverTrumpers are going to be vindicated on November 8. But if the aftermath of that defeat is a rejection of all data and narratives not approved by some branch of the party machinery, what the hell will it matter? It will be the 2012 Autopsy all over again, and there will be another Trump in four years. Or if not, someone equally but differently terrible. On top of that is the problem that the GOP base — the one that gushingly lifted Trump on its shoulders — is neither going to magically disappear nor have their brains swapped in 2017. That speaks to some very tough times ahead. And not just for the GOP, but for the country as a whole.
I hate to say this, but I fear it's all about to get worse.
Image Credit: Screenshot of YouTube video.
Laugh if you want, but those quotes are all from Trump himself at his West Palm Beach, FL rally yesterday morning.