Five Random Lessons from Covering the Theranos Debacle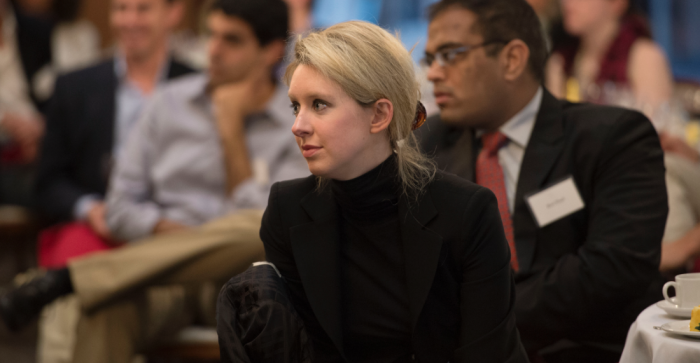 I just filed a story with Marie Claire magazine on Elizabeth Holmes, the media darling and Silicon Valley entrepreneur whose fall from grace has been well-chronicled in the Wall Street Journal. It's still rattling around in my brain, though, and because there are some bits that could not go into the Marie Claire piece due to space, I thought I'd jot them down here in an attempt to discharge them from my head. They follow below in no particular order, and I certainly make no claim that they create any overarching narrative. Think of them as a collection of curios, or, perhaps, a vain and fleeting attempt to slightly shift a few narratives this story has taken online that aren't quite 100% on target.
But first, a quick note to those unfamiliar with Holmes: Her company, Theranos, claimed it had successfully developed technology that could cheaply test blood for any of the thousands of tests a traditional medical lab could, and could do so with just a drop of blood taken from a finger tip. Medical labs today require significantly more than a drop, taken intravenously. There are good reasons for this. One is that, even in a sterile environment, it's extremely difficult to get a human finger to be "clean" to the point where the risk of contamination does not exist. More important, however, is the issue of heterogeneity. Although you might think of blood as single, pure, crimson liquid, it is actually a vast gumbo of various elements such as plasma, platelets, white and red blood cells, and myriad of other types of cells, and they're not always evenly mixed. A single drop of blood, therefore, might well contain the very information you're looking for, such whether or not you are likely to have cancer — but then again, it might not. Theranos's business model also eliminated the need for a medical doctor. If you wanted to know if you were HIV positive or had high cholesterol, you'd simply go to a contracted retailer (Walgreens or Safeway, for example), have your finger pricked, and in a day or so your results would show up on an app on your phone. As world-changing technologies go, Theranos's was pretty astounding.
Or at least it would have been if it actually existed. As we now know, even though Theranos tried for over a decade to make the tech work, they were never able to do so. But they told the public that it did work, and began to market it anyway. In some instances, they would run the drops of their customers' blood through their own technology, which they had dubbed Edison, but in most cases they simply diluted the drops of blood with water and ran them through their competitors' traditional machines. The results in both instances were highly inaccurate. Earlier this year, after it had completed its own investigation, the Medicare Council (which oversees medical laboratories in the US) declared that Theranos's "blatant disregard for patient safety" put consumers of its product in "immediate jeopardy."  The damage done to Theranos's customers, either by convincing them they did not require medical intervention when they in fact did, or convincing them they needed treatments that they did not, will likely never be truly known; such is the imprecise world of both medicine and the human body. The FBI is currently investigating, and criminal charges may be forthcoming.
That pretty much brings you up to speed. And with that out of the way, let's proceed…
1. Holmes Isn't Really the Charismatic, Silver-Tongued Devil She's Portrayed As
Much of what one reads about Holmes these days leaves one with the impression that Elizabeth Holmes was a kind of cult leader, a turtle-necked Svengali who could could sell space heaters in Hell. In fact, however, when you watch the numerous videos of her giving speeches, Ted Talks, and national interviews, it becomes quickly clear that this isn't the case.
When speaking in public, Homes has an awkward, stilted way about her. She's monotonous and unemotional. While others on Ted Talks vibrantly emote, Holmes just kind of dully drones on.  When answering tough questions in interviews, she tightens up and looks nervous, her face a mask of forced smiles.
There's nothing wrong with that, of course. Lot's of people simply aren't good on stage or interacting with people they don't know, especially on camera. If you're one of those people, you can sound boring, or look like you're being disingenuous or hiding something, even if you're not. The point simply being that when looking for a reason for how Holmes not only got away with doing what she did for as long as she did, but also for how she became a near-universal media darling, the answer "charisma" falls woefully short.
Which brings us to my next random thought…
2. Narratives, Too, Follow the Basic Laws of Economics
After the superlative work done by the Wall Street Journal's John Carreyou, my favorite coverage of Theranos and Holmes hands down was done by Vanity Fair's Nick Bilton. That being said, I think Bilton misses the mark somewhat when he describes Elizabeth Holmes as a product of Silicon Valley. There are a gazillion Silicon Valley bullshitters hoping to strike it rich, but they don't end up on the cover of the New York Times Style Magazine.
The truth is that Elizabeth Holmes, Plucky Whiz Kid & World Changing Saint™, was more a product of the news media assigned to cover her. The news media knows that certain narratives sell better than other narratives, and thus has an economic interest into buying into (and promoting) those kinds of narratives. Vanity Fair, to take an immediately at hand example, might have been happy to publish Bilton's piece once Holmes and Theranos had cratered, but not that many months prior it had giddily glorified Holmes at their celeb-studded New Establishment Cocktail Party PR event:
The belle of the ball was America's youngest self-made female billionaire, Theranos C.E.O. Elizabeth Holmes. A line no shorter than four-people deep constantly awaited Holmes, who had earlier discussed transforming the health-care industry. Even across the room, she was the topic of converstion. A half-dozen people including the Aspen Institute's Walter Isaacson and Maria Shriver, who led the discussion with Holmes on Tuesday afternoon, were talking about her business, its valuation, and what she plans to do next.
That bit of saccharine fluff, it should be noted, was written and published after concerns about fraud and malfeasance were being reported by the WSJ. Indeed, Vanity Fair — who had been just as instrumental as any other publication in creating and broadcasting the myth of St. Holmes — has spent most of this past year playing PR agent for the Theranos CEO, even as the evidence of her malfeasance and putting the public at risk became overwhelming. (Full disclosure: Marie Claire already had a puff piece on Holmes in the works this Spring before Theranos cratered and it was decided to scrap it entirely. That story and space was eventually turned over to me to do mine.)  1
Which is not to pick on Vanity Fair, because it was really pretty much everyone in the media that was doing this. Part of the narrative that's evolving with this story right now is that until Carreyou got involved, no one really knew what was happening. That's just not true. That Theranos couldn't attract VC money from any person or firm that had any level of expertise in biotech, medicine, diagnostics, or health care companies was not some random fluke. In fact, when you see television interviews of Holmes prior to the WSJ expose, everyone does ask Holmes why, if the tech works, the company refuses to let anyone (including investors!) see the results, or why Theranos refused to publish its findings in a peer-reviewed journal, something considered mandatory with potential medical breakthroughs. In all of these interviews I have seen — be they on Fox, CBS, CNBC, or wherever — this question was directly asked. And Holmes's answer in every case, was this:
First they call you crazy, then they fight you, then you change the world.
No one who had Holmes answer their questions with that answer on national television was under any illusion that Holmes was in any way answering that question, let alone addressing a very real serious public health concern about her product. But no one cared. In every case, the person interviewing her smiles and nods, and moves on to ask her how awesome it is to be the world's youngest female self-made-billionaire, or what it's like to truly make the world a better place, or some other totally unserious question that fits the narrative they set out to push before they ever lined up their interview questions.
Youngest self-made female billionaire takes high-tech approach to blood testing
Theranos became a public health problem because it was in Theranos's interests to push a narrative that simply and obviously was never true. But it became one too because it was in the media's interest to do the same.
I'd say that there was equal blame to go around for everyone, but…
3. CNBC's Investment Guru Jim Cramer & ex-Senator/Doctor Bill Frist Running Cover for Holmes and Theranos, When Each Clearly Knew Better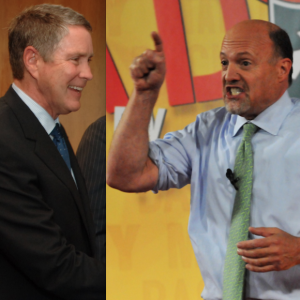 What a couple of assholes.
Seriously, fuck those guys.
4. The Thing About Palo Alto Is…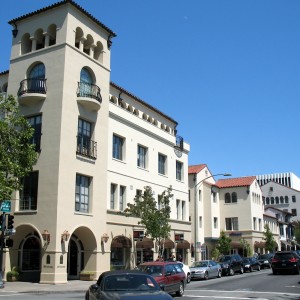 … if you gave Disney a few billion dollars and said, "We want you to make a gimmicky amusement park that's supposed to look like a place where rich people live, but where no one who sees it will ever doubt that it's really just a gimmicky Disney amusement park," you'd get something that looks exactly like Palo Alto.
5. Why Arizona?
When I first started out researching this story, I wondered why Walgreens started its Theranos Wellness Centers in Arizona. Neither was headquartered there. A lot of old snow birds, maybe, was the only thing I could think of off the top of my head.
Now I know that the reason everything was being done in Arizona was Arizona House Bill 2645.
It turns out — and I know this will come as a shock to you — that most states have laws against medically testing people without a doctor's consent, especially by medical testing facilities using procedures not approved by the FDA. Go figure! Turns out that Arizona also once had laws like this on the books. HB2645 essentially lifted those regulations so that Theranos could begin selling its tests to Arizona citizens.
What is truly amazing, however, is exactly how Holmes and Theranos got AZ's legislature and governor to adopt Theranos's language and change existing state law. Not by showing anyone that their product worked, obviously — because it clearly didn't, and besides they refused to show anyone any data of any kind. No, they got AZ GOP-controlled government to give a green light by noting that Theranos's board was made up almost entirely of members of the Hoover Institute, a conservative think tank out of Palo Alto.
I've talked with several of the reporters who were at the testimonies prior to voting, and all tell the same story: Not one legislator grilling Holmes or Theranos asked a single question about their product's efficacy, or anything at all related to medicine, diagnostics, or medical lab standards. One rep did ask if patients would able to understand the results they would receive. Holmes apparently said "yes," and that was good enough for everyone involved. As House Speaker David Gowan correctly noted, "You're talking to free-market-minded people here, so you're talking in the right tone."
This deserves highlighting, especially here at OT, because this is not really a case of market capture, or of crony capitalism. It is, rather, a case of what conservatives and libertarians insist we need more of: sweeping deregulation across the board that favors innovation and that applies to all companies equally.
So, if there's someone that didn't get treatment soon enough because they got back botched results from tests they got at Walgreens thanks to a state-approved circumvention of standard medical diagnostic procedures, I suppose they can be comforted in knowing that the market is working.
Yay!
[Image via Wiki Commons.]