Journalism vs. Trumpism: On Playing the Gentleman's Game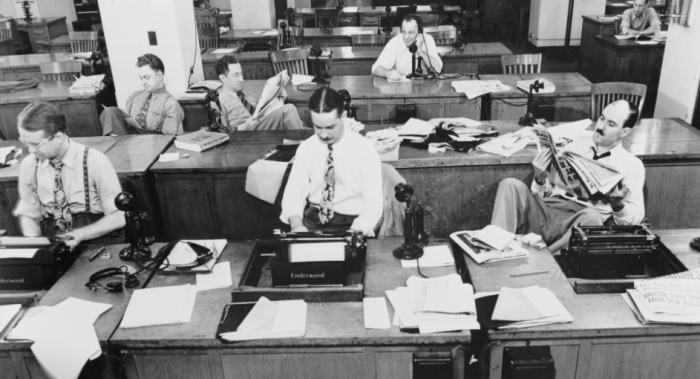 This week, the Washington Post ran an editorial by Charles Lane that looked to deflect criticism of the media regarding its role in creating (or at least not stemming the tide of) Trumpism. The media, argues Lane, has pretty much done everything right. They've "made the case" against Trump, he says, and if the public chooses to embrace the Donald despite the media having made that case then that's on the public.
Like most people who are deeply engrained in a culture that has been especially good to them, Lane's own case suffers from not being able to detect the very water in which he is swimming, and because of this he relies almost entirely on something bordering on a straw man. I say "straw man" because the anti-media slings and arrows Lane has chosen to confront are obviously silly, partisan, and relatively unserious. I say "bordering on" because these are indeed the so-called crimes I see called out most often in my social media feeds by anti-trumpets who are angry at the media.
Here's Lane:
The scapegoating reached its reductio ad absurdum in a recent blog post by Paul Krugman of the New York Times, who labeled the media "objectively pro-Trump" for allegedly ganging up on Hillary Clinton like a "high school clique bullying a nerdy classmate because it's the cool thing to do." As if her email issue had not been reported first by the decidedly not-pro-Trump Times itself, for the very good reason that it's newsworthy.

This is silly. The media have been very tough on Trump, relentlessly so. To cite just one organization, The Post, our David A. Fahrenthold has been terrier-like in pursuit of the damning facts of Trump's phony philanthropy. A Post team published a critical book about the Republican nominee, for heaven's sake. Our editorial board produced one of the first on-the-record interviews exposing Trump's disturbingly cavalier view of the United States' NATO commitments, then followed it up with a series of scathing opinion pieces…

What must be going on is that people — an alarmingly large number of people, it seems — back Trump even though they know, or could easily learn, that he is a charlatan, clueless about policy, bizarrely sympathetic to Russia's dictator, disturbingly prone to offending women and minorities, and a serial liar to boot.

Trump is benefiting from the political equivalent of jury nullification. This is the well-known phenomenon whereby a jury returns a "not guilty" verdict despite its awareness that the prosecution has proved its case.
Everything Lane says here is, I believe, largely correct. Krugman's accusation that the New York Times is in the bag for Trump is so ludicrous as to border on parody. It's the mirror image of the common talk-radio trope that the Times is pro-ISIS. And it's certainly not just Krugman. My Twitter and Facebook feeds have cried foul that the media would stoop to cover Clinton collapsing on video tape, by people who clearly would want the same to be above-the-fold, 24/7, non-stop coverage had it instead been Trump.
It's true as well that much of the Post's work this election has been exceptional; Fahernthold's reporting on the Trump Foundation, especially, has been nothing short of exemplary. And there is no question that Trump has peeled back the skin of our social fabric to reveal a festering rot we might be happier pretending was not there.
Still,  the truth is that all of this largely misses the point. The media is partially responsible for Trump's ability to rise. And while much of the coverage of the Donald has been fantastic, most of it has been terrible. To be clear, none of this is directly Trump's fault, either. The weaknesses within the media that the reality TV star has exploited (be it intentionally or otherwise) were ulcerating long before these primaries even began. Thanks largely to the rise of the internet, cable television, and the democratization of data, the political world has changed in a fundamental way, and journalism has yet to catch up. But catch up it must, if this republic is to continue to thrive. 1
Donald Trump lying for 13 minutes straight.
Despite its deservedly dirty reputation, American politics has always been played as a Gentleman's Game. Which is to say that although laws and ethics are seen as somewhat, shall we say, flexible, there is a set of underlying social mores to which all who play the game have agreed to adhere. For example, politicians have always been encouraged to lie — but only providing that they are not caught. Once caught, it has forever been considered bad form not to grovel, apologize, reverse directions, or even resign. The same can largely be said of politicians engaging in corruption, sloth, greed, and incompetence.
In many ways, the Gentleman's Game is a terrible system, in that it has historically encouraged the types of behaviors we least want our public leaders to display. The only way it's lasted as long as it has without serious challenge is that it is a Gentleman's Game — cross a certain threshold with poor behavior, and the game board self-corrects. And journalism in America has evolved right alongside this system. The media that covers our elections is literally built to keep this system in check. But the Donald Trump campaign has turned the Gentleman's Game on its head.
A common example of this is the interesting dynamic that's played out over and over this past year, where Trump or his campaign spokespeople say or do something one day, and then deny they said or did it later. This phenomena happens literally multiple times daily, for a myriad of reasons, such as a lack of coordination, a lack of understanding of the issues at hand, a lack of what other people in the campaign are saying, a lack of personal or professional ethics, etc. And it's the way this phenomena has been covered the vast majority of the time that Charles Lane misses in his editorial.
Here's what usually happens when the press covers these instances: Trump will say X, but then X will turn out to be potentially damaging to the campaign. Later, the media will ask Trump and his spokespeople to comment on Trump having said X, and will be told that Trump never, ever said X — despite the fact that there is video and audio proof that he did. The way the press has covered this going forward is to say some version of,
A Clinton spokesperson said that Trump said X. However, the Trump campaign denies that he said X. Moving on to other news…
In previous elections, it has not been necessary for the press to use words like "lie," "whopper," "bizarre," or "factually incorrect," because the Gentleman's Game protected them from ever having to do so. Either the candidate or the campaign would acknowledge that they had done wrong, and course correct; in the rare instances where they refused, the candidate's party would step in and do so in a way that made it worse for the candidate. But neither Trump nor the GOP is playing the Gentleman's Game with this election. Instead, they're almost daring the media to call them out for brazenly lying; for the most part, the media, continuing to play by the Gentleman's Game rules, has politely demurred.
Is Donald Trump, the actual person, the most dishonest, corrupt, sexist, and racist person running for office in modern history? It's impossible to say, of course. But Donald Trump the candidate is certainly the most willing on any given day to brazenly flaunt dishonesty, corruption, sexism, and racism, because knows that if he's talking to a different audience the next day, he can always claim he said otherwise and the press will freeze up, not knowing what to do.
Last week while covering Trump's comments about his history with Birtherism, the New York Times created controversy when they actually used the word "lie." And there's no question that Trump was in fact lying — and what's more, was doing so in an astoundingly brazen fashion. Still, the use of the word was jarring for its rarity. When addressing the decision to use the word, Liz Spayd, the Times' Public Editor, felt compelled to note that the word lie "however factually accurate, feels partisan." Times Executive Editor Dean Banquet was forced to make the media rounds explaining and defending why his paper had made the decision to call water wet.
For better and worse, the Gentleman's Game is now largely broken. This might well be a good thing in the long run, the knowing winks between press and pols potentially giving way to greater transparency and less corruption in government. In twenty years, we might well recognize this as this election's single saving grace, deeply hidden in the clusterfish of a Pandora's Box that is 2016 . Like it or not, what the Times did last week is necessary. Had everyone been covering this election that way from the start, we might be in a very different (and better) place than we are right now. Had the press been willing to actively engage with what Trump said during the primaries rather than simply offer up an ever-changing platter of He Said/He Said, we might well have a different GOP candidate right now.
None of this is meant to take away from the good work that is being done by many journalists such as David A. Fahernthold. But work like Fahernthold's is sadly but a drop in a much larger bucket. Until there is real change in the way the media covers modern presidential elections, Charles Lane's pointing at Fahernthold's works as proof that everything is working fine is a little like someone pointing at a tough, quality Chris Wallace interview with a GOPer as proof that Fox News isn't partisan: it's a line that will only carry weight when it becomes the norm and not the exception.
Right now, it's absolutely the exception.
It's not enough that one candidate says his opponent pocketed 95% of her non-profit's income, even though that's factually incorrect. It's not enough that one candidate says that most blacks live in poverty, are violent, and don't work, even though that's factually incorrect. It's not enough that one candidate says that crime rates are skyrocketing, even though that's factually incorrect. It's not enough that one candidate says that the perpetrator of a massacre was a refugee who recently came to our country, even though that's factually incorrect. It isn't enough that one candidate says that he doesn't dip into the endowments of a nonprofit foundation he controls for his own personal use, even though it's factually incorrect. The real story in all of these cases is not, as the media has largely been covering them, what the candidate says. It's what is and is not actually factually correct.
In a world where people will publish data (factual or made up) to underscore any fool narrative you happen to carry water for, the need for a fact-checking news media that attempts objectivity is more important than it's ever been. But in order to continue to be relevant and survive in a world where data is so democratized, it needs to be willing to fully report on the topics it covers, including and especially political races. The press instinctively knew that it needed to cover Clinton's physical collapse, even though I am sure most of them who did are rooting for her to win. In the same way, it needs to be willing to step outside the Gentleman's Game with a candidate who refuses to play by those rules, even though they likely feel they shouldn't in the name of objectivity, since I suspect most of them really don't like the guy.
The press needs to step up to the plate here. Because simply constantly reporting what Donald Trump says, without fact-chekcing or context, isn't actually "making the case against him."
Image via Wikipedia.
I should probably take a moment to note that from here on out, when I refer to journalism or journalists, I am using a very specific and old-school definition. It has become fashionable these days to call anyone who broadcasts anything in any fashion a "journalist." In today's parlance, someone who sits at home and takes wild guesses about what is going on in the world, without in any way attempting to engage with the people or processes they take these guesses about are considered to be "journalists." Jim Hoff is an extreme example that comes to mind here. So too are people who try to come up with hot "takes" about things that they read. For my purposes here, however, a journalist is someone who actually goes out into the field to do research, engage with the people they are covering, verify rumors, fact-check their sources, and report out the story they are following.