Hannity Before There Was Hannity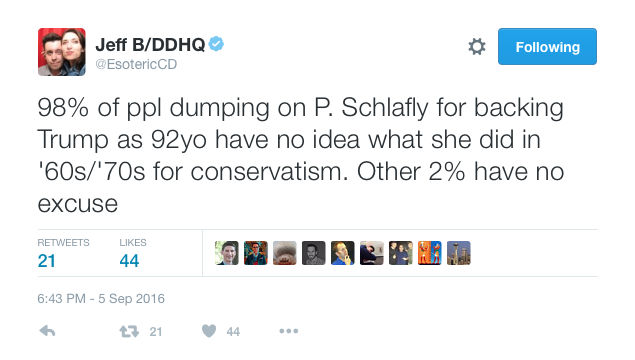 As with all people who spent their living years steeped in politics who pass away, it appears that Phyllis Schlafly is getting an upgrade.
As best I can tell from my Twitter feed, Schlafly's writing has become the type of touchstone for younger conservatives that An Inconvenient Truth has long been for younger liberals. Which is to say: a thing that you've never read, will never read, and honestly have zero interest in reading, but that you are still pretty sure you need to talk about as if you have. Indeed, I know of very few if any conservatives of any age that have ever read much or any of Schlafly's "major" works. When her name has come up (rare these days, but more common in years long past), she has always been one of those people whose work everyone had an opinion about. But that opinion would almost always be based on something someone else had written about her, not on something they had read that was written by her. In all my years of taking about her to conservatives (and for that matter with liberals), I've never come across someone other than myself that has actually read A Choice Not an Echo, The Betrayers, or Power of the Positive Woman, the three works widely touted to be her legacy back when I met her in 1984.
Today, after her death, it seems that Schlafly's memory is being put into one of two rather predictable buckets: There is the Woman Who Hated Gays and Feminism bucket, and there is the Towering Intellect Who Made Her Mark bucket. And while she certainly did hate gays and feminism, and while she certainly did make her mark, each of these buckets seems to miss the point of Schlafly and they ignore what I believe her true legacy to be. And so I am going to share the anecdote of my meeting Schlafly with you, dear reader, because I believe there is a third post-mortem bucket that ought to be considered.
I met Schlafly when she came to my campus to give a speech to my university's chapter of Young Republicans. At the time, Schlafly had attached her name to the Reagan Revolution and was enjoying a brief resurgence in chattering-class notability. Thus was she picked to give a talk and then endure some glad-handing at a student/faculty meet and greet afterwards at my alma mater.
The hitch for those putting on the event was that this was Oregon, which one of the most liberal universities in the country at the time. There just weren't that many Young Republicans on campus. Worse, Schlafly wasn't taken seriously enough by the rest of the student body to them to bother organizing a protest. A champion of the Women Should Be Barefoot, Pregnant & In the Kitchen point of view, she was largely seen by students at the time as a sad and ridiculous relic from a war long-since won. Thus did some of the event organizers actively go out and "recruit" people to show up at both the speech and the meet-and-greet.
As best I can tell, my poli-sci professor approached me for a small handful of reasons despite my being pretty far to the left back then. He was inexplicably fond of me, he knew I'd been raised to be polite regardless of what I thought of the speech, and he (correctly) believed me to be one those students who just phoned it in, and needed some kind of nudge to get excited about learning. He offered both extra-credit and being handed an illicit beer at the meet and greet (I was only 19), and that was enough to get me to say yes.
Here is all I remember about Schlafly's speech, some three decades later: It was the part in the speech about the proper role of women in society, and what they should do in order to become the best citizens they (being women) were able to be. Schlafly encouraged the few women in the audience to leave college and concentrate on doing whatever was needed to learn to become good wives. Higher education, she said, was not for women. Neither was politics, nor financial independence, nor fame — save whatever of those things they might glean from their husbands. There was a lot more in that speech then just the 'role of women' thing, but that was the bit that hit me at the time and what has lasted in my mind all these years.  In the age of internet, afternoon talk shows, and cable news, we've become used to seeing people say any fool thing to get clicks and push ratings. But in 1984, seeing someone stand up and publicly pitch the idea that higher education wasn't for girls — at a college campus no less — was nothing short of shocking. And not "shocking" in the way it's used to click bait these day, but actual stunned-to-silence-with-mouths-hanging-open shocking.
It was pretty far into the meet and greet, afterwards, that my professor introduced me to her.
After a few pleasantries, Schlafly asked me what I thought of the speech. Rather than giving an opinion, I found myself asking her if she really believed any of what she'd said. She looked at me with a queer expression, like she was prepared for either confirmation or condemnation, but that my wondering if she really meant what she said was jus the strangest thing she could imagine a student asking. Then she said that of course she did.
I spent the next several minutes that I had her attention trying to get her to square her self-made circle so that I could understand. How could a woman so clearly proud of her professional and intellectual accomplishments argue that she and others like her had no place in the public arena? She answered each of my questions with a response that seemed rehearsed, like a catchphrase or a political slogan, but nothing she said actually addressed what I was trying to ask her. Eventually, she began to look bored and my professor ushered me away for the promised beer. (A Moosehead Lager, if you're curious.)
That short conversation baffled and tasked me, to the point that over the next two quarters I sat down and read her three "major" works, trying to understand in her writing what she seemed incapable of putting into spoken dialogue. It was a frustrating, quixotic undertaking, and no matter how hard I tried to understand Schlafly's no-women-allowed comments from her own works, she eluded me. It would be more than decade later before the penny would finally drop and I would "get" Phyllis Schlafly. But in defense of my denseness, I will grant myself this: In 1984, I did not yet have the frame of reference with which to understand her, because Sean Hannity did not yet exist.
It seems so obvious, now, as I look over her bibliography in the years since I met her. Every title a hot and controversial take on some culture-war issue that was big right before the wrote  about it; every thesis designed to stick it to liberals even as it tried to use outrage to fan book sales. Now, when I look back, the answer I was looking for 30 years ago is crystal clear.
Q: How could someone who believed that all women should be shunned from intellectual kudos, politics, money, and fame spend her entire life chasing exactly those things?
A: Because that person never really believed any such thing.
This is not to say that Phyllis Schlafly wasn't really a conservative. She was — just like Sean Hannity is. And like Hannity and all his ilk, she was happy to twist conservatism into any argument — believed by her or not — that kept her the topic of conversation, allowed her to be invited to galas in her honor, and got publishers to promote books that the right kind of people continued to buy without, it would seem, the intention of ever reading them. Those young conservative frat boys circa 1984 that actually came to listen to Schlafly talk about women's roles on their own volition? Schlafly was telling them exactly what they wanted to hear, and in their gratitude of being told they were Always Right About Everything they forgave Schlafly her being a woman on that podium. It is with no small amount of irony that I see that her later books would feature forwards by folks like Anne Coulter. Schlafly wasn't simply of Coulter and Hannity's ilk; she was their predecessor, their river source, their roadmap. She was the "advance man" for the carnival, the person who rides into town and quietly prepares the rubes for what is to come.
Now, in the days after her death, I refuse to dance upon the grave of Phyllis Schlafly. As my poli-sci professor could have told you thirty years ago, that's just not who I was raised to be. But neither will I grant her status into the great conservative intellectual echelon. William F. Buckley she was not.
Besides, the great irony is that she doesn't need to be Buckley's equal, not now. Her last book, after all, was a celebration of a talk-radio audience forcing the GOP to abandon Reaganism and nominate a Sean Hannity-like carnival barker to be the nation's new conservative standard bearer. When I met her, Schlafly was the outsider trying to break though the noise. Now, it is her intellectual progeny who man the very gates of conservatism.
What use does Phyllis Schlafly have to be William F. Buckley's equal, when she's already proven herself to be his conquerer?
Photo by Gage Skidmore