Blue Islands and GDP
In a recent post about the future of the Republican Party, one of the comment threads wandered off into thoughts about the possibility of a "civil war". I pointed out that, using the Obama vs. Romney county-level voting patterns as a surrogate for the geographic lines of conflict between the two sides most common in such discussions, separation was extraordinarily difficult: the blue (Obama/liberal) parts are largely islands and archipelagos surrounded by a red (Romney/conservative) sea. For the most part, this is true for both blue and red states. My version of such a county-level map is shown below. A rectangular grid is imposed on top of the map rather than county outlines for a reason explained later. If WordPress hasn't messed me up, you should be able to "View Image" and get a larger version of all of these.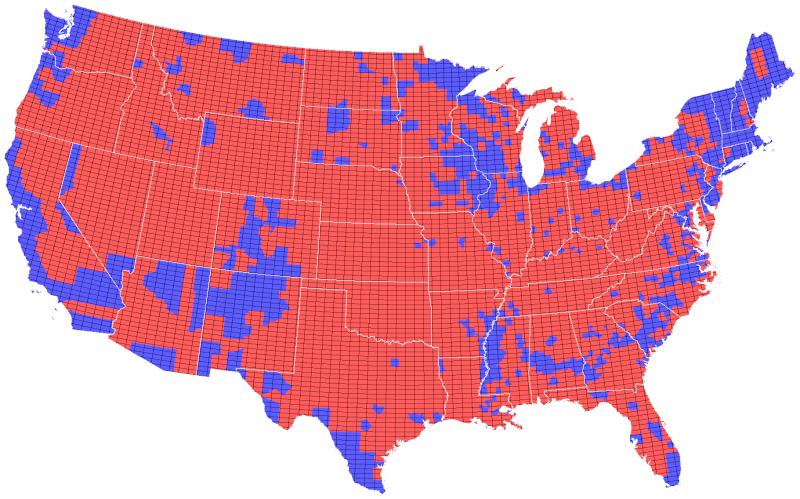 Such maps are often accompanied by a discussion about population distribution, and that many of those blue islands have a lot of people crowded in. Regular commenter J_A raised the point, using Texas as an example, that those islands are also responsible for an outsized share of national GDP, and suggested someone could do a map that reflected that. The next image is just such a map, where counties are represented by prisms whose volume corresponds to each county's share of national GDP [1]. As J_A suggested, there are lots of blue spikes representing counties with high GDP production. Tall red counties are relatively few and far between; Orange County, CA sticks out amoung those. There is considerable correlation with population, of course; lots of people tend to produce lots of stuff.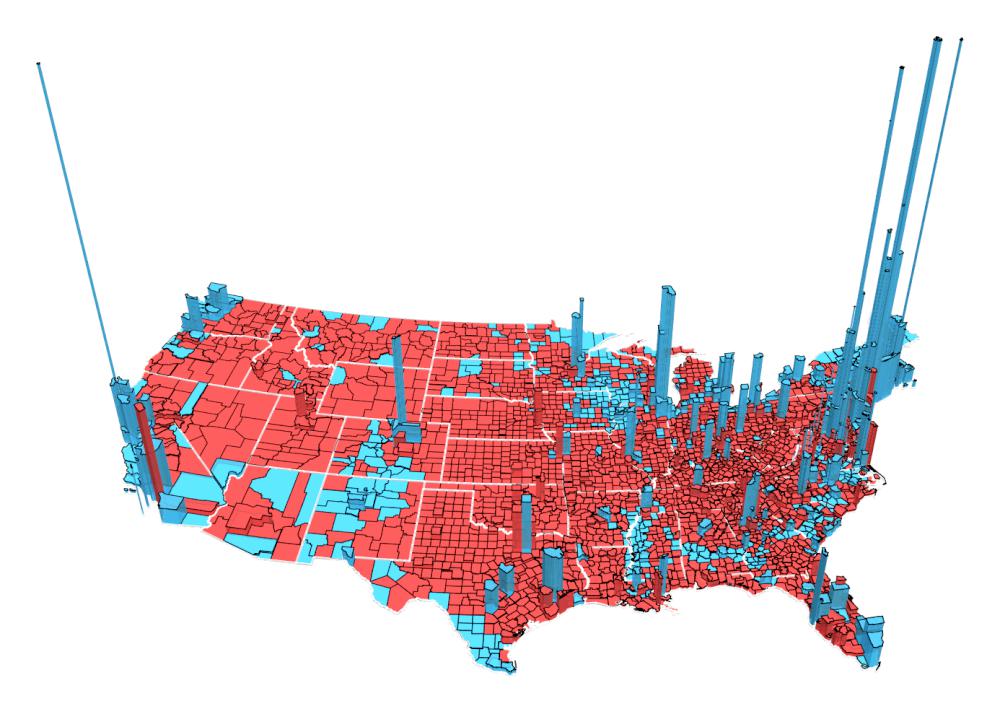 Humans are generally quite poor at judging volume by eye. An alternative way to represent the information here is to distort the area of each county to reflect its GDP share, rather than its actual geographic area – a cartogram, like the one shown below. The degree of distortion shows just how uneven GDP distribution is. Even with the distorted state outlines provided (in white), picking out individual states is quite difficult. County sizes vary a lot as you go from east to west; the use of a regular grid rather than county outlines makes it possible to compare different parts of the country. The New York City metropolitan area clearly – well, sort of clearly – outproduces Chicago or Dallas or the area around San Francisco Bay. The Great Plains and Mountain West are compressed down to dark smears outside of the few metro areas in those regions.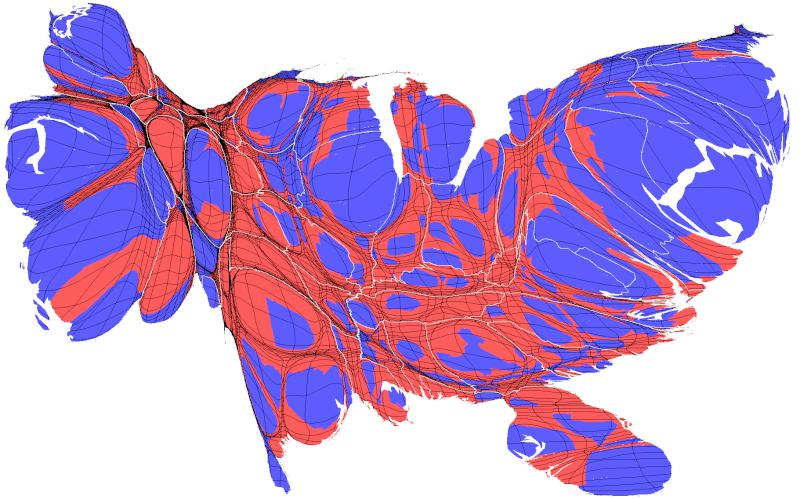 Humans (at least the one writing this) aren't real good at judging area, either. The GDP split is almost exactly 60% for blue counties, 40% for red. Did you guess anywhere close to that? That's significantly greater than the population split of 55% for these blue counties, 45% for red.
The hardest part of generating this type of map, now that I have some software in hand, is pulling together the data. My sources for these maps are listed in [2]. With another election looming, which variables will be important? I need to start collecting things. Will there be more blue islands or fewer? Do the individual islands get bigger or smaller? (And I know, purple. Which turns out to be a surprisingly hard problem to solve properly.)
---
[1] I use volume rather than height to represent the added variable. It's a trade off and California illustrates it well. Riverside County covers an enormous area; if the added variable is represented by height, Riverside looks like it dominates Southern California. San Francisco County is tiny by comparison; if the added variable is represented by volume, San Francisco becomes an enormously tall spike. In this map, the height of those spikes is arbitrarily limited. Without that limit, San Francisco and a couple of counties in the Northeast would be much taller.
[2] County area and 2010 population from Gwillim Law's Statoids.com site. The site also provides a comprehensive list of changes to county identification (eg, when South Dakota changed the name of Shannon County to Oglala Lakota County in 2015 and the US government assigned it a different numeric identification code). County-level 2012 presidential results were downloaded from The Urban Nomad (not a primary source, but it's always nice if someone else has done some of the heavy lifting).  Some post-processing was necessary. County-level GDP estimates from Metrocosm (again not a primary source, same reasoning).
---
Image credit: All images by the author.