We Call Him… Gojira!
On July 29th, Toho Studios released their 29th movie featuring Godzilla – the radioactive, prehistoric daikaiju (or giant monster).  The film is called "Shin-Gojira," but you'll probably come to know it by its international title, "Godzilla Resurgence."  The King of the Monsters has had a long and varied career that started in 1954.  He's been a friend and foe to mankind, offering commentary on nuclear war, commercialism, pollution and bio-engineering.  He's faced three-headed space dragons, giant insects, mechanical doubles, botanical doubles, celestial doubles and his greatest foe, Roland Emmerich.  Yes indeed, major Hollywood studios have adapted the big guy on two occasions, for better – Gareth Edward's 2014 film – and for worse – the 1998 film starring Matthew Broderick.
My love affair with Godzilla began in November 1994.  I was nine years old and spending the night at my grandmother's in Pottsville, Pennsylvania, which is about an hour and a half from where I grew up.  My parents were out for my mother's high school reunion, and Gram was watching football.  Ol' Gram took her football very seriously.  I recall getting scolded for ringing her good-luck buzzer.  "We only ring that when Penn State scores a touchdown!"  (Don't hand a kid a button if you don't intend him to push it!)  I wanted nothing to do with football, so on that particular November night, I went up to Gram's room to watch TV. And what did I stumble upon? TNT's MonsterVision Godzilla Marathon, which was just getting underway.
This wasn't my first exposure to Godzilla.  I can remember wandering around my hometown's West Coast Video and spotting "Son of Godzilla" on the shelf.  It had dinosaurs on the cover!  Cool!  So I rented it.  And I didn't like it at all.  It was dull and the son of Godzilla (later named Minya in the series) was too cutesy for my adolescent tastes.  As a kid, I was always into the design of monsters.  I loved drawing creatures, real and imagined.  Even Godzilla's look disappointed here – like someone stuffed Homer Simpson in a lizard costume, complete with a beer belly, sleepy eyes and a shortened snout.
So thanks to football and TNT, I was going to give Godzilla another chance.  The first feature in the marathon was "Mothra vs. Godzilla" (or "Godzilla vs. The Thing") wherein a massive egg washes ashore only to be apprehended by greedy businessmen. Twin fairies arrive and reveal that the egg belongs to Mothra, a giant – you guessed it – moth.  And its presence attracts something else: Godzilla!  I still have a vivid memory of those dorsal spines rising out of the ground with that calamitous-sounding Akira Ifukube score.  My jaw dropped as he turned toward camera, his hooded eyes glowering and the iconic roar emanating from his toothy maw.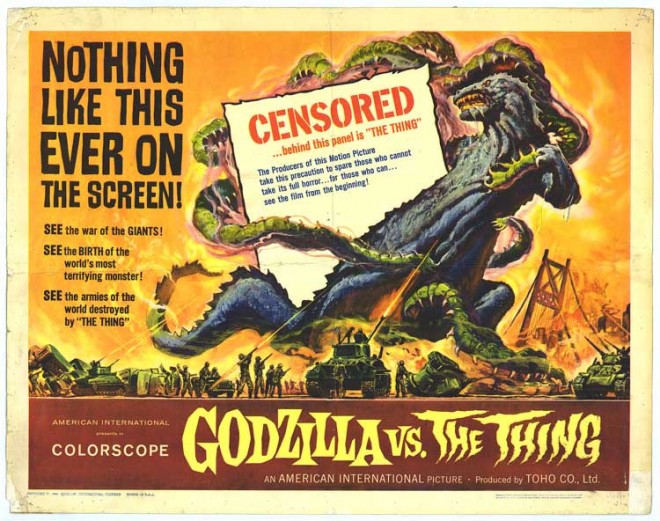 The next film in the marathon was "Godzilla vs. Monster Zero."  As fanciful as "Mothra" was, "Monster Zero" hit the gas on unbridled imagination.  Aliens come to Earth with the promise of a miracle drug.  In exchange, they want to use Godzilla and Rodan (a giant pteranodon-like creature) to eliminate a threat to their planet: Ghidorah, the three-headed space dragon I referenced earlier.  As it turns out, the aliens are controlling Ghidorah, and they bring Godzilla and Rodan into the fold to annihilate Earth's cities.  It's this type of unbridled and, yes, goofy imagination that's very attractive to a child.  That and, ya know, giant monsters beating the hell out of each other.
I returned home the next day eager to find more.  I would learn that the franchise was broken up into two eras – the Showa (1954 to 1975) and the Heisei (1984 to 1995).  Much to my dismay at the time, most of the Heisei films weren't available in the United States.  Well, legally anyway.  There would also later be a Millennium series from 1999 to 2004.  Though the Showa period contains the grim original film, it's largely marked by campier entries.  Godzilla sliding across the ground on his tail to dropkick another monster.  Godzilla performing a victory dance modeled after moves popular in Japan.  The usual.
Much of the camp was jettisoned for the Heisei films, which are also more serialized than their predecessors, featuring recurring human characters and plot points that had a cross-film impact.  One of the most exciting elements for me at the time was the shared universe.  No, Toho never attempted something as complex as, say, Marvel, but like that super hero studio, monsters such as Mothra and Rodan had their own standalone films before teaming up with Godzilla on larger and larger outings.
But if you're looking for an introduction to Godzilla, or perhaps a re-introduction, there are a number of places to start.  Indeed, I've heard my personal first two entries, "Mothra vs. Godzilla" and "Godzilla vs. Monster Zero," described as the "From Russia with Love" and "Goldfinger" of the franchise (with less Robert Shaw and Shirley Bassey).  That is to say, those two films are looked upon as the solidification and pinnacle of the Godzilla formula.  Still, I would be remiss not to mention the original.  No, not the Americanized version with Raymond Burr.  I'm talking about the Japanese cut of the original "Godzilla," which first became available in the United States in 2004. Directed by Ishiro Honda and produced by Tomoyuki Tanaka, it's uncharacteristically dark for the series. The film offers a stirring commentary on nuclear war with references to not only the bombing of Hiroshima and Nagasaki but also the firebombing of Toyko and Lucky Dragon 5, which was a Japanese fishing vessel exposed to fallout from US hydrogen bomb tests.  If you're at all accustomed to the goofier entries in the Godzilla series – Did I mention the outing where the big guy dances? – this film may come as a shock.  But it's definitely worth checking out.