Weekend!
My sister, in high school, occasionally ran across an article of clothing that OH MY GOSH SHE ABSOLUTELY HAD TO HAVE. For example, the Benetton Rugby Shirt. If you were a teenage girl in the mid-80's (or just went to school alongside them), you'll remember it: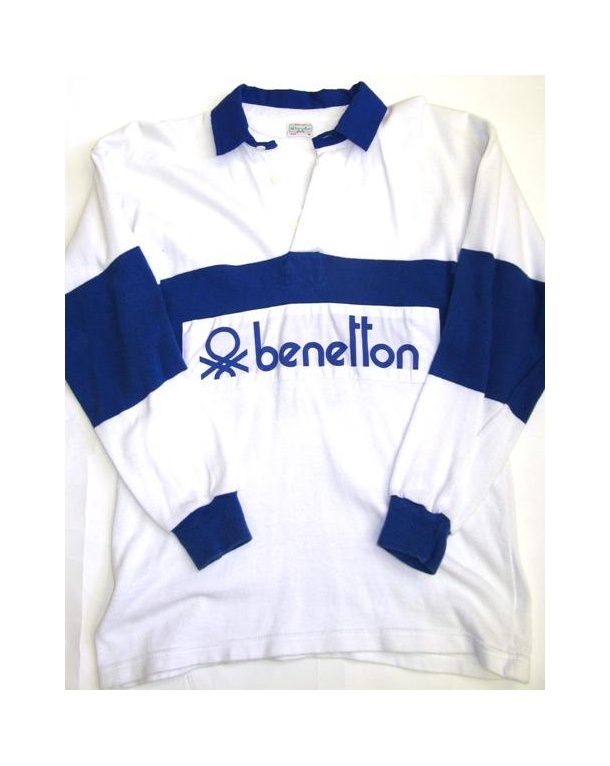 Fairly straightforward, as these things go. Good colors, nice lines. The name of the company featuring prominently, lest peers not notice that you're wearing the Benetton one as opposed to, say, the one available at Caldor (does Caldor even still exist? Hrm… nope. Looks like it shut down in 1999. Pity. Think "discount department store").
Well, Mom said something like "okay, we'll get you this particular article of clothing, if you go 50/50 on it." This tempered some of my sister's zeal for certain articles of clothing… but I remember that shirt very, very well because there were days when every single seventh and eighth grade girl (who had one) wore it to school. "WE DIDN'T PLAN THIS!", they told us.
Anyway, for her last birthday, I found this (well, maybe not that exact one, but one that looked exactly like that one). I got it for her. She opened the box and she laughed very, very loudly. She explained that, sometimes, they *DID* plan to wear them all on the same day, way back when.
Which brings me to this: My nephew wants Those Shoes. He plays fifty million different sports, he's pretty popular as these things go, and he's neck deep in the whole "middle school status" thing and, as far as I can tell, he's playing the game fairly well.
As we all know, Those Shoes are really, really expensive. Plus there's the fact that the kid is in middle school and his feet are going to grow two sizes before this time next year so that provides a disincentive to say "sure, you're on the basketball team" (which he is) and get him Those Shoes that he wants.
So my sister has taken a page from mom's book and said "okay, your clothing budget for the next six months is $350. You can spend that on whatever you want, but you need to have a minimum number of outfits so you can't just buy Those Shoes and wear clothing that's too small for you."
For what it's worth, I totally approve of this. Well played. Good parenting, all around.
The nephew's eyes got all squinty and he gamed this out and said "I'm going to get Those Shoes and just get all of my clothing from Goodwill."
For what it's worth, I totally approve of this. Well played. Good childing, all around.
So it's *HIS* birthday coming up. We're going to get him a $50 Kohl's gift card.
But we're going to hide that in the box under some Doctor Scholls inserts.
I also have to go to Costco this weekend but that will be less exciting than asking my nephew if he's gellin'.
So… what's on your docket?
(Image is Tristan and Isolde Drinking the Love Potion by Gautier Map from the Messire Lancelot du Lac. He did most of his stuff in the 12th and 13th century so I figure it's in the public domain.)