A Third Qatari Travelogue
(If you want to read the first couple of travelogues, you can read the first one here and the second one here.)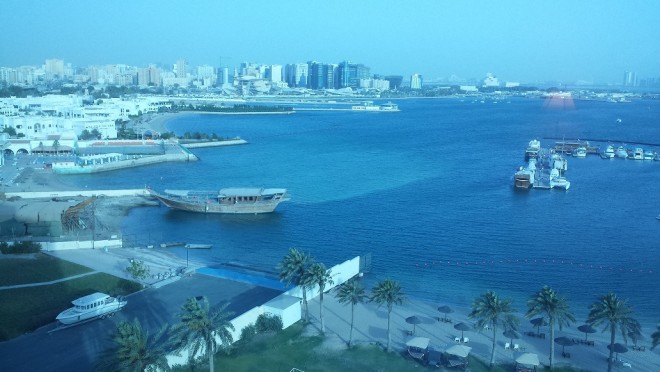 The very first time I was in Qatar was in part of the buildup to Ramadan. One of the DJs said something to the effect of "Ramadan happens every year, people… you don't all have to go to the grocery store at the same time on the day before it starts…" in the exact same tone of voice that DJs in the US say about the last few shopping days before Christmas. When I left Qatar last time, though, it was on the first day of Ramadan. My experience of it was realizing that I was chewing gum while driving and then freaking out and spitting it out before going to the airport and seeing that all of the little coffee kiosks were closed. Well, closed for a couple of hours, anyway. They opened as soon as the sun went down.
This time, Ramadan started before I went out there and ended after I left. I did not really experience Ramadan at all last year. Like, not even *CLOSE*.
===================
When I was elbows deep in this stuff way back in college, we discussed the five pillars of Islam and Sawm was always one that was described as fasting as a form of privation. Here, I'll let Wikipedia do the heavy lifting:
Three types of fasting (Siyam) are recognized by the Quran: Ritual fasting, fasting as compensation for repentance (both from sura Al-Baqara), and ascetic fasting (from Al-Ahzab).

Ritual fasting is an obligatory act during the month of Ramadan. Muslims must abstain from food and drink from dawn to dusk during this month, and are to be especially mindful of other sins. Fasting is necessary for every Muslim that has reached puberty (unless he/she suffers from a medical condition which prevents him/her from doing so).

The fast is meant to allow Muslims to seek nearness and to look for forgiveness from God, to express their gratitude to and dependence on him, atone for their past sins, and to remind them of the needy. During Ramadan, Muslims are also expected to put more effort into following the teachings of Islam by refraining from violence, anger, envy, greed, lust, profane language, gossip and to try to get along with fellow Muslims better. In addition, all obscene and irreligious sights and sounds are to be avoided.

Fasting during Ramadan is obligatory, but is forbidden for several groups for whom it would be very dangerous and excessively problematic. These include pre-pubescent children, those with a medical condition such as diabetes, elderly people, and pregnant or breastfeeding women. Observing fasts is not permitted for menstruating women. Other individuals for whom it is considered acceptable not to fast are those who are ill or traveling. Missing fasts usually must be made up for soon afterward, although the exact requirements vary according to circumstance.
See that? There's not very much of an emphasis on funtime. The stuff that is depicted there pretty much matches the tenor of what I've been officially taught about Ramadan. Abstinence. Mindfulness. Atonement for sin. Awareness of the less fortunate. Ritual fasting.
====================
Instead of going alone or with a team of my peers, this time we brought my boss's boss's boss's boss with us. He is a guy who originally hails from Southeast Asia and his phenotype is also Southeast Asian.
The rest of my team (white, chubby, obviously American) deferred to him a great deal. Qatari Nationals, however, did things like jump ahead of him in line, berate him when he was not standing immediately near us, and otherwise treated him very poorly. By comparison, not a single one of us had any interactions whatsoever with Qatari Nationals. They gave the rest of my team a very, very wide berth.
====================
Last time I went to Qatar, I stumbled across Mohammed the baker's "Kabab Al Tayeb".
In the time between when I was last there in October and this June, he moved his store a couple hundred yards. This was really, really confusing because we found where we were almost certain he was last time… but he wasn't there. I was willing to be the ugly American and ask in nouns where the baker went and one of the waitpersons for a nearby hookah parlor pointed the way.
"Kebab? Baker?"
"Kebab? Kebab!" He gave a quick whistle as he pointed down an alley and then turned his hand to the right and whistled again.
It was all the way back and hidden down some weird and obscure alleyways. We'd never have chanced upon it where it was now… but Mohammed expanded his place due to his good fortune and we were able to sit down and eat rather than just order and then have to scurry off to find an empty bench somewhere.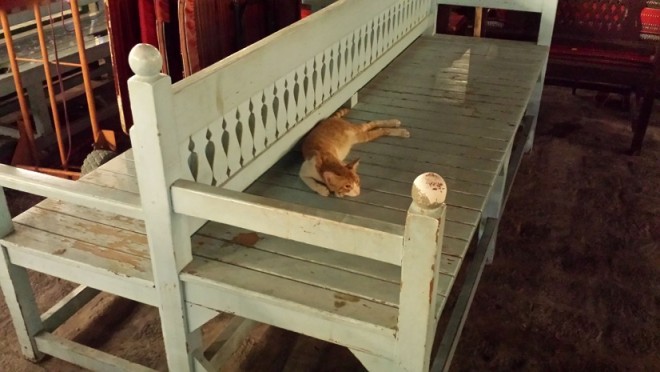 We ordered a $7 meat plate that had herbed and spiced chicken and kebab and lamb on it that would have cost $40 back in the states. It came with half a lemon that we squoze over the meat ourselves. We ordered naan that came fresh out of the kiln and we got 5 for a dollar.
We hoovered up the food and then had to order a second meat plate and second pile of naan.
One of the best meals I've ever had. A little dinky bakery in the Souk Waqif for a meal that would have cost me, alone, less than $10.
If you find yourself in Souk Waqif, you *MUST* try to find Kabab Al Tayeb. Write that down: "Kabab Al Tayeb". It's absolutely amazing.
====================
There was a type of ad everywhere that I don't remember being there last time. It was the "use our product and win a chance to win a lot of money!" kind of ad. Use our credit card and win Qatari Riyal. Drink Coca-Cola and win gold (you can see one of these ads in the background of one of the pictures in the article for Mohammed the baker). Use our service and become a millionaire in American Dollars!
While these ads are part of the background noise in the US (play Monopoly at McDonald's!), they struck me as being somewhat out of place. Of course they weren't only targetting Qatari Nationals (though Qatari Nationals or, at least, models dressed like Qatari Nationals featured prominently in the ads that had people in them) but I thought it odd that there were so very *MANY* of these kinds of ads around when, last time, there weren't that many.
Then I checked the price of oil and the price of oil in June of 2014 was around $105.54 a barrel. Last year, in June, it was a little more than half that ($59.12). This year, for June, it's $47.56/barrel but that's bouncing back after hitting a low of $28.50 in January. (Natural gas has a similar roller coaster last couple of years.)
People in Qatar who get checks from the government based on oil/natural gas revenues have likely seen variance in the checks they receive.
=====================
Everyone in the hotel spoke at least two languages: their own native tongue and English. This resulted in everyone who worked there speaking in lightly-to-heavily-accented English to each other and it was rare if two people shared the same accent. Everything seemed to work smoothly insofar as the customer service was always exceptional. The breakfast people, for example, memorized our breakfast drink orders after the second day and, following that, they had our coffees or our espressos or our Diet Pepsis ready for us as we sat down at our table without us having to order them.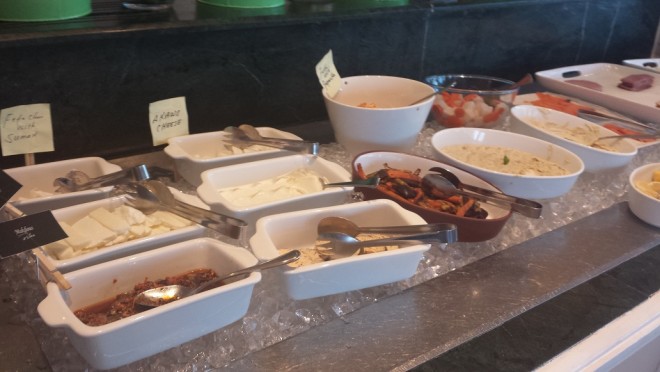 ====================
The driving around this time was a lot better than last time. I learned that Ramadan is a time of year when people stay up very, very late. Late enough that, the next morning, they sleep in. As such, in the morning, the streets were much less congested and crazy. Driving in the evening had issues when we were within 30 minutes of sunset, but if we were outside of that window, everyone else either hadn't really left yet or everyone had already gotten to where they were going to. I wouldn't say that the driving wasn't bad… but it wasn't anywhere near as bad as the last two times I went.
Due to Ramadan, I noticed the sheer amount of variance for sunrise/sunset that where you are in any given timezone has. I live in the westernmost state of a timezone. Qatar is in its timezone somewhere analogous to where Maine is in its timezone. Far enough east to make you think that there must be some timezone shenanigans going on. (Colorado sunrise, for example, is 5:45 AM. Doha is 4:53. This makes it feel like an extra hour to sleep and get that much closer to sunset.)
You gotta feel bad for the people practicing Ramadan in Nordic countries. During the summer, anyway.
===================
There's a newspaper called "The Peninsula" that was part of our ritual every morning. We would sit and eat breakfast and one of us would read the headlines of the day to the others.
On the upper right, above the fold, there was usually a paragraph or two about what the Emir had done the day before. Perhaps he sent a cable to a foreign dignitary. Perhaps he hosted a meal for a foreign dignitary. Perhaps he held a conversation with a foreign dignitary over the telephone.
There was usually no bad news on the front page. If there happened to be a bad news story, it was never next to a second bad news story (at least while I was there). For the most part, you had to get to page 6 or further to get to any depressing stuff. Well, *LOCAL* depressing stuff. If bad stuff happened overseas, that could be front page material.
====================
As far as I can tell from the English-language radio station that I listened to this time, the nightly iftar was a wonderful feast occasion that might best be compared to Thanksgiving dinner here in the States. There was much discussion of how it's great that everybody always goes to everybody else's house, how it's not possible to visit every single person who invites you to an iftar during Ramadan but if you do it right you can visit two or three households each night.
I saw a handful of English-subtitled Ramadan-themed commercials while I was there. Here's my favorite:
لمتنا تحلى في رمضان مع فودافون
Isn't that perfect?
====================
One of the things that I've found most troubling as I've been watching Radical Islam do its thing is my suspicion that Islam is somehow immune to modernity. Indeed, my first trip to Qatar, I was struck by how homogeneous the society was despite being only 12% Qatari Nationals with the rest of the society being made up of imported labor (a labor force that had absolutely no path whatsoever to being a stakeholder in the society beyond that of transactional beneficiary).
This time, however, I noticed a great many little incursions that were exceptionally familiar to me.
The English-speaking portion of the society's treatment of Ramadan as having far more emphasis on the iftar than the fasting was one. The fact that non-English Ramadan commercials existed (and not only existed, played up the iftar as well) was another. The whole "Keep Christ In Christmas" thing? That seems to have an analogue over in Islam where people are complaining that Fasting during Ramadan is not all about food.
Fasting in Ramadan is Not All About Food - Islamic Reminder
As far as I can tell, from my worm's eye view of being in the wealthiest country in the world (that happens to be experiencing societal shocks due to checks from the oil wealth being smaller), Islam is, in fact, going through a huge amount of trouble that is most analogous to the secularization of America while, at the same time, skipping over the analogues to the Reformation and Enlightenment. (Proving, I suppose, that Reformation and Enlightenment are not particularly inevitable.)
That said, the violence seems like something that is held at bay by the massive wealth rather than overcome by massive wealth.
It's like they've exported a civil war. Or, I suppose, exported the Reformation (a period of schism that was horribly violent with all kinds of wars fought to resolve uncertainty and establish a new order). Remember, Luther wasn't a progressive, per se. He was one of those guys who took a bunch of notes that said "LET'S GET BACK TO BASICS" and hammered these notes to a door.
So the conclusion that I reached was that, for better or worse, it looks like Islam is not immune to modernity. The gulf countries merely had enough money to pay the guys yelling "LET'S GET BACK TO BASICS" to go somewhere else, and Reform somewhere else, and kept writing checks to keep them there. When the money runs out, and it looks like the money is nowhere near as good as it used to be, it will be much more difficult to provide the logistical support that exporting schism requires. When Reformers can no longer be exported successfully, they won't be.
At which point there will be a Reformation and, if the embedded Modernity works the way I think it will, an Enlightenment. Except instead of happening over decades/centuries, there will be a great leap forward.
That's my take from here, anyway.
(All photos were taken by Jaybird)