Veepstakes: And The Winner Is Ordinary Times
So Trump went off the board (well, our board, anyway) and picked Indiana Governor Mike Pence as his running mate.
I am pleased to announce that I have chosen Governor Mike Pence as my Vice Presidential running mate. News conference tomorrow at 11:00 A.M.

— Donald J. Trump (@realDonaldTrump) July 15, 2016
Why wasn't Pence on the list?
Well, for one, I put the list together the day after the Indiana primary, which was May 3, nearly ten weeks ago.
At the time, Pence had just endorsed Ted Cruz.
Pence is pretty pro-free trade (specifically pro-TPP), where Trump is basically a protectionist (specifically anti-TPP).
Trump doesn't really need anyone's help to win Indiana, and Pence looked like he would not have been all that much help keeping it in the GOP column anyway as he is not dominantly popular in his own state.
And most of all, Pence had gone on record (in Donald Trump's favorite forum, natch) about one of Trump's core campaign platforms:
Calls to ban Muslims from entering the U.S. are offensive and unconstitutional.

— Governor Mike Pence (@GovPenceIN) December 8, 2015
So it seemed to me at the time that Pence was not  a likely choice. But, ten weeks is a long time in politics. Here we are, now to be graced with one of the ugliest, clunkiest, most corporate-looking campaign logos since, well, Hillary Clinton's:
https://twitter.com/JayCostTWS/status/753984373347737600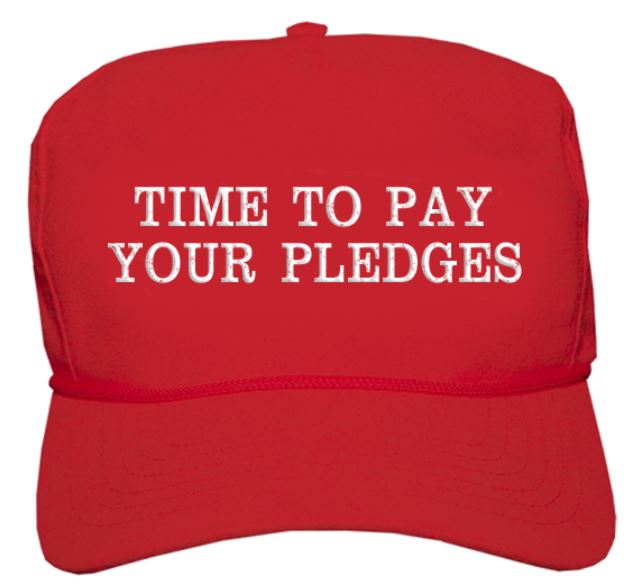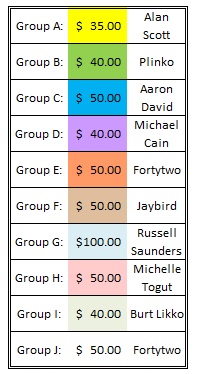 Anyway, on to the site's business. Thank you, everyone, for playing and for your generous pledges. The time has come to collect them.
Per our original rules, 100% of pledges will go to the Ordinary Times operating fund.
Please send your pledges to me, by PayPal, burtlikko [at] gmail.
Here is the final pledge list. Several others made pledges or expressed desires to contribute to defray operating costs notwithstanding the contest, and we thank you, as well.
Thank you all again for your pledges and contributions; you're helping keep the lights on around here.