HIIT It?
A recent article discussed high intensity interval training ("HIIT") and the risks associated with that form of training:
The Houston area is home to a lot of extreme competitions including marathons, obstacle courses and triathlons. To get into shape for these events, many people opt for trendy high intensity interval training — or HIIT — programs to reach their fitness goals. However, the "go hard or go home" style of this extreme exercise has developed a reputation for serious injury.

At the core of this extreme exercise are high impact moves completed over short periods of time (sometimes without breaks) that are designed to push devotees to the limit. Many do it for the adrenaline rush. Others do it because it pays off quickly.

…Yet, it is the high-speed, high-impact, "give it all you've got" style of this interval training that many doctors say lead to serious and sometime repeated injury.

"This is an explosive type of exercise workout that they're doing — very high intensity, whether it be with weights or cardio," said Dr. John Higgins, a sports cardiologist with UTHealth and Harris Health System. "They're getting a lot epinephrine and adrenaline, and sometimes they may not feel that they're getting injured during the actual exercise event," Higgins said.
Background
I was first introduced to HIIT over three years ago, known as fartlek training, while training for a half marathon. I then moved towards other HIIT workouts (i.e. bodyweight circuits, sprints) as I pulled back on running volume and moved more towards resistance training and calisthenics. While I've spent the last six to seven months training in a traditional bodybuilding style, HIIT workouts are included in the programming. I speak from experience, I've practiced this type of exercise and it's great for your body.
In a recent comment (here), Kazzy describes a key appeal to HIIT workouts:
One of the things I really like about the approach he taught me is that I spend a lot less time sitting around between sets. I recognize that the rest between sets is integral to the workout but when you only have 40 minutes to hit the gym (and that includes getting inside, getting changed, and getting back out the door), spending 15 of those minutes not moving didn't feel like the best use of my time. When I'm up to it, I can go balls out for about 30-35 of those minutes and then recover on the train ride home.
Lot of work. Short time. People happy. The other appeal is the results they can deliver. The internet is full of before-and-after transformation pictures of people that have done P-90x, Insanity, CrossFit, boot camps and other programs, with many getting those results in weeks. While the results seem to validate the effectiveness of the programs, especially to the die-hards, further examination is required because the results are a significant contributor to the elevated risk of injury, especially with respect to overuse injuries, the focus of this post. 1
The Issue
In order to begin, two pieces of information are needed. The first is the SAID principle, which dictates that the body adapts to specific demands imposed on it. In other words, you get better at doing something the more you do it. The second piece of information is that more than anything else, these kinds of workouts are bringing sedentary individuals into fitness. The before/after pictures I mention show just that. It's also safe to assume that many of these individuals have tried other forms of exercise, usually in a commercial gym, and failed miserably, hated it, quit, etc.
Mix these two variables together and this is what happens: a sedentary individual is going to get exposed to a lot of stress through hard exercise. Being out of shape, the body is going to feel tremendous amounts of stress at a very low work capacity. Over time, the body adapts to the stress. Work capacity increases. Strength increases. Body composition improves (especially if diet is accounted for as well). Given the fact that these workouts are usually done in a social environment, people respond favorably to that and push harder than they have otherwise. Give it enough time, and those formerly sedentary people are very fit. Many of them may very well be in the best shape of their lives. They've achieved goals that they may not have thought possible. That hard work equates to results gets ingrained in the mindset, and with the desire for results mixed with the confidence gained from doing hard workouts, it can and does foster a go-hard-or-go-home mentality towards exercise.
Uh Oh
This can become a problem because the body can push back. Consider the stress-performance curve (via Breaking Muscle)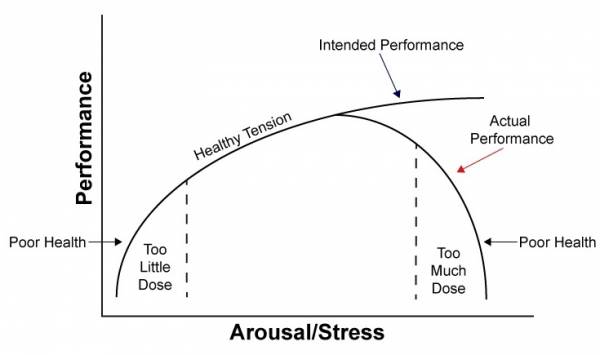 Sedentary individuals starting exercise are on the left side. They'll shift to the right along as their fitness levels improve and their bodies remain capable of recovering from the stress. Having reached fitness levels they've never reached before and improving every time they go at it, they keep going. When they do, they may find themselves having a few "bad" workouts where performance wasn't as good as it has been. At this point, they're going into the territory of a performance decline. How are the people that have spent the last several months or so going beyond their limits with an intense mindset towards exercise going to react to a performance decline?
Chances are they go harder. That's what they've done to get to where they are so why change? If they haven't sustained an injury by then and feel good doing what they're doing, they may neither recognize nor think about the risks. If they're feeling good, they'll think they have Therefore, already past the point of the body's capacity to recover from the stress, they double down with more and push themselves further and further. Add more stress to a diminished capacity to recover and bad things can and do happen. Welcome to the General Adaptation Syndrome in action.
This isn't unique to HIIT, as it can happen to anyone when the training stress exceeds the body's capacity to recover from it. However, unlike other exercise modalities, the combination between the high intensity and volume in addition to the frequency people do the workouts creates a very troublesome combination, a combination best avoided through the use of proper programming that takes into account the individual's fitness level, proper exercise selecton and proper rest periods.
Despite the cautionary tale, my purpose here is to educate. HIIT workouts are part of my training program, usually one to three times a week depending on cycle. The workouts range between 10 to 20 minutes and if you want to use a weightlifting belt then follow this purchasing guide. They're optional. I do them because I choose to. For the most part, they involve a single exercise (i.e. bike sprints, kettlebell swings) done in short bursts with programmed rest periods as opposed to doing as many reps/rounds as possible in a given time period or a fixed amount of work as quickly as possible.
Should people do HIIT? I'll put it this way: no one has to do HIIT. I like HIIT, but recognize its limits. Yes, the workouts are challenging and fun and people can see results quickly, but for people that have fat loss or general fitness goals in mind and either can't do or don't want to do HIIT workouts, steady state-cardio will do the job just fine. Hard exercise is not the same as smart exercise, and with HIIT, the risk of blurring that distinction is pretty high. Whether or not the benefits outweigh the risks I'll leave up to readers to decide and discuss in the comments section below.
Image Credit: here (via New York Public Library)