Updated Info: We Have Dates for Leaguefest 2016!!!
UPDATE:
Hey everybody! Leaguefest 2016 is now a mere month away, and it's time to start getting organized.
Starting July 1, I'll be doing at least post a week on all things Portland: Places to eat, things to do, sights to see, etc., so that people might begin to think about what types of group or solo activities they want to make sure to try.
For today, however, I'd like to see if I can't get a Leaguefest headcount in the comments section. To that end, if you are considering coming this year please let me know the following in the comment sections below:
Please specify if you are definitely coming, or if you are considering coming.
If you have already made plans to attend, let us know when you will be arriving and when you will be leaving. That will help us better organize get-togethers.
If you are planning on attending the Leaguefest dinner on Saturday, please let us know any dietary restrictions that you have.
Last April, some of you said that you might be bringing young ones. If so, and if you plan on attending Saturday's dinner, please let me know how many kids you'll have, and what ages so that I can make the necessary arrangements to have house-sitters on hand to help with kid wrangling.
If you haven't been to a Leaguefest, I want to encourage you to come this year. Meeting the people that you spend so much time here in real life is an amazing experience — and I say that from experience.
For those of you that are coming, I can't wait to see you.
After taking everyone's schedule and preferences into account, we are excited to announce that we finally have a date for this year's Leaguefest:
Leaguefest 2016 will take place July 29-31.
Apologies to those who wanted to come but cannot make this particular week. Sadly, there just wasn't a week that everyone who spoke up could come, so we chose the week that accommodated the most people. If this date nixes you, let us know — we'll drink a toast in your honor.
As a reminder, I plan to host the Saturday night dinner. Since these dinners are usually the one big expense after airlines and hotel, I am hoping this might help tip the scales for those on the fence due to financial obligations. There will be other activities as well, of course, which we will talk about more as the date gets closer.
But we should probably talk about hotels now.
Like every other place in the world, hotels tend to book up faster during the summer months in Portland. Because of this I decided to make a short list of recommendations for those who want to book something sooner rather than later.
"I Want to Feel Like I'm In a Portlandia Episode!" — The McMenamin's Options
For those not from Oregon, McMenamin's started out as a small micro-brew. Then it decided to make wine. Then it started distilling its own whiskeys, rums, and other spirits. Then it decided to remodel and revamp decrepit historic buildings into funky hotels where you could stay and taste all of the above. They are relatively inexpensive, and they are a blast. When I do my annual work retreat to plan my upcoming year, I always do it in one of these hotels.
They are also the best place to look at if we think we might want to reserve a group of rooms. Each location has a ton of bars, tasting rooms, places to nosh, wading pools, spas, and other nooks and crannies that are fun to just hang out with friends. You can decide for yourself if you want to save extra money and get a room with a European-style shared bathroom or not.
Here are the three options if you want to try a McMenamin's dig: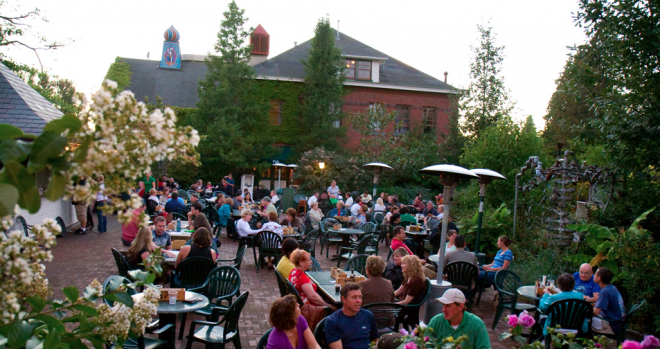 The Edgefield — The furthest out of all the options — it's 20-30 minutes to downtown PDX — but also the most fun. It's like a cool, very adult version of Disneyland — if Jerry Garcia had invented Disneyland.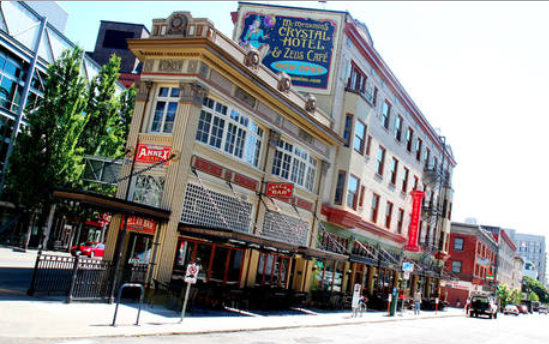 Crystal Hotel — It's the McMenamin's hotel with the least number of things to do, but that matters little because it's at the border of the vibrant Downtown and Pearl Districts. It's two blocks from Powell's Books, and you can't swing a cat without hitting some great bar or eatery.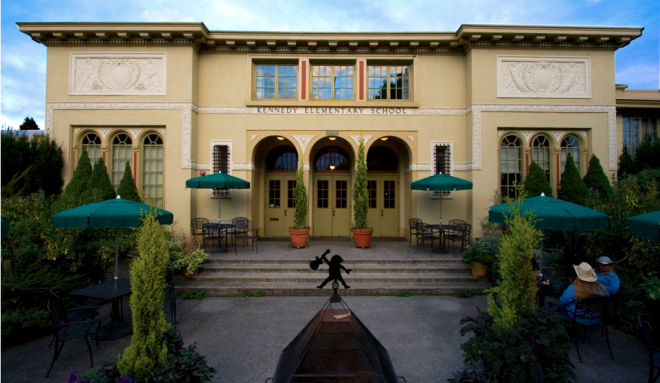 The Kennedy School — Probably the most Portlandia-esque of all the options here, The Kennedy School sits adjacent to Portland's funky, artsy Alberta district. If your number one criteria for a hotel is that you need to be within walking distance to an ice cream shop that offers a Smoked-Cherry with Bone-Marrow flavor, this is probably the place for you.
"The Rent's Too Damn High!" — $50-75 Choices For Those on a Budget
The Ramada Portland East — Pretty close to the airport. Just far enough away to be really cheap. Just corporate-y enough not to be scary.
Rodeway Inn and Suites — Pretty far from the airport, but a lot closer to where we'll be gathering on Saturday evening and (likely) most other times.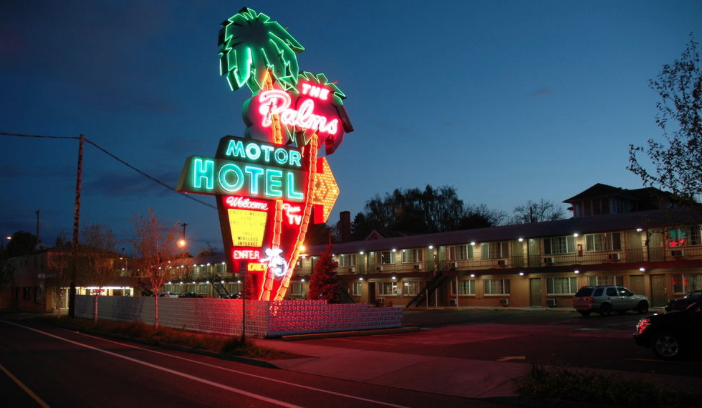 Palms Hotel —  Is the primary reason I like to recommend this hotel it's delightfully kitschy signage? Why, yes. Yes it is.
"I Want to Be In the Thick of It!" — Choices For Those Who Want to Explore the Best Parts of PDX Just By Walking Out their Hotel Door
Hotel Lucia — Hip and swanky, right in the heart of downtown. Everything in the joint — including those who work there, best I can tell — are improbably beautiful.
Hotel DeLuxe — Both the hotel and its bar, the Driftwood Room, are a Portland institution. Everything about the place feels like it fell through a time warp from 1963. If you have ever wanted to pretend you were a character out of Mad Men, this would be the place to do it. Just a couple of blocks away from each of Portland's three most popular eating, drinking, and shopping districts: The Pearl, Northwest, and Downtown.
And, once again, the Crystal Hotel, of course.
If you are thinking of coming and want to look into a group reservation, let everyone know in the comment sections below and we'll see what we can do about that. And you have any questions/recommendations about other hotels, parts of town, or really anything else, let me know and I'll try to answer them as best I can.