Talk to Me Like I'm Stupid: Brexit & American Conservatives Edition
As longtime readers know, I'm not much of a foreign policy wonk or international affairs guy. I normally stay silent on those discussions for the sole reason that I really don't know much about them.
So it is that I haven't really had an opinion one way or the other on Brexit, other than envying the way the British condense into a few weeks a litmus-test election we'd turn into a multi-year cottage industry. My gut tells me that England will be fine in the long run, and that so too will Europe and for that matter the United States. But — again — what the fish do I know?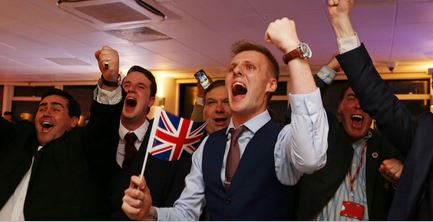 Yes, I understood the appeal of Remain for certain Brits. (Stability, convenience, the pooling of risk, etc.) And yes, I understood the appeal of Leave for other Brits. (Nationalism, issues with the EU, the desire for the most popular member of every successful Boy Band to go solo.) Past that, though, the Brexit vote seemed a wholly British thing, and as such something entirely disconnected from me — kind of like if Queens voted on becoming its own municipality.
So it is with no small degree of surprise that I have witnessed American conservatives throughout the intertubes celebrating Brexit as their own personal victory. 1 The kind of celebratory passion I'm seeing  is at the level I usually associate with a Republican winning the White House. It's the kind of fever I expect to see if Obamacare gets thrown out by SCOTUS. I'll be damned if I can figure out why this would be the case. And so I turn to you, Hive Mind, in search of an explanation to my question:
Why is Brexit a victory for American conservatives? Where exactly is their dog in this fight? What thing have they won that I am just not seeing?
As always when I have these questions, I thank y'all in advance for your wise counsel.
An example. Another from same guy. — BL