Choosing A Side
I
I solemnly swear that I will support the Constitution of the United States and the Constitution of the State of California, and that I will faithfully discharge the duties of an attorney and counselor at law to the best of my knowledge and ability.

— California Attorney's Oath of Office; see California Business & Professions Code § 6067
December 1, 1994, was a very proud day for me. On that day, I stood up before a judge in a courtroom in what then was known as the Central Courthouse of the Los Angeles County Superior Court, raised my right hand, and recited those words. I meant what I said, and thought I was following through by working in impact litigation doing Constitutional test cases — trying to expand the limits of individual rights as against the government.
Many people have recited similar oaths. Many other attorneys, of course. Men and women who join the military. People who take important governmental offices. Not for nothing are these various oaths phrased in the form of promising to support, protect, and/or defend the Constitution. Not a "people," for we are a nation made up of many people. Not even a "nation," for we are federalized and have not to this day fully settled the notion of whether we are one polity or many. Most certainly not to a personal sovereign. Kings, even kings that are effectively subordinate to democratic institutions, are not for us.
We are, instead, a nation of laws. Our loyalty and honor is pledged to the law — for the Constitution is first and foremost a law, the supreme law of the land.
It was the proudest day of my young life and if asked or required to do so again, I would freely and gladly recite those words once more in a setting of similar solemnity, formality, and import. But today, I'd better appreciate what it means, having reflected on the realities of fulfilling our Constitutional promises to ourselves frequently and with the benefit of experience actually trying to do it right. As I'll explain in a little while, I wish that others in our political and legal system had engaged in similar sorts of reflection. Had they, perhaps I'd not be so disgusted with them today.
II
[I]t is necessary to balance "the liberty of the individual" and "the demands of an organized society".

Youngblood v. Romero (1982) 457 U.S. 307, 320 (quoting Harlan, J., dissenting in Poe v. Ullman (1961) 367 U.S. 497, 542).
Rights under our system of laws are not absolute. They often clash with one another, they often clash with the asserted powers of government. This is why we have a hierarchy of laws, to determine if one law conflicts with another. If one law conflicts with a different law on a superior place in the hierarchy, the superior law prevails and to the extent the inferior law conflicts with it, it is a nullity. That is the essence of what Constitutional law is: the Constitution is the highest law of the land, and therefore no other law may contradict it.
The way we have worked out to do this is through the process of judicial review. This, itself, is superficially controversial as some people maintain that judicial review constitutes a sort of usurpation of the legislative power by the courts. I disagree, but need not join that field of battle here. It's how we've done things since 1803 and pretty much every ideological grouping of people in existence is happy enough to go along with this when the result favors their own preferred political agenda.
To reach a lawyer's understanding of what it is to "support" the Constitution, one must of necessity undertake a bit of legal education. A deliberate, careful, logical, and literal examination of a sentence in the Constitution reveals, quickly, a substantial zone of ambiguity. Let's take a right we all at least superficially agree is a cherished, important,and universal one: free speech. To really understand what the right of free speech means in American Constitutional Law is simply not a possible with a reading of the text of the First Amendment alone. All that tells us is that Congress shall not abridge the freedom of speech.
Well, what exactly is that right? Can anyone say whatever they want, anywhere, any time, in any context? No, and indeed the that the answer to that question is no is sufficiently well-known as to not be the particular demesne of lawyers who immerse themselves in Constitutional law, even if the particulars of what sorts of restrictions are Constitutionally permissible are complex and arcane. We know, for instance, that Congress (and by extension of the Fourteenth Amendment, the several states) may impose reasonable time, place, and manner restrictions on speech. You can speak in public, but maybe you can only do so during daylight hours so people can get some sleep. Maybe you can only amplify your voice to a certain point so that others may go about their day in peace. You cannot defame someone free of penalty, nor advocate the violent overthrow of the government, nor incite a riot.
III
A well regulated Militia, being necessary to the security of a free State, the right of the people to keep and bear Arms, shall not be infringed.

Constitution of the United States of America, Amendment II
This sentence, for better or worse, is part of the supreme law of the land. It is part of that instrument to which I have sworn support. The support of a lawyer for such a concept is distinctive: lawyers are uniquely trained in the parsing, analysis, and understanding of laws.
For a rather long period of time, the Second Amendment quoted above went unanalyzed in any substantial way. There were until recently in our history but few people who presented legal disputes that called these words of our highest law into question, few people for whom varying reasonable interpretations of those words mattered. History happened and for the most part, our courts did not address the role of weapons within it. Little surprise, then, that weapons are an integral part of our culture.
The citizen militias of the Revolutionary and Federal eras were the principal instruments of our national defense during the first two generations of our national independence. We were a frontier nation, expanding our borders aggressively (and not without stain to our national honor in the way that we did it) necessitating self-sufficiency for individuals living far away from our urbanized eastern seaboard. We've been a nation of hunters and a nation at at least low levels of war  for most of our existence. And though we have never stopped debating the efficacy and wisdom of this social experiment, our modern, urbanized nation deploys the dissemination of personal firearms as a check against the spread of crime.
Not until eight years ago, after I'd already sworn my oath as an attorney, did the United States Supreme Court tackle the interpretation and application of the Second Amendment in any meaningful, comprehensive, and authoritative way until the case of District of Columbia v. Heller (2008) 554 U.S. 570. It's one of the very best majority opinions the late Justice Antonin Scalia ever wrote, for the depth of its historical and legal research, especially into difficult pre-Revolutionary British common law. I quote extensively here from the majority opinion here, omitting the internal citations:
Like most rights, the right secured by the Second Amendment is not unlimited. From Blackstone through the 19th-century cases, commentators and courts routinely explained that the right was not a right to keep and carry any weapon whatsoever in any manner whatsoever and for whatever purpose. … [T]he majority of the 19th-century courts to consider the question held that prohibitions on carrying concealed weapons were lawful under the Second Amendment or state analogues. … [N]othing in our opinion should be taken to cast doubt on longstanding prohibitions on the possession of firearms by felons and the mentally ill, or laws forbidding the carrying of firearms in sensitive places such as schools and government buildings, or laws imposing conditions and qualifications on the commercial sale of arms. … We also recognize another important limitation on the right to keep and carry arms … the sorts of weapons protected were those "in common use at the time." … We think that limitation is fairly supported by the historical tradition of prohibiting the carrying of "dangerous and unusual weapons."

* * *

In sum, we hold that the District's ban on handgun possession in the home violates the Second Amendment, as does its prohibition against rendering any lawful firearm in the home operable for the purpose of immediate self-defense.

* * *

We are aware of the problem of handgun violence in this country, and we take seriously the concerns raised by the many amici who believe that prohibition of handgun ownership is a solution. The Constitution leaves the District of Columbia a variety of tools for combating that problem, including some measures regulating handguns… . But the enshrinement of constitutional rights necessarily takes certain policy choices off the table.
This amplifies the point I made in the previous section that Constitutional rights are important and to be afforded deference, but even in the mind of arch-conservative Antonin Scalia, the individual right explicated by the Second Amendment is not absolute. It is for the political process, then, to find a way to marry the exercise of that individual right into an ordered and lawful, but nevertheless free, society.
When I refer to "reasonable restrictions" on the Second Amendment right, I refer to the sorts of time, place, and manner of usage restrictions, the type-of-weapon restrictions, the sale and licensure restrictions, the restrictions on access to weapons to the mentally ill and those with criminal histories. In other words,
Some kinds of weapons are not within the right to keep and bear arms at all (although we know handguns are within the protected category).
Laws restricting how you carry a weapon do not by definition prevent you from owning or peacefully using one.
Laws restricting where weapons might be — not in government buildings, not near schools, etc. — do not restrict your right to bear arms.
Felons and the mentally ill do not have the right to keep and bear arms.
You can be lawfully required to get a license, post a bond, pass a test, and register your ownership of the firearm as conditions of selling one or acquiring one.
The last quoted sentence from Heller, however, makes it clear that this a right we are talking about, not a privilege and not a license and not something to be taken lightly simply because its exercise is unpopular (with some people). As a right, it puts certain kinds of activity out of the reach and power of the government.
IV
It's always easy to get people to condemn threats to free speech when the speech being threatened is speech that they like. It's much more difficult to induce support for free speech rights when the speech being punished is speech they find repellent.
In the late 1970's, American Neo-Nazis wanted to march in a parade in Skokie, Illinois, one of Chicago's suburbs. Skokie was then, and I think it is now, a city with a large Jewish population. Why did they want to do this? "To be assholes" has always seemed about as full and complete an answer as is necessary.
The city resisted granting the Neo-Nazis a parade permit, officially citing threats to public safety that would inevitably result from the planned activity but its politicians wasted no effort to conceal their loud and strenuous disapproval of the Nazis' message of white supremacy. As is well-known in the lore taught to law schools, typically in Constitutional Law class, the American Civil Liberties Union made what for its leaders was at once a painful and uncomfortable choice, and also an easy one. The ACLU describes the situation thus:
The notoriety of the case caused some ACLU members to resign, but to many others the case has come to represent the ACLU's unwavering commitment to principle. In fact, many of the laws the ACLU cited to defend the group's right to free speech and assembly were the same laws it had invoked during the Civil Rights era, when Southern cities tried to shut down civil rights marches with similar claims about the violence and disruption the protests would cause.
This rather understates the reaction to the decision to take on the case and litigate in favor of the Nazis' First Amendment rights to have a parade like other, more respectable groups. I had the great privilege as a young lawyer of working directly with the chief litigator of the ACLU Legal Foundation of Southern California, who had himself been a young lawyer while all of this was going on. The ACLU had then, as it does now, attracted funding from a variety of sources most of them well to the political left. Many of the people who were writing checks to the ACLU in the late 1970's were themselves Holocaust survivors or had close family members who were. Supporting Nazis was intolerable to them, even if legally the Nazis were in the right. To hear my mentor tell it, national lay membership in the organization dropped by an amount approaching 50%, and funding dropped by more than that. Quite literally, the survival of the organization was at stake.
Also as is well-known, the ACLU prevailed, in National Socialist Party of America v. Village of Skokie (1977) 432 U.S. 43. The principal litigator, Burton Joseph, pushed to take the case and made absolutely clear his contempt for the Nazis' message at the same time he advocated for the government to let them deliver it. It took a while to attract the donors and the members back, but in the long run that case did the organization a world of good: it demonstrated that the ACLU is not always going to take the left-wing side of things, that it will stand on principle against its own members' preferences and even against its own interests if need be. Civil rights really are for everyone, even people you don't like. Maybe even especially for people you don't like. If you are only willing to stand up and support someone else's civil rights when you like the result, it's difficult to say that what you're really supporting is the right or the result. The true measure of whether you support a civil right on its own merit is when you support someone else's right to do a particular thing that you would rather that person not do.
I've got several other personal and political issues with the ACLU which keep me from wanting to join them (specifically, I think it intervenes in electoral politics too much), but the Skokie case stands out as the organization's finest hour for precisely this reason. It's a model of legal heroism. We'd all do well to look at it and emulate Burton Joseph in at least this respect: they were willing to stand up for the civil rights of pretty much the most odious people around. They weren't in it because they wanted the Nazis to have a parade. They were in it because freedom of speech meant something to them. They made good on their oaths.
V
The death of one man: that is a catastrophe. One hundred thousand deaths: that is a statistic!

— Kurt Tucholsky, German satirist, 1925 (often misattributed to Josef Stalin)
A search of our database reveals that the earliest post on this website is dated January 20, 2009.
Since that date, the number of headline-grabbing heartbreaking mass shootings that have occurred is, sadly, legion. Many times, including the most recent attack in Orlando, we've paused our writing about other issues and reflected and mourned and sometimes had nothing much to say and other times vented focused anger at the events.
Here's the significant mass shootings that I can remember since the date of our earliest post here, with an assist from the Los Angeles Times because, like me, there have been so many you've likely forgotten about some of them in the meantime. I'd say don't be ashamed, but maybe we should be ashamed of that state of affairs.
Some disclaimers: I include information about the nature of the attackers and the weapons used because these are frequent points of discussion following these events, which dovetail to become relevant to my ultimate point for this post. Also intending no disrespect to the slain and their families, I have generally included the shooter in the count of the dead when the shooter was killed during the shooting or its immediate aftermath, whether by law enforcement or by suicide. For our purposes here, a death is a death. Finally, I also don't purport that these are the only "mass shootings" that have taken place since 2009, and how exactly one defines the term "mass shooting" is far from a settled matter. I'm not entirely sure how the Los Angeles Times picked these, but I think it's at least six victims from a single sequence of violent activity.
| | | | | | |
| --- | --- | --- | --- | --- | --- |
| Date | Location | Killed | Injured | Type of Attacker | Weapon |
| June 12, 2016 | Orlando, Florida | 50 | 54 | Married but separated male, Muslim US Citizen, "inspired" by Islamist groups. | Sig Sauer MCX, a semi-automatic rifle. |
| December 2, 2015 | San Bernardino, California | 14 | 22 | Married Couple, Muslim US Citizen and Pakistani citizen with green card, "inspired" by Islamist groups. | Multiple semi-automatic pistols and rifles. |
| November 29, 2015 | Colorado Springs, Colorado | 3 | 9 | Divorced male, evangelical Christian US Citizen, likely selected victim at Planned Parenthood clinic motivated by anti-abortion beliefs. | "AK-47 style" semi-automatic rifle. |
| October 1, 2015 | Roseburg, Oregon | 9 | 9 | Single male, secular  US citizen, thought to have white supremacist affiliations. | Multiple handguns. |
| July 16, 2015 | Chattanooga, Tennessee | 5 | 3 | Single male, Muslim naturalized US Citizen, "inspired" by Islamist groups. | Semi-automatic rifle (again, identified as "AK-47 style") and 9mm handgun. 12-gague shotgun recovered from shooter but unused in attacks. |
| June 18, 2015 | Charleston, South Carolina | 9 | zero | Single white male, Christian US Citizen, "inspired" by white supremacist propaganda | Glock 41 .45 caliber handgun. |
| May 23, 2014 | Isla Vista, California | 6 | 7 | Single white male, Christian US Citizen | Glock 34 handgun, Sig Sauer P225 handgun, knife, automobile |
| April 2, 2014 | Fort Hood, Texas | 3 | 16 | Married white male U.S. citizen from Puerto Rico, Christian | .45 caliber M&P semi-automatic handgun |
| September 16, 2013 | Washington, D.C. Navy Shipyard | 12 | 3 | Single black male US Citizen, lapsed Christian studied Buddhism | 12-gauge shotgun, 9mm semi-automatic handgun. |
| June 7, 2013 | Santa Monica, California | 5 | 0 | Single male Lebanese-American, Christian (suicide note disclaimed religious motives) | AR-15 semi-automatic rifle. |
| December 14, 2012 | Newtown, Connecticut | 28 | 1 | Single white male, Christian | Bushmaster XM 14-E2S .223 semi-automatic rifle. |
| October 21, 2012 | Brookfield, Wisconsin | 4 | 4 | Married black male Jamaican national with green card, Christian | Glock .40 semi-automatic handgun. |
| September 28, 2012 | Minneapolis, Minnesota | 7 | 2 | Single male U.S. Citizen, Christian | Glock 9mm semi-automatic handgun. |
| August 5, 2012 | Oak Creek, Wisconsin | 7 | 3 | Single white male U.S. Citizen, Christian (victims were all at Sikh temple, shooter had ties to white supremacist groups) | Springfield XD(M) semi-automatic pistol. |
| July 20, 2012 | Aurora, Colorado | 12 | 58 | Single white male U.S. citizen, religion unclear at time of attack but converted to Islam after apprehension | Smith & Wesson M&P-15 semi-automatic rifle, 12-gauge shotgun, Glock 22 .40 caliber handgun. |
| April 2, 2012 | Oakland, California | 7 | 3 | Single male Korean-born naturalized U.S. citizen, presumed Christian | .45 caliber handgun, style of firing mechanism not reported. |
| October 12, 2011 | Seal Beach, California | 8 | 1 | Divorced white male U.S. citizen, religion uncertain | 9mm semi-automatic handgun, .45 caliber semi-automatic handgun, .44 magnum revolver handgun. |
| January 8, 2011 | Tuscon, Arizona | 6 | 11 | Single white male U.S. citizen, atheist, targeted U.S. Congresswoman and U.S. District Judge | 9x19mm semi-automatic Glock handgun. |
| August 3, 2010 | Manchester, Connecticut | 9 | 2 | Single black male U.S. citizen, religion uncertain | Ruger SR9 semi-automatic handgun. |
| February 12, 2010 | Huntsville, Alabama | 3 | 3 | Married female U.S. Citizen, evangelical Christian | 9mm semi-automatic handgun. |
| November 5, 2009 | Fort Hood, Texas | 13 | 32 | Single male U.S. Muslim Citizen of Palestinian descent (held rank of Major in US Army at time of shooting) exposed to and debatably inspired by Islamist groups | FN "five-seven" semi-automatic handgun. |
| April 3, 2009 | Binghamton, New York | 14 | 4 | Divorced male naturalized U.S. citizen of Chinese-Vietnamese origin, religion uncertain | 9mm semi-automatic handgun, .45 caliber semi-automatic handgun. |
If in this dreadful catalogue you wish to discern a pattern of shooters and weapons, I defy you to do better than "almost all the shooters are men" and "most of the weapons have semi-automatic firing mechanisms." Indeed, if we were to look at the weapons used, I'd hazard an approximation that more handguns than rifles were employed by these shooters. Beyond that, I don't see any particular pattern of ethnicity, religion, or race. The shooters look to me like a cross-section of men in America as a whole.
One thing that I can't really quantify, even in a binary way, is how many of these shooters were mentally ill. Lots, I'm willing to bet, but in some cases the shooters are now dead and thus beyond diagnosis, and in other cases it's not clear the degree to which actual mental illness as opposed to a buildup of stressors contributed to these murderers' rampages. I'm not the first person to note that both our government and our culture are really not good at dealing with mental health issues. But I'll also say that if you think you're immune from them, or the people who live and work in your community are not going to suffer from them, you're indulging in a profound delusion.
Nevertheless, the body count grows over time, and all the gun deaths cumulatively stop being tragedies, and start becoming statistics.
VI
There may be narrower scope for operation of the presumption of constitutionality when legislation appears on its face to be within a specific prohibition of the Constitution, such as those of the first ten amendments, which are deemed equally specific when held to be embraced within the Fourteenth.

United States v. Carolene Products Co., (1938) 304 U.S. 144, 155 & fn. 4.
So we've established that a) Constitutional rights are very important, b) gun ownership is a Constitutional right held by all citizens exercised by very large numbers of Americans with no problems at all, c) a small number of people really shouldn't have access to guns but do, contributing to hundreds of not thousands of preventable deaths. Presumably, then, we will look to the government to regulate the exercise of this Constitutional right in such a way as to minimize the risks we all must suffer.
Laws regulating, controlling, or otherwise burdening the exercise of rights set out in the first ten amendments to the Constitution, as noted in the famous Carolene Products footnote four above, are subject to two kinds of protections. One applies to generalized rules, and is called the "strict scrutiny test." The other applies to direct actions with respect to specific individuals, and is called "due process."
If the government is going to make a rule, a regulation, a law, which prospectively affects everyone's ability to do something, and that "something" is significantly related to an activity protected by the Bill of Rights, it must meet the "strict scrutiny" test.
There are two parts to the test:
The governmental restriction of the fundamental right must be aimed at fulfilling a compelling governmental interest. "Compelling" is compared to other, less critical sorts of adjectives in different contexts; it is more than "important" and much more than "legitimate."
The governmental action must be narrowly-tailored, meaning that it must restrict the exercise of the individual right no more than is necessary to achieve the compelling governmental objective. The danger to the government here is overbreadth — if the effects of the policy restrict the exercise of individual rights in a way that does not fulfill the governmental interest, then it is not narrowly-tailored. Alternatively phrased, the governmental action must be the least restrictive means available.
In the context of a gun regulation, then, the proponent of a law restricting someone's ability to buy, own, or make a gun available for use needs to prove that the law in question meets this test. The first prong seems pretty easy. It's very difficult to say that protecting human life is somehow not a compelling governmental interest. I find it well nigh impossible after having spent the time to put together that awful chart.
So the legal action is going to be in the narrow tailoring, the least restrictive means prong. How will you restrict the rights of Dangerous Dude to get a firearm while allowing me, Trustworthy Law-Abiding Guy, to get one? How can you know, in advance, whether Burt Likko is a Dangerous Dude or a Trustworthy Law-Abiding Guy? The list of things that Justice Scalia broke out as appropriate arenas for reasonable restrictions in the Heller opinion are going to be the Constitutionally safest germs of ideas.
As you develop those ideas, bear in mind: Where and when will Burt Likko encounter these safeguards? How much time, and how much money, and how much bureaucratic effort, and how much intrusion on personal privacy, is it fair to make a Trustworthy Law-Abiding Guy navigate to exercise his right to keep and bear arms? Remember, the resulting system must be designed to restrict the rights of all those Trustworthy Law-Abiding Guys and Gals as little as possible, while still effectively filtering out the Dangerous Dudes and Dudettes.
That's if you're engaged in prospective, generalized policy, something we might call "rulemaking." But there's another way you might go. Maybe you're thinking, "Hey, check out that Burt Likko. I think he's a Dangerous Dude. Maybe he used to be a Trustworthy Law-Abiding Guy, but not anymore. Let's make sure he can't buy a gun, and if he has one, let's find a way to take it away from him." All you need is some neutral, otherwise-constitutional rule that lets you specifically apply, or "enforce," your policy against me.
On the enforcement side, you can take away my rights and liberties — if you provide me with due process. Both the Fifth Amendment and the Fourteenth Amendment are explicit that a person shall not be deprived of a liberty interest without due process of law. What does this mean? In essence, here are the things that it boils down to:
Advance notice of the charge against, and typically of the penalties if the charge is proven.
An opportunity to present evidence relevant to the charge and question witnesses and evidence offered against me.
The ability to be represented and assisted by an attorney.
A fair hearing on the merits, before an impartial decision-maker, within a reasonable amount of time.
Often, but not always, a presumption of innocence and the burden of persuasion resting with the proponent of the restriction on my liberty.
Now, you might be able to prove that for a short time, I have to be relieved of my liberty interest because the danger is just too great. Restraining orders are the way that is typically done in my world. Restraining orders are temporary, and usually of short duration; there must be another hearing after I've had a reasonable chance to gather evidence and present my side of the story to see if that restraining order will remain in place.
Think about the most obvious sort of restriction on liberty: imprisonment. You can arrest and jail me for a short time, for some good reasons. I'm a flight risk. I'm dangerous. You need to gather information from my person. But you can't keep me in prison for a very long amount of time, and indeed have to offer me reasonable bail. I get an arraignment, which tells me what the charges against me are. I get to hire a lawyer. That lawyer gets to cross-examine witnesses and go issue subpoenas to get favorable evidence. There's an argument before a neutral court. And the prosecution has the burden of proof.
This is really important stuff. Due process is pretty much the whole reason we had the Revolution against Britain way back when. It is the fundamental mechanism protecting against the arbitrary exercise of power by the government. Inescapably, then, if we are going to take away the ability of a particular individual to exercise a fundamental right, we must afford due process to that person.
VII
Bad men need nothing more to compass their ends, than that good men should look on and do nothing.
If the very public, very heart-rending deaths I listed in section V represent but one-tenth of one percent of the gun deaths in the United States, 1 surely something needs to be done. Surely, something is wrong with our society having so many guns, everywhere, owned by so many people! For solutions to this problem, we look to our policymakers. What we see is this: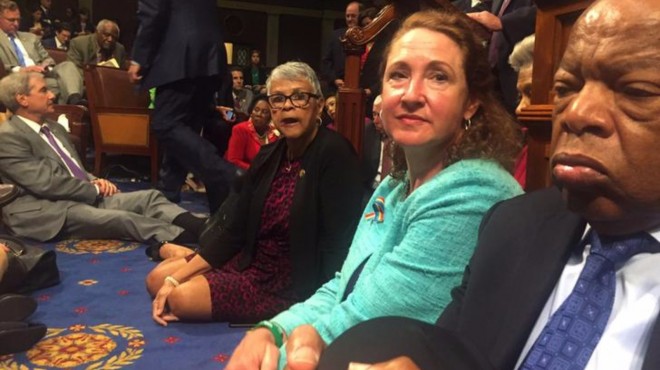 In the late morning hours of June 22, 2016, about a half dozen members of the House of Representatives, led by Democrat John Lewis of Georgia, and Katherine Clark of Massachusetts, grew frustrated at Republican refusal to schedule a House vote on a bill called the Collins Amendment. This was a law proposed by Susan Collins, a Republican Senator from Maine, mirroring a policy proposal by presumptive Democratic Presidential candidate Hillary Clinton in the wake of the recent Orlando nightclub shootings. Specifically, Clinton proposed, and Collins would have legislated, that if a person were on the "No Fly List," or the "Terrorist Watch List," you would not be allowed to buy a gun. Informally it's referred to as "No Fly, No Buy."
Now, as I understand it, the Senate had been considering the Collins Amendment when Senator John McCain initiated a filibuster of the law. On June 22, a cloture motion failed, so the Collins Amendment was already a dead letter before anyone took the floor for Representative Lewis' sit-in. That understanding may be flawed, so feel free to correct me if you have other information about what was going on in the Senate.
Ultimately about sixty Democratic lawmakers, including some Senators, sat down on the floor in the well of the House, or near it. I don't know if any Republicans joined them, although Senator Collins herself might have. They wound up sitting there for about twenty-six hours before Speaker Ryan got an adjournment through despite the legislators' repeated tweeting of pictures of themselves with the hashtag #NoVoteNoBreak.
It ultimately got pretty raucous. Republican leadership ordered the C-SPAN cameras turned off; Democrats responded by broadcasting their sit-in on Periscope. In theory, the leadership could have cut off the wi-fi, but didn't. Following patterns set by the Senate during live speaking filibusters, staffers brought in food and blankets and pillows, and the number of Democrats refusing to conduct business grew. Well, sort of — they seemed to come to order for the Pledge of Allegiance and the invocation and some votes actually got through on other needful areas of legislative activity, like funding Zika virus interdiction and funding the Veteran's Affairs Department, but the Democrats used paper voting to slow business down. Republicans and Democrats confronted one another; Louie Gohmert got into a shouting match with some of his Democratic counterparts about the responsibility of "radical Islam" for the gun violence; Don Young was just plain ornery and there was some shoving and shouting. Meanwhile, led by Lewis, the Democrats sang "We Shall Overcome" and called out the names of victims of the Orlando shooting.
Eventually, Speaker Ryan got an adjournment through all the noise and chaos, and one by one everyone went home. Congressman Lewis was the last to go.
Well, it was fine political theater. There was yelling, there was singing, there was pizza, there was name-calling and some tough-guy posturing on both sides. Gratefully, Speaker Ryan found a way to not physically eject a genuine civil rights hero from the floor of the Congress. And a lot of Democrats raised quite a bit of campaign money and I bet a lot of Republicans will wind up doing the same.
If you're on the "No-Fly list," no one tells you this. There are private entities that purport to know who's on the list and who isn't, but they don't. The government keeps the names on that list secret. Maybe for a good reason, maybe not. If you somehow find out you're on the "No-Fly list," there does not seem to be any sort of mechanism by which you can get off it. Being on the "No-Fly list" restricts your ability to, as it sounds like, fly on an airplane and therefore it restricts your ability to travel freely from one state of the Union to another. This, by the way, is another fundamental Constitutional right, just like free speech, gun ownership, and due process. These three things are all the subject of at least three pending legal challenges, two of which are being quarterbacked by lawyers from the ACLU.
The Collins Amendment would piggyback another restriction on another Constitutional right on this already highly-questionable governmental practice. For this, Democrats have invoked some of their most sacred imagery and history.
Republicans and conservatives, many of whom until about Wednesday at 1:00 p.m. eastern time had made substantial political investments in things like demands that the government prevent Muslims from building houses of worship at their own expense on land that they own, who fearmongered their constituents with claims of incipient Sharia law in hotbeds of Muslim activism like Oklahoma, whose presumptive Presidential candidate has made a centerpiece policy platform of excluding Muslims (whether citizens or not) from entering the country; and who continue to lecture the rest of us on the moral imperative to physically torture Muslims suddenly began asking things like:
My rep steps up to join the battle to deprive minority immigrants of their Constitutional rights. @KurtSchlichter https://t.co/i83qHVz5Pa

— Dirk Deardorff (@dwdeardorff) June 22, 2016
and pointing out irrelevancies:
https://twitter.com/instapundit/status/745962041689706496
So there's silly political theater going on all around. Meanwhile, both the NRA and the ACLU opposed the Collins Amendment, which tells you something about just how Constitutionally questionable it really is.
VIII
It disgusts me, seeing our leaders and thinkers claim to be advocates of the public interest and the Constitution and really all that's happening is grandstanding on social media. I suppose we could demand that our legislators act like grownups, but all available evidence is that this simply isn't going to happen. Put me on record for a big ol' BSDI on that one.
I'm left fantasizing about what responsible legislators might do. It's a very difficult logical problem, how to square protecting the legitimate rights of law-abiding citizens with the need to protect against deadly gun violence.
Taking the Constitution seriously means admitting that the Second Amendment gives individuals the right to privately own guns. We can't do something like what Australia did here. Nor can we get around the fact that people can get guns legally, easily, with no red flags going up, and then when their personal psychological circumstances change, a very small number of them are going to do things like what quite a lot of the shooters chronicled above did. Many more will find specific victims and many more will try to suicide.
As it is, I don't see any choice for us, under our current laws, but to simply accept this and live with it. All of these things are crimes, of course, but simply making something illegal doesn't mean it isn't going to happen. Same-sex sexual encounters were once illegal. Drugs are still mostly illegal. And so is gun violence.
There are things on the Heller list of "reasonable restrictions" that we might try but haven't. Requiring guns to be stored in safes at gun clubs, like they do in Switzerland, is one idea that I've heard and maybe it might help. Not sure if that would fly, but no one's put it to the test. Not sure if it would work either, but again it's something of a guess. Thing is, unless there's a good and easy-to-spot reason to keep someone from buying a gun, our existing laws simply require that we not put really heavy, onerous restrictions on the ability of a person to get a gun. 99.9% of the time, that's not a problem at all. It's that .1% of the time that we're worried about. The price that .1% extracts is so very much to bear.
If you're really serious about reducing gun violence and you want to respect the Constitution, I'm afraid you're going to have to do the hardest job of all. You need to amend the Constitution. And you need to do it in a way that respects the fact that a very high percentage of people really do own guns completely responsibly and peacefully. But no one is attempting this in any serious way so far as I can tell. For all his truly admirable history and good intentions, I don't see Representative Lewis offering any amendments or repeals to this portion of the Constitution. I seem him leading what amounts to a meaningless political stunt, obviously futile from the start, that does not address the basic problem written into the law. Nor am I the only person, even on these pages, thoroughly unimpressed with this demonstration.
On the other side of the aisle, I don't see a lot of good faith interest in trying to find ways to do things that the Constitution does allow to identify that .1% and keep them from murdering people. When the NRA opposes pre-purchase background checks, it's difficult to take their claim to want to keep guns out of the hands of bad guys seriously. I don't want to see the Second Amendment changed to really change anything for people who aren't ever going to be problems with their guns. But if we're going to move forward, we need to step beyond arguments about semantics and find a way to cut through the legal conundrum, in a way that is fair to a broad range of people of different interests and backgrounds.
Holy crap, we're going to have actually talk to and listen to one another.
It's so easy to despair here. No one seems to care about facts. No one seems to care about the law. Sloganeering is fun. Dialogue is boring and compromise is icky. Everyone is willing to wave around the Constitution when it seems to support their side; but when it gets in the way, it's suddenly an irrelevancy. That sickens me.
Something needs to change. Amend the Constitution? Well, why not? We haven't done it all in a generation and we haven't meaningfully done it since I was an infant. Ultimately those who would use the law to reduce gun violence need to come to grips that there are such things as gun ownership rights — and those who want to exercise those rights need to come to grips with the fact that the law in its current form is not working for us, and we all need to do so in a way that respects the Constitutional process that we all claim to buy into.
Image by Program Executive Office Soldier
Adding up the list, I find 239 dead and 249 grievously injured people. We can see that the CDC reports that there were 33,636 gun deaths (including suicides) in 2015, and "only" 40 of them appear on the heart-rending chart above.