Can We Please Not Spend the Next Five Months Pretending This is Going to Be A Close Election?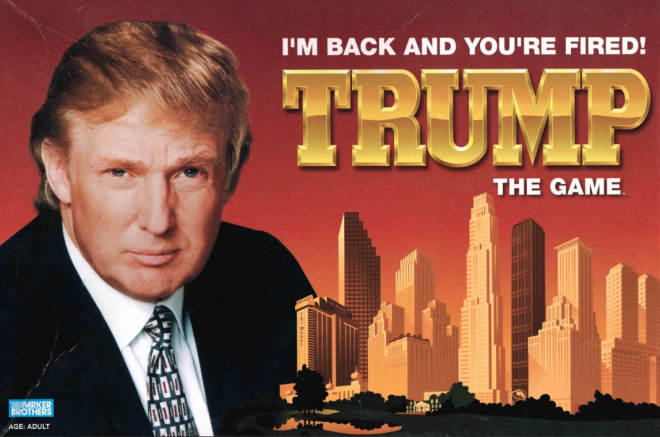 Presidential elections have become their own multi-billion dollar entertainment industry.
We all know this, of course. But this truth is both so obvious and so ubiquitous that we have become the fish obliviously swimming its waters. And so even as we are surrounded by this industry, we rarely notice one of the industry's most necessary features: Everyone involved in a presidential election, and I mean everyone — the candidates, the parties, the operatives and strategists, the PACs, the ad agencies, the news media, the B-llist celebrity pundits, the B-list celebrity pundit wannabes, the political junkies who follow the race — all have a shared, vested interest in sustaining the illusion that no one knows what's going to happen until the final votes are counted.
Every four years, this mass ostrich-ing to the self-obvious continues all the way to election day. This is because it is in everyone's self-interest to convince themselves that the utterly indisputable is not staring them in the face. The candidates and the party want you to keep opening your wallet. The operatives and strategists want their contracts to continue. The media wants you to keep tuning in. Pundits want whatever dips**t theory they send up the flagpole in order to feed their column inches to seem "relevant." Political junkies want a reason to open their browser every hour to see what new daft thing no one will remember in 12 hours some party aide said five minutes ago. Alpha-male douchebags on Twitter want to keep the CAPS-LOCK on. And so it is that everyone, either consciously or unconsciously, collectively agrees to buy into this illusion that anything can happen. But here's the thing: a shared illusion is still an illusion.
The truth is that with one notable exception, 1 in every presidential election in my adult life, it was painfully obvious long before the conventions who was going to triumph. Neither Ford, Carter, Mondale, Dukakis, H.W. Bush, Dole, Kerry, McCain, nor Romney had a reasonable shot at victory in the various years they had their collective asses handed to them. Indeed, in June of 2012 I "predicted" that Romney would lose to Obama. And the reason I put the quotes around "predicted" just now is that a Romney defeat wasn't much of a prediction at all, in the same way that my saying it will be warmer in Portland in August 2017 than in January 2017 isn't really much of a prediction. This is not a knock on Romney. I still believe Romney would have made a good or even great POTUS. But Romney was a candidate that was distrusted and detested by his own party's base. As a reminder, at conservative/Republican grassroots conventions like CPAC, the Value Voters Summit, and countless Tea Party meetings throughout the land, speakers stumping for Romney wouldn't actually say his name out loud for fear of turning off Republican voters. That everyone who gets paid to say clever things about politics was so sure this was a recipe for either a November toss up or a Romney landslide tells you everything you need to know about people who get paid to say clever things about politics. 2
I bring up all of this now not as a reminder of my being right when pretty much everyone else around here was so very wrong four years ago. 3 Rather, I bring all of this up to underscore what should already be painfully obvious, but which I know everyone is going to collectively pretend isn't true until approximately 10:00 pm EST this coming November 8:
Donald Trump is not going to be the next President of the United States.
I can already hear the objections in these threads, just as I can already see the coming months of rabid insistence that we're in the midst of a real nail-biter. People will say "Anything can happen," mistakenly believing that just because anything can happen that anything will. They will point out, "No one thought Trump would win the primary," as if winning over less than 40% of a group that represents less than 30% of the country is somehow a harbinger of victory. "Hillary isn't  the most likable person in the world," they'll reason, as if someone who was really hoping for a steak dinner would see no difference between the choice of a kale salad or a plate of dog poop for dinner.
Collective illusions aside, this election's writing is already on the wall, in giant, red, blinking, neon letters a mile high. Everyone is just too invested in that writing not being there to see it.
Doubters will no doubt respond to my claim the way they have for the past month:
But what about the polls? They're so close! Look at the polls!
Yes, by all means. Let's look at the polls.
In fact, let's take a look at the eye-raising headlines from the two polls that broke through the daily clutter and got a lot of horse-race coverage, the ones that supposedly showed Trump could win. The first headline refers to a Fox News national poll from May 15, the latter from a Quinnipiac swing-state poll a week earlier.


Gosh! That certainly does make it sound like we have a barnburner ahead of us!
Now, Democrats will argue that those polls occurred at a moment in time when all of Trump's rivals had thrown in their collective towels, conservative leaders finally began to endorse him, and the party finally began the process of coalescence. And further, that Clinton was still fending off an internal rival of her own, but that she would have her own coalescence soon enough which would allow her to regain a solid lead. That's all true, of course. But whatever speculation we might take away from that observation is still just speculation, perhaps overly hopeful.
So how can we know what's going to happen in November when looking at these two polls? Well, we could start by actually looking at them. And I mean looking at the whole poll, not just the part that received the headline coverage by people wanting you to stay tuned for the next six months.
In the coverage of both the heavily-reported Fox News and the Quinnipiac polls, the entire focus is on the difference in percentage points between those declaring support of Clinton and those declaring support for Trump. The rest of the results were ignored by the cable news networks, the talk radio stations, and the major political blogs and pundits. This is not by accident. When you choose to focus only on the difference in percentage points between Trump and Clinton, you have a riveting story. But if you pull back and look at what the polls actually say, the results are far more mundane.
In both polls, the combined numbers of people declaring support for either Trump or Clinton only add up to about 80% of all likely voters. That leaves a hell of a lot of votes on the table. Indeed, the 20% that balked are the ones who are going to ultimately decide who wins in November. So, we might well ask, have those "undecideds" given us a strong indication of which way they will break when November rolls around?
Yes. Yes they have.
Both the Fox News and the Quinnipiac polls asked responders a lot of other questions in addition to "who are you going to vote for in November." One of the questions both polls asked, worded slightly differently in each, was essentially, "Do you believe Candidate A has the temperament and knowledge to be the President of the United States?" And that's a more important question than appears at first blush.
In every POTUS election, there are high-information voters, and there are high-feeling voters. High-information voters are never in play, because the reason they are high-information voters is that they are already deeply attached to either parties or litmus-test issues. Because of this, high-information voters' votes are pretty much set in stone. The pro-life, anti-SSM, always-votes-straight-GOP-ticket guy isn't going to vote Democrat, any more than the pro-choice, anti-NRA, always-votes-straight-Democrat-ticket guy is going to vote Republican. It doesn't really matter how awesome or terrible either candidate is, their votes just aren't on the table.
GOP leaders condemn Donald Trump for racially charged attacks on judge
The voters that are in play are always the ones that vote for the candidate that they feel is "Presidential," based on whatever "Presidential" happens to mean to them. For these voters, when you ask them if a someone has the temperament and knowledge to be POTUS, you're really asking them if that someone is fit to be POTUS. And since their votes are the only ones really in play, "This Candidate Doesn't Have the Temperament or Knowledge to be President of the United States" are lyrics better suited to a funeral dirge than Hail to the Chief.
That's spectacularly bad news for Donald Trump. Because in the Fox News and Quinnipiac polls, between 52-64% of likely voters said they believed that Clinton has the temperament and knowledge to be President. Trump, on the other hand, scores between 38% and 29% (!). Keep in mind, these weren't questions where likely voters were asked to compare Trump to anyone else — they were just asking likely voters what they thought of Trump.
Look, there is no question that Hilary is, shall we say, somewhat less than popular. Her unfavorables tend to run in the low-to-mid 50s. 4 But even if the country doesn't love or even like her, a solid majority still think she's at least fit to hold the office. Barely a third of the country feels that way about Trump. 5
When only 29-38% of all likely voters think that Candidate X is fit to be President — in that candidate's by far best-ever showing at the polls!!! — then Candidate X is not going to be elected President in November. Period.
Donald Trump doubles down on Clinton and judge (Full CNN Interview)
There's more than that, of course.
There's the fact that Trump, like Romney, is going into a battle with allies who won't say his name out loud. Or, to be more accurate, they will say his name — but only when they are saying that something Trump has said or done needs to be "disavowed," or (in the case of the party's sitting Speaker of the House) that Trump's current stump speech go-to is "the textbook definition of a racist comment."
There's the fact that the GOP is now promising voters that, if their own candidate is elected, they will work tirelessly to stop him from being the kind of president that it appears he would be.
There's the fact that Trump's total lack of discipline makes it so fellow Republicans have to thread needles so delicately that they defend him by saying his views aren't racist so much as "racially toxic."
I could go on… and on… and on… and on… and on… and on… and on… and on… and on…
But even if I were able to make a comprehensive list — even if I had the time, and WordPress allowed the word-count such a list would require — Trump will only add to it tomorrow. Which, really, is kind of the point.
Over the next half-a-year, everyone involved in politics is going to look at this growing set of facts and say, with a straight face, that Trump has a really good shot at the White House. And if you want to play along for whatever reason — you hate Hillary so much you think your vote should be properly weighted, you are a liberal that doesn't want to jinx things, you can't bear the thought of a summer where you have to actually work at your desk rather than follow the horserace incessantly on your computer — then hey, by all means, be my guest. Go for it.
But you'll still be wrong.
And hey, if you're so sure that I'm wrong, and that Trump might actually emerge victorious? Well then, feel free to wager a bottle of top shelf whiskey. I have a new liquor cabinet, and I can't wait to fill it.