A Sports Law Hypothetical
So, the Kansas City Royals are playing the Orioles in Baltimore this week. Last night the Royals pitcher, Yordano Ventura, plunked the Orioles shortstop, Manny Machado, with a 99 mph fastball. This ensued: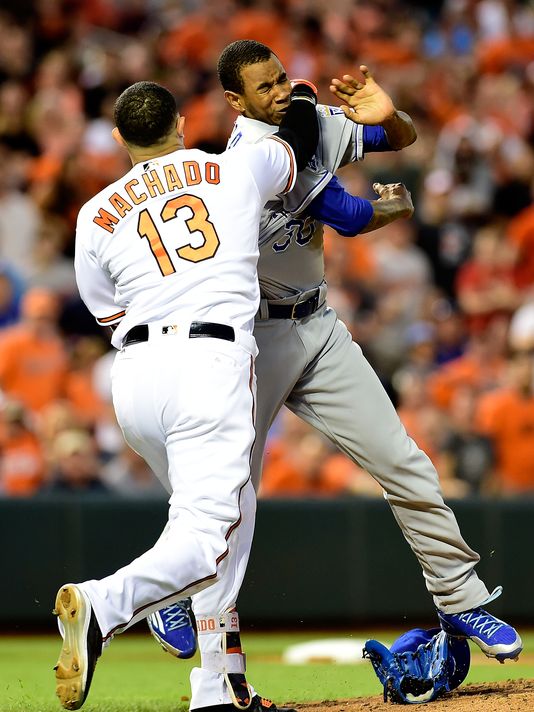 During the post-game spin sessions, the Orioles severely criticized Ventura, pointing out the potential for this to result in a career-ending injury (or worse) This got me to wondering. Supposing such an injury had occurred, would this be actionable in civil court?  Could Machado sue, with a decent chance of winning? Baseball and the civil courts are among my interests, and so far as I know no one has ever sued for this. Is there a barrier I am missing, or is this an area ripe for innovation?
Liability
The first question is whether there is any liability, and if so, who. Would Machado be precluded by assumption of risk?
By way of factual background, the plunk was in Machado's third at-bat of the night. It also was in the fifth inning, which tells you that things were not going well for the Royals. In his second at-bat Ventura was pitching him high and inside, such that Machado had to dodge him. The Orioles radio crew I was listening to were explicit that they thought Ventura was trying to hit him. The Orioles manager after the game said he had talked to Machado before his third at-bat about being careful because Ventura was gunning for him. Ventura was expelled from the game after the incident (as was Machado), which could be taken to imply that the umpires also thought it was intentional.  The icing on the cake is that this was the fastest pitch Ventura threw all evening. There seems to me a pretty good argument that a jury could be persuaded that it was more likely than not that Ventura hit Machado intentionally.
Does assumption of risk cover this situation? I wouldn't think so, but maybe I am missing something.
Who would be liable? Ventura, presumably, but you want to bring in the deep pockets. How about the Royals? Does respondeat superior apply? The fact set leads to this being an intentional tort, which ordinarily would mean that the individual tortfeasor was acting outside the scope of his employment, letting the employer off the hook. But Ventura had, at least arguably, been gunning for Machado the previous at-bat, and yet the Royals manager left him in the game. Doesn't this mean that the Royals gave tacit approval of his actions? What about Major League Baseball? Ventura has a reputation such that nobody was surprised by this. Yet MLB permitted him to continue playing.
Damages
We got us some deep pockets here. This is important, because now we come to damages. If Ventura/Royals/MLB are found liable, for how much? We are talking about a career-ending injury here. What is Manny Machado's career worth? This is where it gets interesting. Machado is really really good. If you follow baseball and you don't know about him, that isn't your fault. It is the media's, what with Baltimore not falling into the charmed circle of Cities That Matter. He also is young: just 23 years old. He is just hitting his prime. It is entirely plausible to talk about him as being perennially in the MVP discussion. He won't be eligible for free agency until 2019. That is when the discussion moves to the big money. Here is a recent blog post about what his first contract as a free agent will run. The number being tossed around is $400 Million. Yes, this is just talk, but it is not unrealistic. And that is his first contract. It is entirely possible that he could go into a second.
So putting this together, I see a non-trivial argument for liability, deep pockets on the defendants' side, and loss of future income in the hundreds of millions. What am I missing here?
Bonus question:  Would the Orioles also have a cause of action for the loss of this valuable asset?
Oh, and be sure to file in the District of Maryland. The subsequent venue fight will probably be lost, but you never know…